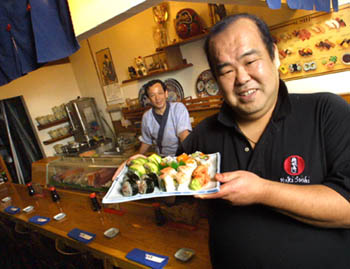 Photograph by Goerge Sakkestad

Chopsticks and Cheer: The upbeat attitude of staff at often-busy Yuki Sushi in Santa Clara makes the wait bearable.

Just For Yuki

The simple staying power of Yuki Sushi lies in good food, generous portions and super chefs

By Joseph Izzo Jr.

I KNEW WE WERE going to have to wait for a table at Yuki Sushi. We saw the people sitting outside in plastic chairs the minute we got out of the car. But we had plans, people to meet, and went forward anyway, past the Train Shop, then inside, where we were told to sign our names on a tote board near the front entrance, then wait--30, maybe 45 minutes--for a table.

We hadn't even seated ourselves in the chilly night, in one of those flimsy chairs, when a young woman--not more than 25--went on a rant: "I wish all these dotcommer millionaires would lose their jobs and have to move away so we wouldn't have to wait 45 minutes to get into a restaurant on a Friday night."

I heard what she said and could understand her anger and frustration. To a point. There are more people in the valley these days--a statistical fact--and small restaurants with good reputations are being pushed to the edge. A restaurant that once had a healthy, manageable clientele is now confronted with packed conditions on a regular basis. Be that as it may, the reason people have to wait in line at Yuki Sushi has little to do with dotcommers--they're losing their jobs anyway. It has to do with the restaurant itself.

This one is a special place and has been ever since it opened in the late '80s, long before these so-called dotcommers began wreaking havoc on small, South Bay holes-in-the-wall. Its success is not the fault of a booming economy. This restaurant is a good place to eat and people like good food. And that's a simple fact--like it or not.

I would have preferred to come here during the week. It's not as hectic then. It may be crowded, but at least you won't have to wait for nearly an hour to get a table in the small dining quarters furnished with sushi counter and tatami seating open to the lights and the noise. That Friday night, we had to make our way through narrow aisles and claustrophobic conditions, past jutting elbows and headlong stares that bore holes into the body and beyond. Eventually, though, my guests and I did get a table and settled in for dinner. Jokes were exchanged and soon we were warm, laughing and ready to eat.

I've often complained about how Japanese restaurants all seem the same. But this place is different, even from those ma-and-pa places over on Jackson Street in Japantown. A family-friendly ambience prevails here, full of community hubbub and warm interactions. I feel it every time I come--welcome and at home--and yet I don't know a single person. I may know their faces--many regulars frequent this hideout--but not their names.

For such a small place, the menu is extensive and full of inventive items I rarely see on Japanese menus. Dishes are well thought out and presented in a manner that is visually appealing, but never overstated or silly. For starters, I like the appetizers, especially the soft-shell crab ($5.50), deep-fried but greaseless and served with a tangy ponzu sauce. This visit we also tried the Ika Fry ($4.50), or deep-fried calamari, sealed in another greaseless breading that rang like chimes against the teeth.

From there we turned an eye to the Specialty Rolls, where I continue to find items fusing Japanese tradition with the trendy influences of California culture. We had a Spicy Tuna ($4), which partnered the lush fish--in ample supply--with a creamy jalapeño sauce with enough pepper to leave a sting on the lips. The Toshi Roll ($4.50) folded into a marriage of tuna, yellowtail, salmon, avocado, cucumber and pickled gobo root--which infused all with a gentle but eye-opening tanginess. On past occasions, the Spider ($6.75), with soft-shell crab, avocado and tobiko, and the fishless Cesar ($3.70), with cream cheese, green onions, cucumber and avocado, have both delighted the senses while encouraging deeper exploration of Yuki's creative side. Unlike so many kitchens these days forcing creativity to the point of failure, Yuki keeps it simple, but always interesting, always entertaining.

Like all Japanese restaurants, there are many entrees that mix and match a variety of sushi items (nigiri, sashimi and makimono) with dishes like Chicken Teriyaki ($8.45) and Tempura ($9.95), all of which are reasonably priced and done with assiduous technique by the hard-working chefs. The teriyaki (both chicken and beef) is fresh and grilled to order, and presented clean and easy to get at with chopsticks. More than once, we've enjoyed Tonkatsu ($9.25), or deep-fried pork. This time we had it in combination with chicken breast, also in a crispy jacket and cut into neat pieces, then served with a katsu sauce fragrant with ginger. Portions were more than we could handle.

We also had Tofu Donburi ($7.75)--and a big bowl of it, too--full of rice, vegetables and creamy bean curd, and finished with a flourish of toasted seaweed. Though fresh and nutritious from top to bottom, the rice was soaked in broth and, because of it, flavors were diluted. The Vegetable Sukiyaki ($9.75) was much better; flavors were more pronounced in the sweet teriyaki soup.

I've never been disappointed by Yuki Sushi. I always leave feeling upbeat and well fed. The people who cook and serve at this shoebox establishment remain jolly through the best of it and, somehow, through the worst of it. My patience would have run out long ago if I had to transact with the erratic emotions of customers like the ranting young woman we encountered at the beginning of our Friday night dinner. But the people here seem to understand the ups and downs of life in Silicon Valley and ride the shifting currents without losing a step.
---
Yuki Sushi
Address: 1827 Pruneridge Ave., Santa Clara
Phone: 408.248.9144
Hours: Lunch 11:30am-2pm Tue-Fri; Dinner 5-9:30 Tue-Sat, from 5-9 Sun
Cuisine: Homey Japanese
Price Range: $5-$12
---
[ San Jose | Metroactive Central | Archives ]