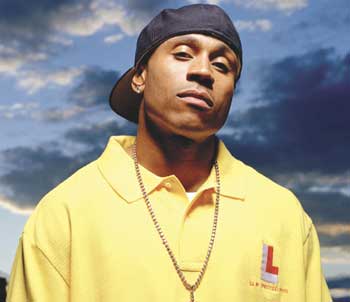 Photograph by Roger Erickson

No More Stretch Marks: Suddenly, LL Cool J wants women in videos to be classier.

Assed Out

All I really need to know I learned from watching 'BET Uncut'

By Todd Inoue

LL COOL J came out last week proclaiming that his colleagues don't need strippers in their videos. The rapper, whose latest video, "Control Myself," features Jennifer Lopez writhing around, says, "I think that there's more room in the videos for women to be portrayed in a better way, like, classy." I guess that means LL's new video won't appear on BET Uncut, the late-night forum for rap videos considered too racy for prime time. The show came under fire a couple years ago for broadcasting the notorious Nelly "Tip Drill" clip, where Nelly is seen swiping a credit card through a woman's butt crack.

As a TiV0 Season Pass holder of BET Uncut (for investigative purposes only, really), I can testify that it's not just assets jiggling. Some unintentional wisdom can be gleaned through repeated viewings (and it's easy as the same dozen videos are played over and over). Here are some of the lessons gathered from Uncut's playlist.

Frayser Boy w/ Mike Jones and Paul Wall, 'I Got That Drink.' If you share purple Promethazine-laced beverages in 2-liter bottles with farmers in a Texas pool hall, they will welcome you and dance. I like this video a lot.

Juvenile, 'Rodeo.' For all their exoticism, strippers lead stressful lives. They fight among themselves, their men get arrested, they take care of their kids, they have feelings, they massage each other's feet, they study biology. And they will spoon-feed you.

FUP Mob, 'Banging Body.' Once an acoustic guitar gets to strumming, a half-naked multicultural boat party will break out.

La Chat, 'Use What'cha Got.' Unattended children find videos portraying women in compromising positions engrossing. La Chat, by the way, is a woman. Another odd fact is that Larry Clark (Kids, Bully, Ken Park) is credited as director for this video.

All videos by Labtekwon. Labtekwon appreciates women of all body types and fitness levels.

One Way w/ Paul Wall, 'Lockdown.' Men with disco balls in their mouth often cause women to pin their legs behind their head and wiggle. This is one of the jankiest videos ever made.

Sway and King tech w/ Chino XL, 'Trouble.' If you fall asleep at work, you will have a dream where Boo-Yaa T.R.I.B.E. shows up. Jeez, does Paul Wall have anything better to do than appear in videos?

Smilez and Southstar, 'Good Luck.' If you go to a party at Smilez and Southstar's house, expect hot tubs, women in latex paint and bowls of tropical fruit. I find it odd that BET Uncut won't allow cussing, but showing stretch marks and thong bikinis is OK. I guess they don't want to offend anybody.

David Banner w/ Jazze Pha, 'Touchin.' When David Banner DJs, and you download his song, he'll appear in your boudoir and a pillow fight will ensue. And if you neglect your woman, she'll put on headphones, and Banner will magically appear and seduce her.

Nate Natele w/ Money Carsin and B.A., 'Mucho Humpty Hump.' Ashy men have no game. At Money Carsin's house, women shake in perpetual motion, even in the hot tub, or release tension in the shower. Rappers will refuse to pay attention because they are too busy giving their lines. This is the most egregiously offensive video but also the most accidentally funny.
---
Send a letter to the editor about this story to letters@metronews.com.
---
[ Silicon Valley | Metroactive Home | Archives ]