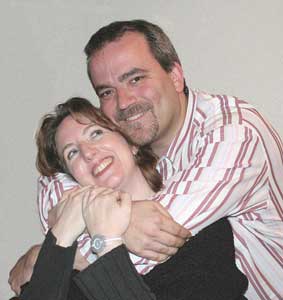 Gal and Pal: Meredith Hagedorn and Dale Albright bond in 'The Heidi Chronicles.'

Chronicles Of Bygone Era

Dragon Productions remembers Wendy Wasserstein with 'The Heidi Chronicles'

By Marianne Messina

YAY, A NEW theater company: Palo Alto's Dragon Productions, starting its career off with a heady, East Coast­flavored play by the late Wendy Wasserstein, The Heidi Chronicles. Picked last fall, long before the recent death of its baby-booming playwright, the play chronicles three decades in the life of art historian Heidi Holland, whose specialty is female classic painters. With dates appearing on a screen behind the playing area, the action opens at a dance in 1965, where Heidi (Meredith Hagedorn) and her friend Susan Johnston (Ann Marie) show all the signs—giggles, bashfulness, overexcited optimism and boy fever—of teenage-girl hormones, alive and kicking. In increments of several years, we see Heidi and her various friends through a couple of protests, the meeting of a women's group, a wedding, a baby shower—a smorgasbord of the slices life had to offer an Ivy League woman up through 1989. And somehow the play, in light of the Jan. 30 death from lymphoma of its author at age 55, seems tinged with the sense that the Chronicles wraps up an era from which we've truly moved on.

The Dragon production is pared down to a chemotherapy baldness, many of the scenes happening on a floor without set pieces or props. The most dominant element, a soundtrack of lively songs, serves as a kind of shorthand for capturing eras, and the choices—Aretha, Janis, latter Beatles (for 1980, the year of John Lennon's death)—prove to be quite evocative. Since the small, 40-seat theater brings the focus in, laser-sharp, on dialogue and characters, the play is really pulled along by the chemistry between Hagedorn and Ted D'Agostino as Scoop Rosenbaum, Heidi's "one that got away." Or rather the one she escaped by being uncompromisingly Heidi.

At Scoop's wedding reception, after Heidi and her gay pal Peter (Dale Albright) dish on the bride's "blandness," Scoop gets Heidi alone to explain why he married someone else. Basically, his story goes, he loves Heidi but recognizes that she could never be what he needs in life (a Stepford wife he can cheat on). In these one-on-one exchanges, their bond appears both laid-back and palpable, both deep and cooled. Rather than sparks and groping we get a sort of horn-locking of the minds.

D'Agostino's performance reveals the process of Scoop's love for Heidi and his spoiled self-love canceling out; and Hagedorn's understated sarcasm and muted curiosity reveal the process of Heidi's love folding defensively under into a distanced irony. It's a relationship that makes you want to get in there and find out what makes it not tick. Throughout the eras, Hagedorn wears this look that asks, "Am I out of it, or is all this really making no sense?"

By the '80s, her friend Susan is a media exec in L.A. They meet for lunch. Heidi in her low-key, deliberate way reaches for meaningful conversation about identity. But speed-lunching Susan, assistant in tow, replies, "By now I've been so many people I don't even know who I am anymore. And I don't care." Early on, Scoop predicts that intelligent career women will end up lonely women. That Heidi vindicates this comment in the '80s makes the play feel somewhat dated, especially the way it comes up in a conversation between Peter and Heidi about happiness. "I'm afraid I haven't been happy for some time," Heidi admits. Do people still ponder happiness? In the 21st century, don't we just defer that kind of dalliance until after we own our third company or income property?

But the discussion leads to key lines that may almost explain why the social attitudes of Heidi's chronicled era seem to have been abandoned. "It's just that I feel stranded," Heidi tells Peter. "I thought that we wouldn't feel stranded. I thought the point was we're all in this together."
---
The Heidi Chronicles, presented by Dragon Productions, plays Thursday-Saturday at 8pm and Sunday at 2pm through March 19 at Dragon Theatre, 539 Alma St., Palo Alto. Tickets are $10/$15. (650.493.2006)
---
---
Send a letter to the editor about this story to letters@metronews.com.
---
[ Silicon Valley | Metroactive Home | Archives ]