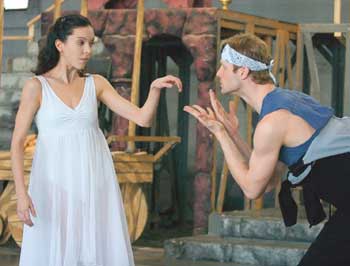 Photograph by Felipe Buitrago

We'll Always Have Paris: Maria Jacobs' Juliet high-fives Robert Ramey's Paris in 'Romeo and Juliet.'

Romeo Is Burning

Ballet San Jose Silicon Valley pumps up the drama in new production of 'Romeo and Juliet'

By Marianne Messina

FOUR FLIGHTS UP an ancient elevator, Ballet San Jose Silicon Valley rehearses Romeo and Juliet in a vast space renovated especially for the occasion. It looks like the rougher parts of the Winchester Mystery House, all uncompleted pre-Depression-era walls and bare rafters. Then you see the balcony where Juliet (Karen Gabay, Maria Jacobs, double-cast) will languish out loud over Romeo, and the winding staircases trucked in so that Maximo Califano, Ramon Moreno and Stephane Dalle can perfect the choreography for sword fights to the death.

In the first round of dueling, a bully-type, Tybalt (Califano), goes after capricious Mercutio (Moreno). "He's really wanting to fight with me," Moreno explains about his fight with Tybalt. "But I say, OK, I'm just going to play with him."

The somewhat comic skirmish takes Moreno and Califano up and down the staircases, upsets apple carts and scatters the crowd. But on Mercutio's death, the dueling between Romeo (Dalle) and Tybalt grows furious.

Needless to say, the scene demands serious multitasking from the dancers. "The music is so strong, and also the situation, so there is a lot of technique going on and also emotion," says Argentine-born Califano. "Sometimes the emotions are strong as the technique, and you lose the technique—and it can be so dangerous."

Throughout the duels, townspeople mulling around or jumping in and out of the way make precision timing an imperative. This balance between emotion and technique underscores the reason Silicon Valley is about to be treated to an extremely accessible Romeo and Juliet—with an emphasis on dramatic values that few ballet directors, other than Dennis Nahat, pull off.

Nahat has no problem rearranging Prokofiev's music when it breaks the story line, and he has pared away the traditional dance-for-dance's-sake divertissements. Assuming the role of Friar Laurence, Nahat demonstrates the good friar's every lily-livered thought and bumbling intention through emphatic gestures and facial expressions as clear as a script. "Watching him you learn so much," Califano reports.

Even in rough form, the fight scenes are spellbinding because the dancers' faces carry the emotional story: Mercutio's taunting humor, Tybalt's angry spite. And Nahat has created a particularly graphic death scene for Tybalt.

"When Romeo stabs me he breaks my spine," Califano explains, "so it's like you can't coordinate yourself." To choreograph the death throes, Nahat carefully instructed and monitored while Califano explored the body movements on his own.

"They have to find their own way in it," Nahat describes his directorial process. "They find their own little nuances which make it very individualistic, very poignant and real."

Nahat sees his role as the proverbial sculptor "finding" the form within the material. "I keep harnessing, I keep pulling it back, I keep refining it and reshaping—don't go that far, go this far, stop here, don't go here, watch the line of your legs."

In addition, Califano researched his Tybalt by watching videos and reading Shakespeare's play. "And that's why you have all these contortions," Califano goes on to explain. "Because your nervous system is gone."

The result is visually gripping. Both Moreno and Califano claim that a good balance between acting and dancing keeps a company from being cold, or worse, boring.

"Ballet's not only steps; it's about emotions and ... the feelings of the audience," Califano considers, adding that Ballet San Jose Silicon Valley has many good actors. One of those would have to be longtime company dancer, Karen Gabay. "I love roles that require acting," Gabay admits. "Tutu ballets and technique are very beautiful in their own right, but there's another dimension when you get to act and dance ... you can bring your own depth of character to it."

Returning to the role of Juliet (set for her) after 11 years, Gabay certainly brings depth to the table. "The choreography is a little more comfortable, so you can stay in your character. You're not going back and forth between characterization and then the technical aspects."

Juliet, according to Gabay, is her favorite role. "It's about love, and you get to grow youthful, but then, staying youthful—by the end, she's kind of lived a lifetime already. That's something that you strive to project, to find that thread throughout the ballet."

After Tybalt is slain, Beth Ann Namey as his aggrieved aunt (subtext: lover) Lady Capulet ends the expansive ensemble scene with anguish that seems to come straight from the bowels of darkness.

Namey claims her only acting secret is to put herself in Lady Capulet's place and just let go. "It's actually a lot of fun really, I'll be honest," she says. "Afterward, you're kind of shaky, but you feel better, you know, 'good.' Kind of like therapy."
---
Romeo and Juliet, a Ballet San Jose Silicon Valley production, plays March 9-10 at 8pm, March 11 at 1:30 and 8pm and March 12 at 1:30pm at the San Jose Center for the Performing Arts, 255 Almaden Blvd., San Jose. Tickets are $22-$74. (408.288.2800) The Ballet San Jose Silicon Valley Council presents Celebration, a gala to celebrate the company and honor artistic director Dennis Nahat. The gala includes music, entertainment and live and silent auctions. The event takes place March 18, 6pm-midnight, at the Imperial Ballroom at the Fairmont Hotel, 170 S. Market St., San Jose. Tickets are $250 per person. Reservations required, call 408.288.2820, ext. 240.
---
---
Send a letter to the editor about this story to letters@metronews.com.
---
[ Silicon Valley | Metroactive Home | Archives ]