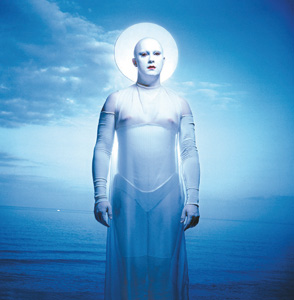 Photograph by Secretly Canadian

About a Boy: Antony collaborates with Lou Reed, Devendra Barnhart, Boy George and more on 'I Am a Bird Now.'

All About Antony

A tranny torch singer from Los Gatos becomes the toast of the New York underground

By Katy St. Clair

"OH NO," asks Antony with the mild chuckle of someone politely nervous, "this isn't going to be a 'Tranny moves to big city and makes good' story, is it? Oh God, please don't write that."

OK. How about we write the story about a kid who spent his teens in Los Gatos, went to school in Santa Cruz and then moved to New York to embed himself in the culture of the gifted yet marginalized. This young man eventually becomes a successful androgynous chanteuse, collaborating with the likes of Lou Reed, Rufus Wainwright and one of his first heroes, Boy George. He has performed everywhere from the Knitting Factory to the Sydney Opera House to the Steve Buscemi film Animal Factory. He is the toast of the New York avant garde underground.

Antony, who goes by that simple moniker, is the vocalist in the group Antony and the Johnsons. The music has the beauty of a haiku: bare and simple, yet profound, composed of only piano here, or only cello there. The real magic of Antony and the Johnsons, the thing that stops people cold, is his voice. When you first here it you aren't sure you are listening to a man or a woman; it is high and lilting, then low and buffed like suede. It is the sound of a child singing a funeral hymn for his beloved pet or a lullaby for a goth baby. He sings love songs of course, but he also sings about gender, connection and death.

"I used to try and bring everyone in the room to tears," he says from a phone in his Chicago hotel room. "Now I'm realizing that I don't have to work so hard onstage. I don't have to do anything, I can just enjoy being more comfortable up there and letting the show unfold."

He has been creating or performing since he was 11. In Santa Cruz, Antony became involved in experimental theater. His professors saw something in him and convinced him to move east, but he credits the South Bay for making a man of him more than he does New York City.

"If it weren't for San Jose, I wouldn't be half the person I am now," he says. "I met so many wild, wild people in San Jose. It was my introduction to life. I met some of the sleaziest, weirdest people; the darkest trannies and junkies; dropout punk existential weirdos living in gas stations; occult freakies; every possible variant of the tripped out and marginalized." Yes, it sounds like a typical day at Oakridge Mall.

It wasn't all druggies and criminals though. "I knew a lot of really amazing people there, a lot of really interesting people who sort of fostered me and saw me through my teens," he says.

Those years were spent listening to the Kate Bush song "Wuthering Heights"—an influence that can now be heard in his music—as well as to Marc Almond, Christian Death and Bauhaus. But it was Boy George that he first felt a connection with. Antony may not want this to be a "Tranny Makes Good" story, but you be the judge. Imagine being a young adult growing up with the sneaking suspicion that you aren't like everyone else, then you see yourself reflected in the singer for a group called Culture Club, only to grow up and actually collaborate with him. On Antony's new record, I Am A Bird Now, he sings a duet with Boy George on "You Are My Sister."

"You never know what the future holds," he says. "You can be 12 years old and staring at a picture of someone while you are standing on the top of a hill in Los Gatos, and they can seem so far away, and you can be feeling so alone and then 25 years later you can be with that person and they are staring at you, singing 'You Are My Sister.'

"That's the story of my life in a way," he concludes. "You never really know what the circles are going to be."
---
Antony and the Johnsons perform Friday (March 4) at the Great American Music Hall in San Francisco. Tickets are $16 and available by calling 415.478.2277.
---
---
Send a letter to the editor about this story to letters@metronews.com.
---
[ Silicon Valley | Metroactive Home | Archives ]