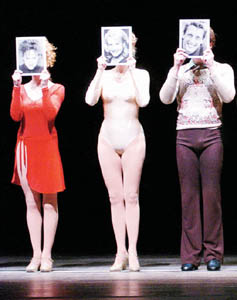 Photograph by David Allen

Lineup: The hopefuls put their best faces forward in 'A Chorus Line.'

American Dream

The fight for success keeps 'A Chorus Line' relevant at American Musical Theatre of San Jose

By Rob Pratt

THINK OF THE smash hit A Chorus Line as a vanishing breed of American musical. Among the Top 5 longest-running shows on Broadway, A Chorus Line stands (with a slowly sinking rank) as the lone work that grapples with profound issues of American culture among a slew of megamusicals, such as Cats and the Phantom of the Opera, that seem to be about little more than over-the-top theatricality. American Musical Theatre of San Jose's production of A Chorus Line is a welcome reminder—even in a flawed production—of the powerful way the best musicals can get to the heart of the American dream.

Ostensibly the story of a dozen or so chorus dancers auditioning for a Broadway show, A Chorus Line takes on the most fundamental American theme: the quest to create unity from a jumble of individual backgrounds and aspirations. It's an emblem both of the time of A Chorus Line's debut (1976) and of persistent centrifugal forces in American society that the show ends on an ambivalent note of disappointment for many and success only for a few.

Directed and choreographed by Kay Cole, who originated the role of Maggie, AMTSJ's A Chorus Line showcases a number of outstanding performances—notably, Kathryn Mowat Murphy as Cassie, Jill Lewis as Val, Robert Marra as Paul and Cindy Marchionda as Diane—and suffers a couple of embarrassing vocal performances. True to the spirit of the original, which featured a number of relative unknowns, the local production includes a handful of talented Bay Area performers and AMTSJ regulars in additional to regional and national players.

Unfortunately, vocal delivery is often impaired by sound system problems, including distortion, grating amplified "fuzz" from wireless body-packs and ringing frequencies from microphone feedback. Though her choreography draws heavily from Michael Bennett's original staging, which made elegant use of lines and geometric shapes, Cole's routines fall flat at important moments, most (un)dramatically for Cassie's pivotal second-act solo.

The simple set, merely eight or so rotating mirrored panels, remains a powerful presence—and, indeed, A Chorus Line could not work its magic without it. Pamila Z.Gray's crafty lighting design manages to create intimate spaces with only a beam from above or a spotlight or a splash of blue, quickly and efficiently signaling shifts in narrative frame as characters tell stories from their past.

As with the larger American culture, AMTSJ's A Chorus Line is a mixed-bag of positives and negatives. Despite the production's faults, AMTSJ should be applauded for mounting an apparently homegrown production of a challenging classic of musical theater instead of waiting for the inevitable national touring production that will attend A Chorus Line's revival on Broadway in 2006.
---
A Chorus Line plays Thursday-Friday at 8pm, Saturday at 2 and 8pm and Sunday at 1 and 6:30pm through March 6 at the San Jose Center for the Performing Arts, 225 Almaden Blvd., San Jose. Tickets are $45-$72. (888.455.7469)
---
---
Send a letter to the editor about this story to letters@metronews.com.
---
[ Silicon Valley | Metroactive Home | Archives ]