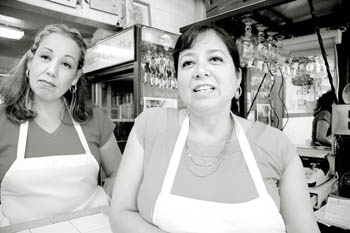 Photograph by Felipe Buitrago

All in the Familia: Rosa Duran (right) runs La Peñita with the help of her sister, Yoland Duran.

Bowled Over

San Jose's La Peñita serves Mexican food with heart

By Stett Holbrook

MY FIRST clue that La Peñita served great Mexican food was the crowds. Before noon on a recent weekday, the small dining room and counter were filled with hungry customers. Downtown office workers, Latino families, SJSU students, San Jose police officers and bus drivers all crowded into the restaurant.

Lunch is a good time to judge a restaurant, because people have little time and want to spend their lunch dollar wisely. Cops and bus drivers, folks who know the ins and outs of San Jose's dining scene, are particularly good bellwethers for good food.

The food proved the crowds right. La Peñita serves not only good Mexican standards such as tacos, burritos and enchiladas, but also a number of first-rate specialties that make it a local favorite. The house specialties are the wonderful soups, caldo de camaron, menudo, pozole, albondigas and the excellent cocido de res. There's something extra, a subtle, hard-to-identify ingredient that elevates these soups and makes them so satisfying.

Tucked into a corner of South First Street almost under the Interstate 280 overpass, La Peñita looks like it was plucked right out of owner Rosa Duran's home of Nayarit, Mexico, and set down in San Jose. The Saltillo tile floors, telenovelas on the TV, free-flowing Spanish and family recipes give it authentic Mexican charm.

Pozole ($7.75), hominy and pork soup, arrives in a big bowl and is served with the restaurant's homemade corn tortillas. A side dish of cabbage, diced onions, dried chiles and Mexican oregano, condiments you sprinkle into the soup to your liking, accompany the soup. The soup is hearty and deeply flavored with chile and onion. A squeeze of lemon adds another dimension of flavor.

Albondigas soup ($7.50) was perfect for a rainy day. Lean, walnut-size meatballs studded with rice bobbed in a savory, meaty broth. Best of all, however, is the cocido de res ($8). Like all the soups, it's served in an oversized bowl and brims with big chunks of carrot, celery, corn and squash. Flavorful pieces of beef shank, tender enough to pull off the bone with a spoon, anchor the dish. But it's the sparkling, translucent broth that had me spooning up bite after bite that really makes this soup stand out. The broth is wonderfully fresh and clean tasting. A squirt of lemon made it even better.

Beyond the soup, check out the enchiladas a la Mexicana ($7.95). Instead of the heavily sauced, cheddar cheese­buried dish commonly called enchiladas, these would be recognizable to a Mexican as enchiladas. Two corn tortillas are painted with a thin coat of red chile sauce and filled with rich, stewy and spicy jalapeño-peppered beef. It's topped with a sprinkling of dry Mexican cheese. Quite a difference from the Mexican-American version of this classic dish.

Good too are the tacos ($2.50), particularly the carnitas, though they are unwieldy and prone to falling apart, a failing in my mind for a dish that is supposed to be a quick, two- or three-bite snack.

Whatever you order, your first taste of owner Rosa Duran's cooking is her two excellent salsas served with the free basket of chips. My favorite is the spicy, earthy red salsa made from just chile de arbol and tomatoes.

La Peñita, which is named after a beach town near Duran's home, is truly a labor of love. For five years, Duran says she worked 14 and 16 hour days, seven days a week, in local canneries and other jobs to save money to open the restaurant.

"I worked everyday," says Duran, 43. "No day off. No Sundays off. No nothing." Judging by her smile and the tunes she sings to herself as she works, those years of struggle were worth it.

"I had a dream of being my own boss," she says.

She's realized that dream and nearly 17 years after she opened, she's planning on opening a second restaurant on South First where the venerable Five Spot now stands. Only instead of leasing the restaurant, as she does at La Peñita, she owns it with her husband. She hopes to open in May or June.

When I commented how much I liked her soups, Duran revealed the secret ingredient that permeates all the food she makes.

"You want to know what I put in all my recipes? Love."
---
La Peñita
Address: 601 S. First St., San Jose.
Phone: 408.295.0434.
Hours: Daily 8am-10pm.
Price range: $3-$10.
---
---
Send a letter to the editor about this story to letters@metronews.com.
---
[ Silicon Valley | Metroactive Home | Archives ]