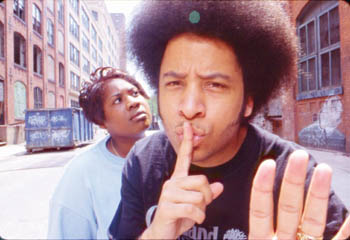 She Got Game: DJ Pam the Funkstress stands behind Boots of the Coup. She appears in San Jose on Saturday.

Five on It

Local collective Fifth Element provides a safe, honest forum for females interested in hip-hop culture

By Christine Lee

HIP-HOP has always been about raw, competitive energy. Respect is gained by how bad you make the other DJ, graffiti artist, rapper or dancer look. No other culture is so defined by the idea of pitting artists against each other to gain respect.

In society, women have always had to fight harder and grind longer to get theirs. This is just as true in hip-hop. Missy Elliott and Eve are probably the only female figures in hip-hop serving as role models to millions of B-girls. What happened to the trail blazed by Salt-N-Pepa, MC Lyte and Roxanne Shanté? Even though mainstream media isn't where revolutions are fostered, the independent underground scene isn't any more groundbreaking. There's conscious hip-hop, gangsta rap, jiggy rap, even emo rap. But, as the call and response goes, where the ladies at?

Aspiring female hip-hop artists have been quietly rapping, DJing, breakdancing and poetry slamming for a while now. Take Fifth Element—the local artists' collective dedicated to finding women's voices in hip-hop. Fifth Element isn't some warm and fuzzy support group. Run by and for women, they hold workshops and events. By showing talent instead of ass they help push women to the front line in the battle for respect. Their upcoming March 5 show Herstory at MACLA will feature female DJs, MCs, graffiti artists, and B-girls popping and locking.

Like any important movement, progress comes slowly but there is traction with artists like Berkeley's Aya De León and Coup DJ Pam the Funkstress, who are both performing on Saturday. Women are chipping away at stereotypes, showing that women can matter in the hip-hop game.

"I've been blessed to have the sort of longevity that I've had with the Coup," states Pam. "But it's still hard, no doubt. But I've had girls come up to me and tell me that I was an inspiration to them, which is amazing to hear, even if it's just reaching those one or two people."

Hip-hop fans are used to a certain aggression and some women rappers may end up overcompensating and get written off as too "hard" or worse, exploiting themselves through skimpy threads and sex. There are still too many music video hoochies—women reduced to the level of animals, jewelry or, in the case of a Nelly video, an ATM machine.

Aiko Shirakawa, a Fifth Element co-founder, says women shouldn't lose their identity to succeed. "What women forget is that we don't have to be a man in a man's world. Hip-hop has never been soft, that's true. But we can do it our own way. And if you have to do it on your own, do it and put out something that you love. That's all that matters. That and sticking together."

Which means that women may have to follow the very same path that underground hip-hop took in its nascence—one that lies outside traditional channels. If a label won't release your record, release it yourself. If you can't open for touring headliners, organize your own show. The root of hip-hop is struggle. It's about finding your own voice in an environment often tinged with self-doubt and the ever-lurking shadow of failure, and then inspiring others to do the same. It's about time those voices rang a little higher and Fifth Element nurtures many. As Herstory rapper Inkfat rhymes, "I remain humble/ Will never let the man decide for me exactly who I am/ And not give a care if you don't like it."

Fifth Element presents Herstory on Saturday, March 5, at MACLA, 510 S. First St., San Jose. The show starts at 8:30pm and tickets are $7. For more information, call 408.834.0790.
---
Send a letter to the editor about this story to letters@metronews.com.
---
[ Silicon Valley | Metroactive Home | Archives ]