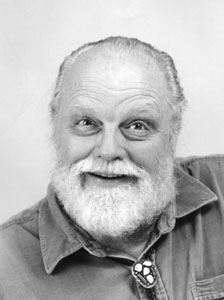 Skip to My Lou: The late composer Lou Harrison continues to draw the respect of musicians.

Notes of Memory

The San Jose Chamber Orchestra and New Music Works pay homage to composer Lou Harrison in a pair of concerts

By Scott MacClelland

COMPOSER Lou Harrison's exotic creative idiosyncrasies notwithstanding, it's the respect and admiration for his music shown by performing musicians that accounts for his continual resurrection in the public consciousness. Harrison's was a unique and groundbreaking vocabulary, one that boldly embraced the music of dissimilar traditions, then was synthesized in his own calligraphy and sung in his own voice.

His "ground-zero" actually was split between where he lived, in Aptos, and where he taught, at San Jose State University, attracting a steady stream of young composers in search of the genuine article, a true guru.

A straddle-the-hill gang, comprising Barbara Day Turner's San Jose Chamber Orchestra and Phil Collins' New Music Works, will perform a Harrison memoriam celebration this weekend with a pair of concerts, one in Santa Cruz and one in San Jose.

While a student as SJSU, Turner took up the harpsichord. "I had small hands," she recalls, by way of explaining the greater physical challenge represented by the piano. Though the body of contemporary harpsichord music is small, most of it is interesting to play, she says, adding, "Lou's [pieces] were among the only ones that were pretty in addition to interesting." Over the years, Harrison attended Turner's SJCO concerts at Le Petit Trianon, including one just before his death in 2003.

The upcoming program contains the Harrison/Richard Dee Suite for Violin and American Gamelan, arranged for strings by Kerry Lewis, a Harrison disciple. The performance will feature soloist Cynthia Baehr.

Right after Harrison's death Turner commissioned Lewis' Elegy for Lou Harrison, now getting its world premiere. Turner describes it as "beautiful, sincere, a nonsentimental honoring of a great musician." In addition to strings, the piece includes harp and subtle percussion. Asked if it imitates Harrison, Turner says it's "more like a tip of the hat." An hour before the concert, Harrison's longtime friend and collaborator Eva Soltes will screen a portion of her documentary-in-progress on Harrison's life and music.

Among other Harrison rarities are his Psalter-Sonato and The Garden at One and a Quarter Moons. Collins says, "The pieces utilize the instrument's characteristic qualities in signature ways, and, to my ears, they are among the most lovely of Lou's solo repertoire." For these concerts, they will be played by Hiu "Daisy" You.

The NMW Ensemble will perform Harrison's Tributes to Charon, Solo to Anthony Cerone (for tenor bells) and one of the composer's own favorites, The Perilous Chapel, created in 1948 as a ballet for Jean Erdman, and scored for flute, cello, harp and drums. The Tributes were composed in 1939 and 1982, the latter "written for alarm clocks," the composer writes.

Ever the earnest promoter of Harrison's output, Collins declares, "Lou's range of accomplishments deserves comprehensive airing, the high quality evinced throughout his diverse body of work is nothing short of remarkable, and I think the public—and professional community as well—could use some enlightenment on the subject."

Regarding this program, he adds, "Lou's Chinese chamber music rarely gets included in U.S. concerts of his music. And the opportunity of hearing his magnificent Suite for Violin and String Orchestra, juxtaposed with a varied plate of chamber-size gems, delights me to know that we have come up with a presentation that hasn't already been played for area audiences."

In his assessment, Collins enjoys august company. Years ago, critic and composer Virgil Thomson said, "Few composers now alive can fascinate the ear, as Mr. Harrison does, with simple procedures. At once plain and sophisticated, his music reflects a concentration on music's basic elements that is as expressive, surprisingly, as it is intrinsically interesting."
---
Lou Harrison in Memoriam takes place March 5 at 8pm at First Congregational Church, Santa Cruz. $12-$18; 831.459.2159. Also March 6, 7pm, Le Petit Trianon, San Jose. $20-$40; 408.295.4416.
---
---
Send a letter to the editor about this story to letters@metronews.com.
---
[ Silicon Valley | Metroactive Home | Archives ]