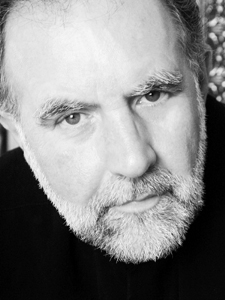 Baton Twirler: William Boughton put the symphony through its paces over the weekend.

British Beat

William Boughton led Symphony Silicon Valley through Schumann and Sullivan

By Scott MacClelland

BRITISH CONDUCTOR William Boughton last appeared in Silicon Valley with the San Francisco Symphony giving a Flint Center audience a memorable account of Holst's The Planets. For his first concerts with Symphony Silicon Valley (but not his first in San Jose), he led a program that only aspired to substance in Schumann's Symphony in C Major. Arthur Sullivan's Pineapple Poll, while cleverly arranged, is sheer froth, and nothing exemplifies Mozart-lite more than the Concerto for Flute and Harp. Nevertheless, the orchestra responded with flexibility and élan throughout the Sunday afternoon performance at the California Theatre.

Legendary choreographer John Cranko created a ballet in 1950 called Pineapple Poll. For it, the nearly legendary conductor Charles Mackerras cobbled a pastiche whose every note comes from one or another Gilbert & Sullivan operetta. (If you want to know more, find the article about it at allmusic.com, from which the program note in the concert handout was cribbed.) Subsequent to its balletic successes, Mackerras reduced half of the original score into the concert suite heard here.

Entertaining as it was—at least until it all began to sound the same—it seemed like a missed opportunity to program music of symphonic significance. There are countless works lasting 20 minutes available, plenty of which could have enhanced the orchestra's repertoire and shown off the conductor's expressive insights.

The Schumann symphony is arguably his best (of four), not least for the counterpoint that enriches it in various bits and with a fugal episode in the slow movement. Boughton and the orchestra gave it a compelling reading, spaciously paced and full-bodied in its sonorities. After its quiet beginning—with trumpets hinting at fanfares that return throughout the piece—Boughton saw his opportunity to show off the orchestra's muscular grandeur at the climax of the development. The accelerando at the end of the second movement scherzo sizzled. Boughton shaped the long line of the yearning and disquiet slow movement with a masterful sense of Schumannesque "romantic" phasing.

The Mozart concerto got a nigh unto perfect performance by flutist Maria Tamburrino and harpist Dan Levitan, both orchestra principals who have collaborated numerous times on the piece. Their simpatico with one another was riveting, and though the music remains always on the surface, Tamburrino came up with a phrase in the second movement cadenza that haunts me still; one three-second phrase out of a 30-minute piece that was worth the price of admission. The duo's encore, Debussy's Clair de lune, was later described by one of the orchestra's musicians as sounding "like it was composed for them."

SSV's 2005-2006 season, just announced, will include, in order of appearance, guest conductors Patrick Flynn, Paul Polivnick, George Cleve and William Boughton. Soloists will include composer/performer (on various instruments) David Amram, pianists Stephen Prutsman and Jon Nakamatsu and returning violinist Ju-Young Baek. In addition to major works of Beethoven, Tchaikovsky, Brahms, Berlioz, Grieg, Sibelius and lots of Mozart, rarely heard works of Bernstein, Amram, Ellington and Piazzolla are scheduled.
---
Send a letter to the editor about this story to letters@metronews.com.
---
[ Silicon Valley | Metroactive Home | Archives ]