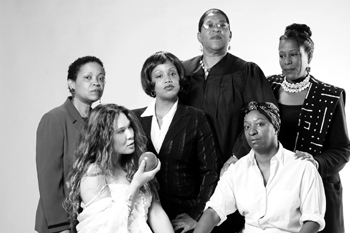 Photograph by David Allen

Issue Driven: Tabia's latest production takes on the question of how stereotypes affect African Americans.

Stereotypes on Trial

Tabia tackles big issues in new production

By Marianne Messina

The Trial of One Short-Sighted Black Woman vs. Mammy Louise and Safreeta Mae is a long title for a long play (more than three hours with intermission), rejecting the tendency to deal with highly charged issues in sound bites and neat plot arcs. Victoria Dryer (sleek, sometimes perky Sonya Stamper) is the "short-sighted black woman," and she has brought a lawsuit against two black film stereotypes, Mammy Louise (Donna McCraney), the strong, all-knowing nanny with the Aunt Jemima build, and Safreeta Mae (Charisse Loriaux), the mulatto temptress (complete with apple). Victoria feels these two film images have hampered her chances to get ahead at her company. When the play begins, the litigants are stereotypes (and the court officers are named only by function). Victoria ("I grew up in a nice neighborhood"), and later Leroi Johnson (Carter Stewart)—"that's Le roi; accent is on the last syllable"—are power-suited professionals, the "uppity" stereotype played with exaggerated braggadocio. Seduced by titles and expense accounts (name-dropping their designer clothes and access to moguls), they are prime targets for Defense, who uncovers the fact that these two card-carrying capitalists are still filling menial or subservient roles.

At Tabia's current production of Karani Marcia Leslie's Trial, bits of old (pre-Civil Rights) movies play the filmography of characters like Mammy Louise on two screens to either side of the stage (Lillian Jones and Dennis McKinnon on media). Each side of the debate has an attorney, the pant-suited Prosecution (Hedwig Gayle Rucker), whose argument is essentially that it's time to move on, and the African-appointed Defense (Sharon Moore), who argues that these "images" must be remembered. Their arguments are not terribly consistent, nor is the boundary between stereotype and character. The play more pointedly provides a platform for airing out issues of racial identity. For example, when Defense tells movie producer Clyde Evans (Postoria Aguirre in white mask) that being ill-informed "is dangerous when you have the power to create images" he responds, "I kiss butt just like everybody else." When Leroi defends his position by saying "I don't owe anybody" and "I did the work," Prosecution says "because somebody sat in, somebody marched," while scenes of the huge Civil Rights protest marches of the '60s fill the nearby screens. Still, the Trial doesn't let you focus only on the practical arguments. As the Trial progresses, the two defendants become more like individuals and less like "images," forcing the audience to become aware of its own shifting expectations from the stereotypes.The play wants the audience to own these issues right from the start when, after mounting the imperious staircase to her bench (Jamie Kumpf, stage design), the brassy-voiced Judge (Adaku Davis) enlists a butch-looking Bailiff (Darlene Pogue) to tell the audience they'd better show their respect by "all rising."

In the second act, the arguments continue to be buffeting, intense, occasionally long and once in a while on a soapbox. Yet, they leave so much room for discussion, the play should include a talk back after each showing. The Trial reaches magic around the question Mammy repeatedly asked as a slave, "Why us?" At this point rhetoric breaks down and scenery fades behind a stormy, dreamlike ambience of lighting (Jill Lane) as Mammy and Safreeta dance what they call the Spirit of the Wind. Out of this moment, Mammy answers her own question with "maybe something inside us chose it." This mysterious sequence comes closest to answering the play's question regarding why we humans back away from acknowledging the slave ships (not to mention the Auschwitzes, Pinochet Chiles, Sarajevos, Rwandas, Mi Lais) of our collective past. They happen like some wild, dark dance and all the pretty arguments of civilized law can't give us a clue how they come to be.
---
The Trial of One Short-Sighted Black Woman vs. Mammy Louise and Safreeta Mae plays Friday-Saturday at 8pm and Sunday at 3pm through March 6 at the Mexican Heritage Theater, 1700 Alum Rock Ave., San Jose. Tickets are $20-$30. (408.272.9924)
---
---
Send a letter to the editor about this story to letters@metronews.com.
---
[ Silicon Valley | Metroactive Home | Archives ]