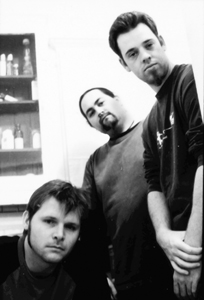 Point 3 releases its new album this Saturday at Waves.

Bright Glo

Exclusive new San Jose dance club offers guests the VIP treatment

By Sarah Quelland

THE ROYAL BURGUNDY and orange hues of Cabana have faded, and the sun has set on the South First Street club. A new day is dawning inside the old Studio Theater space at the heart of San Jose's SoFA district. The finishing flourishes are being put on an exclusive new club called Glo, which houses an even more exclusive upstairs lounge called Shine. The grand opening is scheduled for next Thursday (March 11).

Modeled after fashionable clubs in New York, Miami and Los Angeles, Glo promises a VIP experience that begins at the door, where hostesses meet guests and escort them from the entry to their reserved tables. With bottle service and cocktail servers, Glo specializes in personalized attention and the club expects to appeal to the same local millionaires, CEOs and professional athletes who frequent classy local hot spots like Seven Restaurant. The music will be a mix of upscale hip-hop, house, R&B, rock and Detroit funk.

Done up in a light-pastel purple-and-green color scheme with white accents and sweeping white drapery, Glo offers a well-lit atmosphere. Fourteen-foot walls of illumination softly glow from behind the main room's two facing bars, and the dance floor is lit from underneath.

The key to this club is intimacy. To create that effect and minimize the large space, raised platforms have been added to either side of the dance floor. One wing is split in two and has long white bench seating with private tables and railings that separate it from the main floor. The opposite wing is also railed off and has a loungier vibe with reserved couches and tables. Additionally, the DJ booth has been lowered and a fishbowl that can be reserved for private parties overlooks the dance floor.

At Glo, people have the option to mingle at the bar or on the dance floor, or to remove themselves from the action and socialize in their own areas. Upstairs, past shelves lined with candles, Shine basks in shades of light blue and offers even more privacy and separation. The multilevel upstairs club overlooks Glo and has its own bar, DJ booth and illuminated dance floor.

The joined clubs are owned by Bob Jones, Hugo Gamboa, Rich Daly, Drew Adelman and Michael Spinello. The business team's San Francisco club, suite one8one (see www.suite181.com), draws the same elite crowd this San Jose club intends to court, along with celebrity comedians and rock stars. With the pull of two venues, they plan on bringing DJs from New York, Los Angeles and San Francisco to San Jose.

The grand opening begins March 11 with a private party, 8-10pm, that makes way for the general public after 10pm. The opening celebration continues on Friday and Saturday, and guests should call ahead to reserve a table. Bottle service starts at $175. Call 408.995.6414 for reservations and visit www.clubglo.com.

NO WARDROBE MALFUNCTION HERE: Edge ads for "Topless Sushi and Karaoke" referred to in last week's column are served with this disclaimer: "*Topless is the way we serve the drinks, not the way servers are dressed." We thought you knew that. To set the record straight, no, the Edge does not have topless servers. It's just a cute way to say they serve sushi on a plate on top of a drink.

HOT TOPIC: Hella and Deerhoof celebrate new releases on Kill Rock Stars this Friday (March 5) at the Santa Cruz Teen Center in Santa Cruz. Zdrastvootie also performs. The all-ages show starts at 7pm, and there's a $7 cover. ... Scary Records invades Johnny V's this Saturday (March 6) with a big bash to celebrate its new 29-song compilation featuring songs by groups like the Shitkickers, the Invasion, Big White, the Extras and the Deadutantes, all five of which will perform that night. The cover is $3, and CDs sell for $5. ... Just down the street, Point 3 and Hippie Aggression split the bill on a free joint CD-release party at Waves Smokehouse on Saturday night (March 6) with Friction. ... Members of the band formerly known as Divided are auditioning guitarists. Interested players can email [email protected]

PLAN AHEAD: Corpus Callosum, March 4 at the Outhouse in Los Gatos; Drunken Starfighter, March 4 at the Gaslighter Theater in Campbell; Plans for Revenge, March 5 at the Outhouse; Something Must Die, March 7 at the Gaslighter Theater.
---
Send a letter to the editor about this story to letters@metronews.com.
---
[ Silicon Valley | Metroactive Home | Archives ]