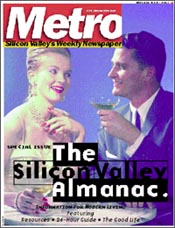 For the Week of
March 4-10, 1999
Cover: Living Made Easy!
This year Metro's annual Silicon Valley Almanac offers the secrets to rediscovering the good life, from health to money matters and from family to fitness. Also featuring the 1960s images of photographer Arnold Del Carlo, who captured the people and places who made the 'Valley of Heart's Delight' unforgettable.
News: Harvest Horrors
America's stampede toward herbal pharmaceuticals has put a strain on wild plants and their habitats.
Saratoga: .Saratoga teen faces charges in a string of local burglaries

Cupertino: Senior center warns members about suspicious phone solicitor.

Los Gatos: New site proposed for historic building.
Public Eye: Kathy Chavez Napoli may scrap for a City Council seat.

Laptop Murder: When living too well becomes hazardous.






Dusty in Memory: Dusty Springfield put flirtation in the air with her sixties hits. An obituary by Richard von Busack.
Gender Is The Night: Hedwig and the Angry Inch creates a musical comedy out of rock elements; the Rushmore soundtrack evokes the innocence of the '60s.



A Film Odyssey: Stanley Kubrick combined grandeur of vision with grandeur of pessimism. An obituary by Richard von Busack.
The Cinequest That Was: Richard von Busack wraps up this year's San Jose film festival.
De Niro Worship: In a familiar role, Robert De Niro still delivers in Analyze This.
Raging in Boston: Gay film All the Rage targets young and affluent.
Not Up to Snuff: Eight Millimeter begs for more in porn underworld.



Stoppard the Press: Gina Arnold reviews Indian Ink, the new play by Shakespeare in Love screenwriter Tom Stoppard.
Destined to Grow Up: A Latina girl comes of age in The House on Mango Street.
A Worthy 'Legacy': Activist seniors tell their tales in song, dance and monologue in SJ Rep's new production.



The Good Guys: Georgia's small publisher Top Shelf Comics delivers the graphic goods.
Flower Power: Susan Orlean documents the madness swirling around a Florida orchid society.



Please don't forget to write! Metro welcomes letters. Like any great work of art, they should be originals -- not copies of letters sent elsewhere. Include address and daytime phone (for verification purposes only). Letters may be edited for length and clarity or to correct factual inaccuracies known to us. Postal: Metro Letters, 550 S. First. St., San Jose, CA 95111. Fax: 408/298-0602. . Emailers, please include name, city of residence and phone number. Letters printed will list email address unless otherwise specified. Letters to the editor are not currently published in the online version of this paper.