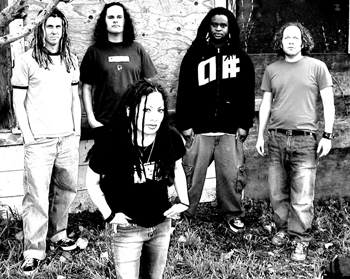 Hippie Aggression brings on the love.

Funkin' Hippie

Spoken-word and hard rock collide with Hippie Aggression's peace, love and in-your-face vibe

By Sarah Quelland

THE UNION OF SPOKEN-WORD and funky, psychedelic hard rock may not be the most customary approach to rock music, but the unusual dynamic works well for Hippie Aggression. There's even a hint of Rage Against the Machine in this group's political sensibility and fierce intensity. But Hippie Aggression has a female force to guide it. This artistic South Bay collective is fronted by Gigi Bautista, a poet and vocalist who's clearly a rocker at heart. Her dreadlocks fly as fast as her words as she loses herself in the performance.

Themes of tolerance, peace and respect filter through her words. Over the trippy "Liberation," she flows, "A spiritual plain I claim / To enhance and balance / our stance against intolerance / My involvement to solve then / Toke the smoke of green givings living life free to be / Because we as a union say / Break the barriers / Of ill-spoken carriers." The stomping "Happy" carries a similar message of peace: "My gist is my quoted mission of bliss / My token is a two-fingered fist." Her rhymes are tight. Check out "Discombobulation of My Phuncque" (If I said / Such meaningless / One night might fright sights of I-you-me / Kindredship of we / In my realm of idiosyncrasies / Silly eccentricities / Did you see?") and "Some Kind of Fun" ("Getting up in the morning still in a daze from night before's insidious haze / Knowing what I must preach begins, but my overindulgence hurts my friend / From last night's burst am I cursed? / Or am I jumping on the wagon then falling off again? / My head is still tumbling / My feet are still stumbling / My stomach is rumbling/ But I called it fun").

Hippie Aggression was formed out of the G. Project, an experimental and eclectic jazz-fusion duo developed by Bautista and producer and Hippie Aggression drummer Dennis Morehouse. The Hippie Aggression lineup includes guitarists Keith Brinkley and Marc Schneider and bassist Damien Gonzalez (better known as a percussionist and formerly of Squeeze the Dog). The group has been in the studio working on its album, Peace and Love in Your Face!, and Monday (March 10), it plays a free Rockstars and Bitches show at Waves Smokehouse & Saloon with Crumpled Napkin and Friction.

LISTEN TO THE MONEY TALK: Commercial radio rarely gets more bizarre than KSJO's annual Pay for Play weekend, which raises money for the Tracey Biletnikoff Foundation. For a $25 donation, the station will play any song you request as long as it's under five minutes. Longer songs cost more. Local bands can get their songs played for $200. The station will also be auctioning off autographed guitars (including guitars signed by Tool, Linkin Park, Dio, Santana, System of a Down and even the Dixie Chicks). This weekend (March 7-9), KSJO broadcasts live from South First Billiards in downtown San Jose. DJs Mikey, Sloppy Joe, Zakk, Spazz, Uncle Nasty and special guests will be running the show in shifts. Visit www.ksjo.com or www.traceybiletnikoff.org for more information.

DRAWING A BLANK: At deadline, it appeared unlikely that the Blank Club would open on March 8 as previously announced.

HOT TOPIC: Insolence headlines the Edge in Palo Alto Friday (March 7) before taking off for a minitour of Japan sponsored by Seedless Clothing. Reaction 31, Lica Sto and Kung Fu Vampire also perform. ... On Saturday (March 8), the Muckruckers play a teens-only CD-release show at Mitchell Park Center in Palo Alto with Dexter Danger, Never Heard of It and Joy's Panic. ... Trapt plays Slim's in San Francisco on March 27.

PLAN AHEAD: Atomic Mint and Fancy Hair Dragon, March 7 at the Caravan; Beneath the Surface, Mechanical Sun and Mind-Eye, March 7 at Pine Street Bar & Grill in Livermore; Alien Love Syndrome, March 7 at St. Stephen's Green in Mountain View; Pretty Girls Make Graves, March 8 at Bottom of the Hill in San Francisco; Death Cab for Cutie, the Velvet Teen and the Thermals, March 8 at the Catalyst in Santa Cruz; Super Diamond, March 14 at spy; Ministry, March 21 at the Fillmore in San Francisco; AM Radio, March 23 at the Edge; Flogging Molly, the Supersuckers and Throw Rag, April 4-5 at Slim's in San Francisco; Bright Eyes, April 8 at the Fillmore; CKY, April 9 at the Catalyst; Foo Fighters and the Transplants, April 11 at the Henry J. Kaiser Arena in Oakland.
---
Send a letter to the editor about this story to letters@metronews.com.
---
[ Silicon Valley | Metroactive Home | Archives ]