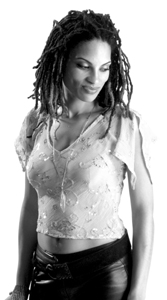 Force of Nature: Goapele opens KMEL's House of Soul concert on March 16.

Buzz List

Circle the hype wagons and prepare for the next wave of scene stealers: the Raveonettes, Goapele, the Streets, the Yeah Yeah Yeahs, Ms. Dynamite, DJ Jester and Triple Threat

By Todd Inoue

THIS SPRING, the biggest little name to roll through the South Bay is the heavily hyped Danish band the Raveonettes. The duo of Sune Rose Wagner and Sharin Foo is making righteous noise with its unusual, dark sound and image influenced by pulp fiction novels, Black Rebel Motorcycle Club and the Velvet Underground. The new album, Whip It On, was a huge hit in England and sees a stateside March 18 release on Sony. The band just finished an opening tour of duty with Interpol and has confirmed a special Santa Clara University Benson Center show with the Mooney Suzuki on April 6. Yeah, I'm scratching my head about this one, too.

The Yeah Yeah Yeahs were in the same place as the Raveonettes a year ago. The Trio's 2002 SXSW showcase was packed with industry insiders struggling to get a closer look at the its dirty, herky-jerky skronk and Karen O's delectably morose preening. After the feeding frenzy subsided, the art-punk outfit calmly signed to Interscope and will release its major-label debut in April. Whether they're the second or third coming of the White Stripes, the Yeah Yeah Yeahs will deconstruct whatever preconceived notions are left. The band comes to the Bay Area for two shows: April 20 at Bottom of the Hill and April 21 at Great American Music Hall.

If garage punk ain't your thing, or if you want to be down with the next big R&B sensation, wrap your lips around the difficult-to-say Goapele. Pronounced gwop-olé, the Oakland resident is seeing her stock rise on the strength of her independent single "Closer," which has cracked the otherwise indie-is-shmindie KMEL playlist. Goapele had them swooning during her packed house show at Slim's earlier this year, raised the temperature during a cover of Roy Ayers' "Everybody Loves the Sunshine" and blew it off during a Goapele/Amp Live duet, "The Daze." She was added to KMEL's House of Soul concert at the Fillmore on March 16, and it's worth your while to get there early.

U.K. garage artist the Streets reached No. 4 album ranking in this year's Village Voice Pazz and Jop critics' poll, and for good reason. The rapper has stunned the masses with a sick musical mélange that is equal parts Terry Hall, Billy Bragg and Roots Manuva set to a stuttering U.K. garage beat. His album Original Pirate Material is like having a bloke from Trainspotting yakking your ear off. He's a powerfully arresting character with massive tongue-twisting techniques. He plays Bimbo's 365 Club on March 14.

Just as every Clyde needs a Bonnie, or Sly needs a Robbie, the Streets has Ms. Dynamite, who is about to wreck shop. Her voice rings like a Klaxon call over a similarly structured beat but she exhibits more R&B flair. Her handlers are pitching her sex appeal, but she can get the job done with her razor tongue flow and singsong stylee-hee-hee. No dates yet, but Interscope is ramping up for a huge promotional blitz, so brace yourself.

One of the hottest buzz words last year was the Mash-Up--something that intrepid nerdy DJs have been perfecting in their dungeons for years. Basically take two records of completely different origins, one an instrumental, the other an a capella, and create one new crazy wicked song. DJ Z-Trip and DJ P blew the lid off the whole scene with their Uneasy Listening Vol. 1 album that placed Midnight Oil's "Beds Are Burning" vocal over Metallica's "For Whom the Bell Tolls." 2 Many DJs' As Heard on the Radio series has gained cult status. Mash-ups, also called bootlegs in Europe, are funny when conceived correctly, and a hit at parties. Aside from Z-Trip, the hottest DJ to do the mash is San Antonio's DJ Jester. If you don't have Riverwalk Riots or Heavily Booted (one of my Top 10 records last year), snatch it up quick before sample watchdogs get wise. On Booted, Europe's "Final Countdown" and Rob Base and DJ EZ Rock's "It Takes Two" meet in the sound-clash arena. Devo's "Whip It" gets crunked up with Outkast's "B.O.B." One of the cleverest routines is Jester's manipulation of George Strait's "Amarillo by Morning" over Young MC's "Bust a Move." Jester is opening up Kid Koala's Nufonia Must Fall book tour, which plays March 28 at Butterfly in San Francisco.

Also on the turntablized tip, Triple Threat DJ crew has just released its first record, Many Styles. The three DJs--Apollo, Shortkut and Vinroc--represent DJ royalty with current and past memberships in Beat Junkies, Skratch Piklz and Fifth Platoon. On Many Styles, the Bay Area DJs showcase a variety of styles--mixing, scratching and battling--then raise them to another level with help from Zion I, Talib Kweli, Mystic, Goapele, Souls of Mischief, Planet Asia. The trio celebrates its record release party on March 15 at Agenda Lounge, as part of the Directions in Sound program of the Asian American Film Festival.
---
Send a letter to the editor about this story to letters@metronews.com.
---
[ Silicon Valley | Metroactive Home | Archives ]