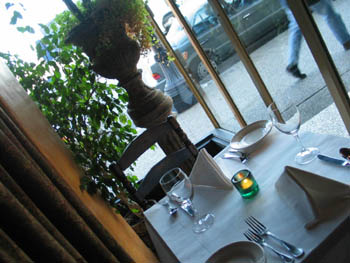 Photograph by Traci Vogel

Window to Delicious: Tuck away luxurious desserts in a window nook at Stratta.

Another Stratta-sphere

For Stratta's devoted fans and newcomers alike, things just keep getting better at downtown's star central

By Christina Waters

OLD BRICK, gleaming wood floors, a serious bar and playful food--Stratta has a polished formula for dining that keeps on making its delicious point. Teri and I came in from the cold last week and wisely wrapped ourselves around generous pours of fine wine--a Boyer '98 Syrah ($8.50) and a buttery St. Clement Sauvignon Blanc ($6.50).

While it might have been tempting to stay at Stratta's central bar and admire all that carved wood, the loud-guy factor cut into the possibility of actual conversation. From our power table in the corner, we could soak up the view of Stratta's haunting Pompeiian triptych, one of the few touches of color in the otherwise Spartan décor.

We had a great waiter, and the elaborately composed food was to provide us with more than enough sensory firepower, starting with a basket of three fine breads. I tasted my way discreetly from a fine-textured seed baguette to a plush, sage-infused focaccia--such fine bread that Teri had to be restrained from filling up before the actual meal. Dinner was going to be wonderful, I thought, already primed by the restaurant's attention to details. I'll reveal in advance that our dinner ended with one of the best desserts I've ever had in San Jose, but let's begin at the beginning.

Reversing the old adage, Stratta specializes in entrees that overshadow even the intricate appetizers we sampled. Very clever, perhaps a bit too tricky, was a creation of Dungeness crab-stuffed cucumber "towers," drizzled with a seemingly unflavored vinaigrette and orange slices and served so chilled as to require thermal forks ($10.95). Had the dish arrived anywhere near room temperature, we might have been able to admire the crab and carrot stuffing that popped out the top of the cucumber cylinders, playfully garnished with baby radish sprouts and ribbons of yet more cucumber. As it was, the dish tasted like pink and green ice.

Another starter plate of roasted organic beets offered a riot of earthy beet flavors accented by the crunch of pumpkin seeds and toasted walnuts, but it lacked the visual appeal of the cuke towers ($7.25). The beet dish appeared to have been pulled together in a hurry, rather than actually planned.

But the entrees conquered. An evening special of sliced, rare venison came bathed in a rich mustard and wine sauce, accompanied by horseradish-laced mashed potatoes and sublime fresh spinach touched only with a bit of butter ($24.95 and worth every penny). Lean and tasty, the venison managed to be succulent as well, and the kitchen's restraint with the side dishes proved to be right on target.

Teri's grilled salmon fillet ($19.95) was delicious and crispy, with a very supple interior and smartly joined by long baby carrots, plump red potatoes (mmm) and slender green beans plus a mystery mound of shaved transparent, odorless, colorless ingredient that might have been a neutered cabbage or spun fennel. The salmon was lovely, especially with the opulent sauvignon blanc.

Along with excellent espresso, the desserts made a stunning finale to our dinner at Stratta. Yes the vanilla bean crème brûlée was voluptuous ($6). But even it was overshadowed by a bewitching and witty version of pineapple upside-down cake, in which a circular cake of warm polenta arrived topped by a warm slice of pineapple ($6.50). Now let your mind's eye visualize graceful arpeggios of caramel sauce, entwined with crème anglaise and a scoop of spumoni gelato stupendous enough for sainthood. Each bite of the warm, barely sweet polenta cake, alternated with cool, finely textured gelato, was a revelation.

And yes, several slices of that venison made a luxurious lunch the next day. We were impressed by the generous portion size as well as the intelligent combinations of main ingredient and accompanying side dishes that distinguished Stratta's entrees. And for the polenta cake and gelato alone, I would gladly brave the theater crowds downtown and dine again soon at this durable bistro.
---
Stratta
Address: 71 E. San Fernando St., San Jose
Phone: 408.293.1121
Hours: Dinner 5-10pm Mon-Wed, 5pm-midnight Thu-Sat; 5-9pm Sun
Cuisine: New American fusion
Full bar
---
---
Send a letter to the editor about this story to letters@metronews.com.
---
[ Silicon Valley | Metroactive Home | Archives ]