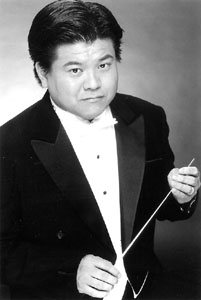 To the Finnish Line: Guest conductor Yasuo Shinozaki saved his best for Sibelius' Symphony no. 2.

Shining Sibelius

Symphony San Jose delivers stirring account of Sibelius' Second Symphony

By Scott MacClelland

AT THE CONCLUSION of their concert Saturday night, the Symphony San Jose Silicon Valley musicians gave their second guest conductor of the season a round of approving applause. It was for leading them through a stirring account of Sibelius' Symphony no. 2. But earlier, their reading of Beethoven's Symphony no. 8, under Yasuo Shinozaki, currently the Los Angeles Philharmonic's assistant conductor, was unstylistically bloated, its sparkle and snap sacrificed under swollen sonorities. Within the resultant smoke screen, entrances were ragged and blurry, and errors, especially in the horn section, could be added up.

No other Beethoven symphony--indeed few others of his works--contains as much wit as the Eighth. In that sense, it honors the spirit of Haydn even more than some of Beethoven's earlier Haydn-influenced pieces that seem more concerned with the letter of the older man's law.

So it proved puzzling to hear the work played under a heavy hand, with flattened-out dynamics and without delight being taken in its many jokes. One was left with trying to decide if rehearsal time had gone lopsided in favor of the Sibelius (and the short opening Guardian Angel by Karen Tanaka), leaving the Beethoven only short shrift. In any case, for better or worse, credit goes to the conductor. What missed the mark for Beethoven, however, scored big in the Sibelius, a complex masterpiece that needs strong leadership to takes its rightful shape. This it got from Shinozaki, who, according to his biography, has enjoyed many successes in the composer's native Finland.

His pacing and phrasing plainly inspired the musicians to come up with the goods. The opening movement asserts, then pulls back, accelerates then goes circumspect, alternates building and relaxing as it retreats to chamber music before going fully symphonic. In short, a work that needs a carefully thought out conception before launch. Shinozaki executed a finely controlled manner of holding back both tempo and dynamics, then accelerating them quickly and, obviously, exciting the musicians in the process. This achieved extraordinary mystery in the opening bars of the second movement, a ghostly pizzicato on the low strings leading to and through a mournful bassoon line, the slowest and most compelling I have heard. Throughout, textures were rightly balanced, the effects vivid and clear (though the tuba was angled in such a way as to stand out disproportionately in the last movement.)

Tanaka's 10-minute work appeared to significantly challenge no one, musicians or audience alike. Scored for clarinet, harp, percussion and strings, it nurses a feel-good layer cake of close-in tonal harmonies, percussion (mostly marimba) undercurrent and occasional focal points on sweet clarinet musings and harp arpeggios. Once in a while, a malleted finger symbol added a point of light. Though revealing craftsmanship at the hand of its creator, the work sounded like background music to--one must assume--Tanaka's vision of angels. Nothing here to trouble the soul, for sure.
---
Symphony San Jose Silicon Valley next performs April 16 at 8pm at the San Jose Center for the Performing Arts. The guest conductor will be Paul Polivnick. (408.288.2800)
---
---
Send a letter to the editor about this story to letters@metronews.com.
---
[ Silicon Valley | Metroactive Home | Archives ]