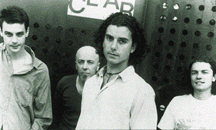 Photo by Mark Le Bon

Hang Zen: Three-quarters of Bush--(from left) Dave Parsons, Nigel Pulsford and Gavin Rossdale--contemplate the success of scrunge.

Scrunge-rock bands like Bush and Silverchair defang the authentic sound of grunge-rock originals Nirvana and Pearl Jam

By Gina Arnold

The other day, while cleaning out a drawer in my kitchen, I came upon a yellowed scrap of paper I used to have pinned to my bulletin board. It was Billboard's Top Ten for the week of Nov. 7, 1991. Around the No. 4 entry--Nirvana's Nevermind--I had drawn a bunch of hearts and arrows and exclamation points, signifying my surprise and elation at the band's inclusion on the chart.

Although only a little more than four years have passed since that day, it's already hard to recall a time when such a happenstance seemed worthy of celebration. Ever since Nirvana crashed that list with a newly minted sound called grunge, bumping more conventional acts like Garth Brooks, Michael Jackson, Mariah Carey, Boyz II Men and Hammer in the process, loud hard bands have been a constant feature on the charts. Nine Inch Nails, Stone Temple Pilots, Smashing Pumpkins and Alice in Chains have all debuted in the slot, while numerous other hard-rock bands--many of whom sound eerily like Nirvana and its rival Pearl Jam--have hovered just below that level, selling millions of units in the process.

Perhaps it was inevitable that both Nirvana and Pearl Jam would be superseded by sound-alike grunge bands; this has, after all, been a grand tradition in rock & roll since the days when the Beatles were succeeded by Herman's Hermits and the Monkees, when the Eagles spawned bands like Poco and Air Supply, when Led Zeppelin led to bands like Bad Company, Slade and Free, and when even Elvis Costello was quickly surpassed, commercially at least, by a far safer and less acerbic-sounding singer called Joe Jackson.

But for some reason, grunge music seems to have launched the highest number of sound-alike bands ever. At the moment, almost every band you hear on FM rock stations like KOME and Live 105 sounds at least a little like Pearl Jam. All, however, lack that band's credibility, death and dues-paying past.

After all, grunge was originally a clever and distinctive blend of the Beatles and Black Flag; BOC and the Butthole Surfers; Led Zeppelin, Scratch Acid, Deep Purple and Abba. But there's little evidence that the many, many so-called "alternative" bands on the charts these days have heard any of those forebears. What bands like Bush, Silverchair, Candlebox and Live aspire to is Nevermind, Pearl Jam's Ten and possibly Stone Temple Pilots.

There is actually a name for the type of music these bands play: it's called "scrunge," a cross between "scourge" and "grunge." The new sound is constantly reviled in the pages of Spin and the Village Voice, because, whereas grunge was about defying mainstream culture, scrunge is about polishing that culture up and digging into it.

Thus, although bands like Silverchair and Bush sound a lot like Pearl Jam, they are diametrically opposed to them in nature. Ultracool moments in grunge history include Pearl Jam opening a set at the Cow Palace with Fugazi's song "Suggestion" and ending it with the Who's "Baba O'Reilly"; Nirvana playing Fang's ironic anthem "Money Will Roll Right In"; and Mudhoney doing Bette Midler's "The Rose." But it is simply impossible to imagine a band like Bush or Silverchair doing anything either as transcendent or as informed or as downright heartwarming as any of those gestures.

At the moment, scrunge music is intensely popular on MTV (particularly on the show 120 Minutes), but it has had a rather dampening effect on both critical opinion and, in the long run, on record sales in general. A few years ago, the excitement of hearing a whole new sound on the radio--the same excitement I myself felt when I cut out my little Billboard clipping--brought millions more kids into record stores.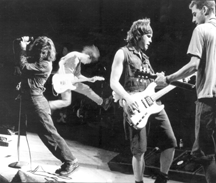 Photo by Lance Mercer/Barry Ament
Tarnished Pearl: This year's alternative-press Pazz and Jop voters ignored Pearl Jam's "Vitalogy."
Nowadays, however, so many bands sound like Pearl Jam that people are beginning to turn to other pleasures instead. Even Pearl Jam itself--the most-beloved of all grunge acts--is beginning to be abjured: in this year's Village Voice Pazz and Jop poll celebrating the best releases of 1995, for instance, the band's excellent record Vitalogy wasn't even mentioned once by the participating alternative-media critics.
It would be hard to prove definitely, but I believe that this newfound hatred of Pearl Jam can be laid directly at the door of scrunge, and even more specifically at the feet of Bush, the videogenic Pearl Jam sound-alike band from Britain whose 1994 album, Sixteen Stone (Interscope),has yielded two monster hits: "Everything's Zen" and "Glycerine."
Bush is somewhat unusual in the scrunge world because the band is literally the only English entrant in the Nirvana/Pearl Jam-esque sweepstakes. Sixteen Stone (Interscope) was tremendously successful in America, much more successful than any of Britain's homegrown "Britpop" bands have been overseas, and this fact has deeply rankled the cognoscenti in England, where the band is considered as out-of-sync with its own culture as are white men doing rap. Bush is the Vanilla Ice of 1995.
Bush is also hated by American critics, who often lump the band with Alanis Morissette and Hootie and the Blowfish as a sort of evil pop triumvirate bent on wrecking the airwaves. According to the critical grupolitik (as set forth in the Pazz and Jop poll), Morissette is a phony, Madonna-made temptress, while Hootie is blandness personified.
And Bush? Bush is merely symbolic of the well-known eagerness of the music business to exploit any successful sound to its utmost. As soon as any trend proves itself commercially viable, the business immediately dumps a zillion similar-sounding bands on the market, until the market is saturated and sick to death of what it originally embraced.
Bush's Sixteen Stone is in fact a far better record than many a scrunge offering--certainly it's better than the awful Silverchair or Candlebox. But there's something inherently distressing in the band's note-perfect take on what's come to be known as the Seattle sound.
Bush's members are extremely good looking--something no grunge band ever deigned to be; also, they are strangely personality free, and utterly humorless. These things are antithetical to grunge, but crucial to scrunge, the cleaned-up and pointless version of the beast.
In short, Bush is a big fat bummer. But it is also inevitable. Like all those other second-tier bands--the Monkees, Poco, Bad Company, Joe Jackson--Bush exists to fill a current need: the public's voracious appetite for music with dour vocals, a heavy bottom, fuzz guitar, and a bleak and cynical outlook on life.
Unfortunately for Bush, grunge was a reaction to 12 years of repressive Republican rule in America, while scrunge is a reaction against nothing at all.
That's why it's impossible to imagine the band or the many others like Bush lasting beyond this brief moment in pop history, when the sound of grunge still lingers like an echo on our landscape, although the throat that first pitched the howl into the abyss--and even the need for the howl in the first place--is no long in existence. Time's running out for Bush et alia--one can only hope for its sake that it gets out while the getting is good.
---
Bush performs Wednesday (March 13) at 7:30pm at the San Jose State University Event Center, Seventh and San Carlos streets, San Jose. (BASS)

---
[ Metro | Metroactive Central ]