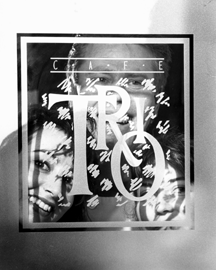 Photo by Christopher Gardner

Triple the Fun: Cafe Trio offers an intriguing listing of house pastas and a bevy of meatless dishes.

Cafe Trio does lunch with a seasonal flourish, delivering flavor with panache

By Christina Waters

Some restaurants improve with age. Others start off with a bang and just keep up the energy, year in and year out. Cafe Trio--a breath of contemporary ambiance in an otherwise mundane east Los Gatos shopping complex--is an example of the Big Bang school.

From the tiny exhibition kitchen holding down one end of this sleek dining room, a steady stream of bravura dishes flows out to the faithful. Those faithful include thinking gourmands grateful that there's something so accessible and yet so smart on the eastern margins of town. A fusion of influences--a bit of Thai here, some Italian there, lots of California everywhere--and the relentless devotion to very fresh ingredients continues to distinguish Cafe Trio. My companion on a recent visit happily surveyed the intriguing listing of house pastas and observed that here at last was a bevy of meatless dishes with real style. Fresh vegetables and fresh pasta without sacrifice. Great concept, I agreed, my eyes straying toward the tantalizing prospect of roasted venison loin and a tempting rack of lamb with pecan crust.

She was right, though, I admitted, my gaze working its way toward the description of Gorgonzola ravioli with browned butter and sage. Cafe Trio continues to be about real, uncompromising, sensuous flavor. And on that note, we celebrated with two reds from the wines by the glass listing--hers a 1993 Cigare Volant from Bonny Doon Vineyard ($7), mine a 1994 De Loach Merlot ($6) Merlot ($6), smooth as satin and exuding plums and spice.

We began with butterflied prawns ($7.95) that had been freshly mesquite-grilled to a succulent medium-rare stage. Marinated in a sweet/hot concoction of sesame oil, honey, orange and chiles, the prawns were wonderful, full of smoky, exotic flavor, and were accompanied by a nest of minced ripe tomatoes (small miracle), julienned yellow squash and carrots--the entire plate playfully strewn with a confetti of parsley. With this we nibbled at a side salad of curly leaf lettuce, punctuated with the occasional bold ribbon of purple cabbage and red tomato. The signature house vinaigrette--daringly perfumed with tarragon, not perhaps everyone's favorite herb--was nicely subtle, enough to please my non-tarragon-loving companion.

The cosmopolitan black-and-white tile motif of the buzzing-with-action bistro made a handsome backdrop for the full house of lunchtime patrons, all digging into ravishing plates of pasta and oversize grilled portobello mushroom sandwiches. And after quite a substantial wait--be sure to mention to your wait person if you need to get back to the office; lots of Cafe Trio regulars apparently don't--our entrees arrived.

My companion had ordered a daily special creation of linguine tossed with some creamy pomodoro sauce, lots and lots of sautéed shiitake mushrooms, mild goat cheese, and nuggets of roast eggplant ($12). Quintessentially California in concept, it was a completely successful dish, from al dente pasta to tender mushrooms. We both loved it, but ... my venison had the kind of rich, woodsy sexiness that gives meat-eating fresh cachet.

A generous cut of plump, lean loin (the venison was fresh, New Zealand farm-raised) had been seared, roasted rare (as desired) and then sauced with a cabernet demi-glace and more of the bountiful shiitake mushrooms. On the side were roasted red potatoes and a plush cushion of mixed winter greens, sautéed in olive oil, splashed with vinegar and smothered with a micro-zest of garlic. All this chewy, tart bitterness was the perfect foil for the rich, almost sweet saucing on the venison. It was a knockout presentation that made even more sense on a gray, rainy day.

Only our dessert proved disappointing. We once again waited far too long to take possession of a single wedge of pear and pecan bread pudding ($4) served with cups of espresso ($1.50). And however attractive the pecan-studded creation--topped prettily with rosettes of whipped cream and a purple viola--it was dry and tough. It bore, in fact, no resemblance to any of the bread puddings I've ever loved. The brandy cream sauce provided was scarce, and neither creamy nor detectably brandied. Hmmm. Guess we should have tried the peach/boysenberry crisp.

On the other hand, I can't get too worked up about the lackluster bread pudding, given the afterglow of the deluxe pasta, brilliantly seasoned grilled prawns and deeply comforting venison. Any one of these dishes could easily provide the excuse to check out Cafe Trio again.
---
Cafe Trio
Address: 15466 Los Gatos Blvd., Los Gatos
Phone: 408/356-8179
Cuisine: California bistro
Entrees: $8-$19
Hours: Lunch Mon.-Fri., 11:30am-2:30pm; dinner Mon.-Thu., 5-9pm; Fri.-Sat., 5-10pm; closed Sun.

---
[ Metro | Metroactive Central ]