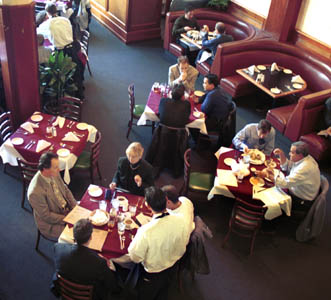 Photograph by George Sakkestad

Meat and Greet: Blake's remains a meat and potatoes stronghold for diner's in downtown San Jose's San Pedro Square.

Steak Through The Heart

Serious carnivorous dining still rules the roost at Blake's

By Christina Waters

PROVING THAT IT'S NO SLAVE to designer trends, Blake's plies its well-worn steakhouse ambience in the direction of some mighty fine flavors. Big, masculine flavors. The sort of flavors that challenge the entire idea of tofu. And that's a challenge I'll take any day, especially last week on a particularly cold and rainy evening. Katie and I noticed that the steakhouse décor here could use a bit of tweaking. The lighting fixtures seem to be miles away from any of the spacious booths (which lack tablecloths), or tables (which do have tablecloths). Pin spots would be such an easy addition, and it seems obvious that food tastes even better when you can actually see it. The rugs could use a makeover and the fleet of servers occasionally appears to lose communication with both kitchen and patrons, but, having said all this, it's true that most of the generous dishes streaming to diners pack a load of flavor. Which is, after all, what you're looking for in a steakhouse. The central island bar keeps almost as busy as the upstairs banquet room overlooking the main dining area. But we were there for some serious beef. I was happy to see that the signature grilled Castroville artichoke that blew me away when Blake's first opened was still on the menu ($9). So we joined that appetizer order with a slab of prime rib ($19) and a petite filet mignon ($20) and sipped away at some luscious Clos La Chance Santa Cruz Mountain Cabernet Sauvignon 1998 ($12/gl), the perfect partner for certified Angus beef.

A huge warm loaf of crusty bread arrived, absolutely delicious and studded with onions. Good thing we both love onions--but I'm sure some patrons would like to have a choice. The grilled artichoke and attractive house green salad flecked with bay shrimp arrived quickly. A visually dazzling dish, the artichoke had been grilled, quartered and drizzled with lemon, olive oil and capers. It remains a spectacular starter. Katie liked her salad ($6), fresh and perfectly chilled.

We were barely into our appetizers when our server came over with our entrees. "The kitchen's pretty quick, I guess," he offered when he saw our disappointment at being rushed. Flexibility is our middle name, however, so we turned to the lavishly portioned slabs of beef which arrived with pretty carrots and green beans (both practically raw). Katie's prime rib was juicy and succulent--everything you want from roast beef, complete with zippy horseradish sauce. A side order of fresh asparagus ($7) was delicious and perfectly steamed, but her baked potato came buried in a blitz of sour cream, butter, chives and bacon bits, without anyone asking what she would have preferred. The server quickly brought a plain baked potato. Meanwhile, my rare, perfectly cooked filet was quite good though the promised portobello mushroom amounted to a few micro-slices. The tender beef did its hoped-for voodoo with some nicely made mashed potatoes, and we both did justice to our main dishes. So much so, in fact, that we only had room to split a single dessert.

Blake's does a very tempting dessert tray, I must say. From the lineup that included macadamia nut pie and chocolate crème brûlée, we opted for a mile-high slice of apple pie filled with a tight layering of thinly sliced, absolutely delicious green apples ($6). Even the strident decaf couldn't ruin the pie's flavor, though the lovely-on-the-outside crust proved gooey and uncooked on the bottom. Katie loved the cinnamon-scented caramel sauce, but for my money it tasted uncooked and unfinished. Still it's hard to hurt the flavors of apples, cinnamon and brown sugar--especially after a steak dinner.

And make no mistake, Blake's does steak.
---
Blake's Steakhouse
Address: 17 N. San Pedro Square, San Jose
Phone: 408.298.9221
Hours: Lunch Mon-Fri; dinner nightly
Cuisine: American steakhouse
Entrees: Moderate
Full bar; banquet room
---
[ San Jose | Metroactive Central | Archives ]