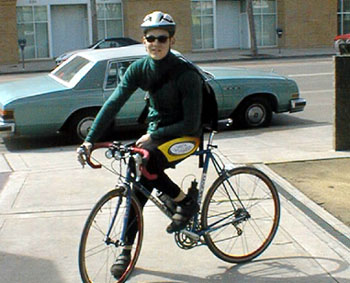 Highway-Free Heaven
Local lecturer finds a saner alternative to Highway 17
By Mary Spicuzza
JONATHAN HUNT, English lecturer at Santa Clara University, pretends to pass out instantly upon sliding into a cushiony chair inside downtown San Jose's Cafe de Matisse. It's a hazy Monday morning, and while many around us are complaining of Monday drowsiness, Hunt is probably the only one who actually got a workout getting to work. Specifically, he just spent two and a half hours pedaling from his home near downtown Santa Cruz to this spot, from which he will ride to work at the Santa Clara University campus.
"Guess how many cars passed me today?" he asks excitedly, quickly tearing into his massive cinnamon-swirl donut. "One. I was listening to birds chirp and water gurgle and all of a sudden there it was. One car."
Besides the peaceful birds and bubbling brooks, Hunt says, "One of the most gratifying things is hearing traffic on Highway 17," he says of his ride, "and knowing you're not on it."
Plenty of people believe bicycling from Santa Cruz to San Jose is completely impossible. Hunt admits that he didn't think he could do it for a long time, until he rode over on Bike to Work Day last May.
Watching him sip black coffee in full cyclist gear, it's hard to imagine him as anything but a seasoned bike-commuter. He flips through his three top layers down to his spandex bib shorts--complete with shoulder straps, which he bought from the Santa Clara University cycling team. "I resisted them for a long time," he says of the lycra-wear. "But they stay up."
I glance at his shoulder bag expecting to find an arsenal of essential bike supplies for such a long commute. Hunt, however, says that packing for the trip is relatively simple.
"I bring water, food--energy bars, doughnuts, whatever--and the tools to fix a flat," he says. Except today, when he's packing about 500 pages of student papers.
Hunt is also sporting official mountain-biking shoes--nifty, sleek shoes that clamp into the pedal to make for a smoother, easier ride.
Hunt is perfectly willing to share details of his gear, from his thick cycling gloves to the outer shell packed in his bag for extra warmth, if needed. But when talk of his ride turns to his bicycling routes, Hunt is less forthcoming.
"I can't tell you my routes. Then people will start driving on them and they won't be quiet mountain roads anymore," he says.
Considering the Rambo drivers I encounter on the highway each day, I quickly realize careening SUVs could turn twisting roads into deathtraps for cyclists quite easily.
Hunt says it's drivers that scare him more than the steep inclines and rocky roads, making the most treacherous part of his journey the streets of San Jose.
"The most perilous part of the journey is dealing with road rage on the Alameda," he says. "There are lots of high-speed, aggressive drivers."
He says a Starbucks opening en route has added a new element of danger, as cyclists now must also dodge car doors of other commuters stopping for a latte.
"People yell and get mad, but I haven't had anybody throw things at me for a while," he says happily.
Hunt had a close call near the Summit last November, which kept him off his bike for a month. But now he's back on the bike, sometimes as often as two days a week, and hopes to get groups together for future Bike to Work Days.
As the sunlight lasts later in the day, he plans on riding back to Santa Cruz as well. During the winter months he has been riding to Diridon Station, where he and his bike catch a bus back to Santa Cruz.
Hunt follows a long line of cycling educators. Well, at least one. Deceased literature professor James Starr biked to work every day for 20 years, about 30 miles each day.
Hunt says that while he admires Starr, he can't imagine doing the ride every day.
"The other day I got all suited up, went to the bank downtown, passed the house, got up to Scotts Valley, then turned around and came back," he says. "I'd say I fail to ride about 30 percent of the time."
When asked if he gets a rush of energy after the ride, Hunt says his choice to bike was more out of necessity.
"I get pretty tired, but I think overall I have more energy," he says. "But I had to start doing this. I was dying a slow death. Highway 17 was killing me."
[ San Jose | Metroactive Central | Archives ]