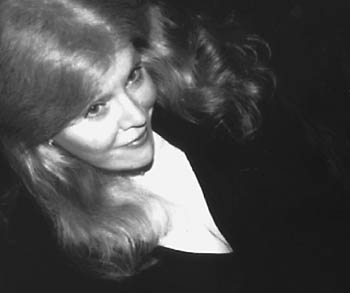 Together She Stands: Acclaimed jazz pianist Jessica Williams looks to bring people together with her music.

Playing Her Heart

Jazz pianist Jessica Williams seeks unity with her music

By Marianne Messina

IF YOU ASK Jessica Williams what state her art is in at the moment, she's likely to tell you the story of a recent experience she had in Boston. She was playing at Scullers with Victor Lewis and Ray Drummond, two people who, she confesses, would have intimidated her six years ago. "These are like heroes," she says, "these are like the cats." And though Williams has played with the likes of Dexter Gordon, Charlie Haden, Gary Bartz and Eddie Henderson, the Scullers gig had her a little nervous.

"The very first thing before I even played a note," Williams recounts, "some guy said, right in the front row, '... and she's really not that great anyway,' and he kind of grinned at me, like guilty, and I said, 'Well you know, I'm glad you brought that up, because this has really gotten a little out of hand. It makes me feel competitive. I think the trouble that jazz is in--and the trouble that our world is in--is that we're all trying to compete. We're not trying to play together." Williams found clearing the air in this way a freeing experience. "All I had to do was play my heart and be honest," she says of the show that followed.

For a minute, as Williams tells this story, you wonder what it has to do with jazz technique, or idiom, or how far she has come from inspirational roots like Thelonious Monk and Dexter Gordon. But after 26 albums and more than 40 years playing piano, things like technique, theory and acuity have long been internalized; her musical growth and her personal growth have fused.

Two years ago, the baby-boomer pianist embarked on her current growth spurt when she founded her record company, Red and Blue Records. Along with lifestyle changes, like quitting alcohol and smoking, Williams became computer-savvy, birthed a musical web family and recorded two close-to-her-heart CDs that can only be found at www.jessicawilliams.com.

"I needed this record company," says Williams, "because going through a record producer was always about like, bottom-line units sold, slick, performance-oriented, 'What is the hook on this? How are we going to get this to sell more than 5,000 units?'"

Now a new, more centered Williams is stepping out of the cocoon and onto the Max Jazz label. After flying to Boston to see her Scullers show, the Max Jazz rep was able to pen an ideal contract for Williams. "Of course it was perfect," Williams says, "because the music told him what it was that I needed."

Meanwhile, what happened to her front-row critic?

"He kind of took it personal and left," Williams reports. He never got to hear her play. However, New York jazz critic Bob Blumenthal heard the performance and raved. In a local appearance, extremely rare for the Santa Cruz resident, Williams will be sharing this musically personal exploration of her current question, "What is my job in this world?"

In words, she can articulate only a partial answer. "It's not just to play piano; it's beyond that. It's somehow to facilitate some sort of action that brings people together: 'It's not about me, it's about us.'"
---
Jessica Williams will be the guest of the Stanford Jazz Workshop's "Second Sunday" performance, on Sun, Mar 11, at 7:30pm at the Campbell Recital Hall in the Braun Music Center, Stanford . Tickets are $20 general admission/$18 students. (650.736.0324).
---
[ San Jose | Metroactive Central | Archives ]