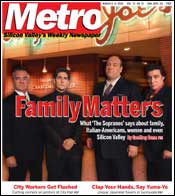 For the Week of
March 8-14, 2006
Cover Story: Family Matters:
What 'The Sopranos' says about family, Italian-Americans, women and even Silicon Valley.
News: Bring the Noise:
A tech CEO and a little information science shed light on what the mainstream media won't say about the NSA domestic spying scandal.
The Fly: The new San Jose City Hall's custodians watch their jobs go down the toilet.



Shamrock Shake: Frank Shamrock squares off against Cesar Gracie Feb. 10.
It's Easy Being Green: The time to plan for St. Patrick's Day is now, while your head is still clear.
Silicon Alleys: 'The Da Vinci Code' is one of the silliest books ever written. And guess what? I've never even read it.
Techsploits: Octavia: She can invent a new species, place them in a detailed alternate world and yet never forget that her characters need to eat and go to the bathroom.
Rev: Can a machine read your proof of insurance? Or detect if your documents are fraudulent?



Precious Mettle: A Sikh taxi driver in America fights prejudice in director Kavi Raz's Cinequest feature 'The Gold Bracelet.'
Reel Climax: Cinequest winds up with big names.
'Sunnyvale': James Ricardo's Cinequest feature continues to rack up awards.
World Enough and Time: Chris Brown talks about his Cinequest feature 'Scared New World.'
Trenchant: 'Joyeux Noël' recalls peace in war.
Chicken Little Drops Trou: 78th and Most Heinous Oscars Yet!: Oscar post-mortem.



Break on Through: Former Door Ray Manzarek finds new life in the old songs.
Chill Out: Are Arctic Monkeys tickets worth $100 on Craigslist?



Book Box: 'La Perdida' and 'Curry: A Tale of Cooks & Conquerors.'



Clap Your Hands, Say Yume-Ya: Unique flavors and a special bond with customers make Sunnyvale discovery a top-notch option for Japanese cuisine.
Live Feed: When in Rome—Or Mexico.
5 Things: Sources for Grilled Tri-tip.



Charged Drama: San Jose's Teatro Visión gives Sophocles' 'Electra' a Chicano update.



Please don't forget to write! Metro welcomes letters. Like any great work of art, they should be originals — not copies of letters sent elsewhere. Include address and daytime phone (for verification purposes only). Letters may be edited for length and clarity or to correct factual inaccuracies known to us. Postal: Metro Letters, 550 S. First. St., San Jose, CA 95111. Fax: 408/298-0610. Email: letters@metronews.com. Emailers, please include name, city of residence and phone number. Letters printed will list email address unless otherwise specified. Letters to the editor are not currently published in the online version of this paper.