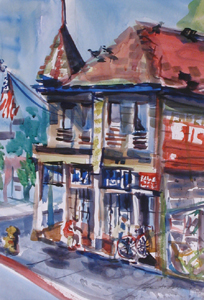 Biter

History: It's Not Just for Losers Anymore!

By

BITER CAN'T THINK of any better way to celebrate San Jose's past while drinking champagne at 10am than last week's media preview for Leonard McKay's art collection at History San Jose. If you don't know who McKay is, you should. He knows more about San Jose history than practically anyone alive and his collection of old paintings by Santa Clara Valley artists is now on display in the Pesetta House in the historical section of Kelley Park.

Collected over 60 years, the paintings depict local scenery—everything from buildings in downtown San Jose to Los Gatos mountain landscapes. Artists include the notorious boozer Astley Cooper, California redwoods advocate Andrew Hill and the McCracken sisters, Vida and Venna, who painted watercolors of the Santa Clara Valley well into their eighties.

McKay will attend the public opening this Sunday from 2pm to 5pm along with some of the artists who are actually still alive. One of those artists is Sara Anderson, whose 1960 watercolor painting of the Faber's Cyclery building is included in the show.

Now, we've spouted a thousand times that history is not just for old curmudgeons. For example, if you've ever hit up Faber's for some bike parts, you might want to see Anderson's 45-year-old portrait of that building. Next time you drive through Pacheco Pass, you'll feel like you're driving straight into Andrew Hill's landscape painting of the place in 1921, depicting the area where Casa de Fruta is now. Also, there's a great 1966 painting by Vida McCracken, taken from an 1870 photograph of South First Street, right where Post Street runs into it today. And of course, her sister Venna painted from a photo of San Jose's old Chinatown that was destroyed in an 1887 fire. The Fairmont now sits at that location.

As with many portraits or photographs, the stories behind the paintings are sometimes more interesting than the picture itself. Artist Robert Tower, who will attend the reception Sunday, painted an image of the Conservatory in Golden Gate Park. Local businessman James Lick originally wanted to build the conservatory right here in San Jo, but when the Mercury News insulted him in print, he decided to erect the building in San Francisco instead. Now it's one of S.F.'s landmarks.

And then there's Astley Cooper, San Jose's bohemian legend. Unfortunately, none of his nude paintings are included in McKay's collection, as many wound up on the walls of local saloons around the turn of the century. As S.J. historian Jack Douglas tells it, one local saloonkeeper owned so many Cooper nudes that he named his watering hole the Louvre Saloon after the Louvre in Paris. Cooper died in 1924 and the Louvre Saloon was located at 53 North First St. That, dear reader, is history.

Finally, the restored Pesetta House makes for a splendid setting for these old paintings. The soft colors of the walls perfectly compliment the works. Thank God they didn't go for that god-awful museum white.
---
Send a letter to the editor about this story to letters@metronews.com.
---
[ Silicon Valley | Metroactive Home | Archives ]