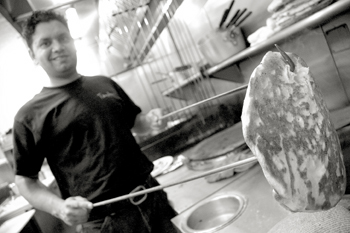 Photograph by Felipe Buitrago

Hooked: Baljinder Singh prepares fresh naan at Tandoori Oven.

The Tandoori Solution

Los Gatos restaurant offers alternative to ho-hum Indian buffets

By Jim Harrington

GOING OUT for an Indian food buffet can be an iffy proposition in the South Bay. There are some real gems, especially in Sunnyvale and Mountain View, but for every winner, there seem to be at least three offering limited selections of murky, sauce-heavy entrees that appear to have been cooked days prior.

Another alternative is to order off the menu. But many kitchens, bogged down with preparing the buffet items, are slow, which makes that option unattractive to those on the go. It doesn't help the matter that this is usually a pricier route. To top it off, what reaches your table is often not worth the extra time or money.

It's those factors that make a fast-food Indian restaurant like Tandoori Oven very attractive. Since opening in downtown Los Gatos in late 2003, Tandoori Oven has quickly found its niche among the neighboring burrito joints, sushi spots and upscale restaurants by offering quickly prepared, made-to-order curry dishes and spicy north Indian fare at very reasonable prices. The eatery, which was initially known as Chaat Cafe, has proven so popular that owners opened up a second location in the Pruneyard in Campbell last fall.

No one will confuse the Tandoori Oven in Los Gatos with a standard Indian restaurant. Despite some traditional touches, such as the large statue of giraffes near the front door, the eatery is decidedly 21st-century, with modern track lighting, techno music pumping, vibrant green-and-gold colors and a serve-yourself Pepsi machine.

Although there are many pluses to the Indian fast-food concept, there are also some drawbacks. The biggest is that the lengthy menu, with nearly 50 items plus daily specials, takes some time to digest. Yet the factorylike process, where you order at the counter from a menu posted behind the register and the food is then delivered to your table, affords precious few moments to contemplate the offerings. That's especially true when there is a long line of people waiting behind you.

A second menu placed near the entrance would help to alleviate that problem. But until the establishment gets wise to that issue, here are some tips gained during recent visits to the Los Gatos location that should help make the ordering process go more smoothly.

Starting with the chaat (appetizer) menu, don't be tempted into ordering the tandoori spicy chicken wings ($5.99). The wings, a tandoori twist on the regular buffalo tradition, offer very little meat on the bone and are really not a good value. Instead, stick with the samosa ($3.99), two crispy puffed pastries stuffed thick with mashed potatoes and roasted in cumin, or the shrimp pakora ($6.99), which are served lightly fried in a spicy chickpea batter.

There are also a number of specialty naans, including the chicken pesto, gobi (cauliflower) and aloo (spicy potato), offered for $2.99 to $3.99. But I found that the regular naan, which is included in the price of many entrees, is just as good asčif not better thančthe doctored breads.

One of the dishes I would be most likely to order again is the tandoori chicken salad ($5.99). Big enough to have as a main course, the salad delivers juicy medallions of lean breast meat over a mound of shredded romaine lettuce in a slightly penetrating mint dressing.

Many repeat customers seem hooked on the restaurant's tandoori wraps. These are not the wraps that most of us know from visiting the plethora of fusion burrito places in the area. These are more closely related to pita sandwiches than to burritos. One of the best is the chicken wrap ($4.99), which comes with chopped tandoori-roasted fowl, fresh cucumbers and tomatoes drenched in a mild mint chutney sauce and overflowing from a folded piece of still-warm naan bread. For a place that looks to serve as an introductory course to the cuisine for Indian-food novices, Tandoori Oven surprises with its spicy dishes. For instance, I found myself dabbing the sweat off my upper lip as I munched on the fiery lamb curry ($6.99 a la carte, $9.99 dinner). But the savory lamb and rich gravylike curry sauce made this dish worth risking a Maalox moment.

The success of Tandoori Oven might pave the way for more Indian fast-food restaurants in the South Bay. The concept would work in the food court of any mall. Until then, it's just good to know that an option exists to trying out another iffy buffet joint.
---
Tandoori Oven
Address: 133 N. Santa Cruz Ave., Los Gatos.
Phone: 408.395.1784.
Hours: 11:30am-9:30pm daily.
Price Range: $3.99-$9.99.
Second location: 1875 S. Bascom Ave, (in the Pruneyard), Campbell; 408.559.3885.
---
---
Send a letter to the editor about this story to letters@metronews.com.
---
[ Silicon Valley | Metroactive Home | Archives ]