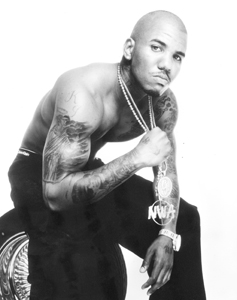 Photograph by Jonathan Mannion

Tenacious G: Last week, the Game got the boot from G-Unit.

Got Beef?

50 Cent and the Game start 2005 with a bang

By Oliver Wang

THE LAST 10 days have been some of the strangest in hip-hop's history. The G-Unit is supposed to be riding a wave of success not seen since the Wu-Tang Clan's glory days of the mid-'90s. Not only did Lloyd Banks and Young Buck have successful debuts in 2004 but the G-Unit's most recent addition, Compton's the Game, is 2005's first breakout artist with The Documentary. The crowning moment in this cycle was supposed to be The Massacre, 50 Cent's follow-up to 2003's 11x platinum album, Get Rich or Die Tryin'. However, things fall apart.

50 and the Game have never been close, but in previous interviews, both stated mutual respect for the other. However, 50 went on N.Y. radio last week to accuse the Game of disloyalty—presumably because the Game refuses to get embroiled in 50 Cent's high-profile beefs with, well, everyone. Regardless his motive, 50 publicly ejected the Game from G-Unit and denigrated his talents, and an ensuing confrontation between both camps ended with one man, supposedly a member of the Game's entourage, shot in the leg.

The long-running joke about the G-Unit is that you can only join if you've been shot. 50 himself was once shot nine times while the Game has five scars notched into his own body. A colleague opined that surviving these near-death experiences fuels an immortality complex that makes them fearless, even to the point of irrationality. After all, we've been here before: a rapper from L.A. beefing with a rapper from N.Y. That last go-around left Tupac and Biggie dead and people are already taking bets on whether 50 or his former protégé will be the first to get blasted.

What's ironic is that the Game's album was meant to bridge the East and West coasts. Recalling past collaborations such as Ice Cube's pairing with the Bomb Squad or Snoop Dogg teaming with the Neptunes, the Game works with not just 50 Cent but also with Just Blaze, Kanye West, Timbaland and other marquee East Coast talents on The Documentary. At the same time, he's also repping for the West, boasting how the expansion of L.A. gangland culture has gotten so far that he sees "red rags in uptown Harlem now."

All that is threatening to unravel dangerously fast, taking hip-hop back to where rappers sport the latest in Kevlar fashions and entire neighborhoods become off-limits at penalty of death. Without trying to sound melodramatic, no other American musical culture has a martyr roll as long as hip-hop's. While music doesn't kill people, it's hard to divorce the violence of hip-hop's attitude—part of the very energy that makes it so alluring and exciting—with the violence that rappers invite upon themselves and one another.

In an ideal world, 50 and the Game would have let their music be the arbitrator. In that case, 50 would actually be the underdog, since The Massacre is a classic sophomore slump, filled with bad retreads ("Disco Inferno" is a C-rate "In Da Club"), really, really bad retreads ("Candy Shop" = F-rate "Magic Stick"), syrupy love/lust themes ("Get in My Car") and only occasional moments of excitement ("Ski Mask Way"). In contrast, though the Game lacks 50's effortless gangsta swagger, the young upstart generates genuine heat on energetic anthems like "Put You on the Game" and "No More Fun and Games" while displaying some thoughtfulness on songs like "Dreams."

Ironically, one of the best songs that appears on both albums is a 50 Cent/Game duet: "Hate It or Love It." Before this week, the song symbolized what the two had in common with their mutual nihilistic attitude and tenacious self-determination. Now, it sounds more like a sad dirge on a dream lost to the clash of conflicting egos and reckless attitudes.
---
Send a letter to the editor about this story to letters@metronews.com.
---
[ Silicon Valley | Metroactive Home | Archives ]