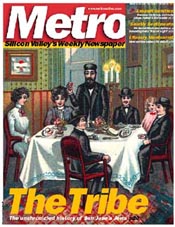 For the Week of
March 12-18, 1998
Cover: Wandering Judaism
The Jews came to the Santa Clara Valley, blended with the culture and found life here to be good. Has assimilation been good for their faith? Not everyone thinks so.
News: Slurred Speech
Graffiti against Cupertino High's African-American and Asian students and the school newspaper's stereotypes are not part of a deeper problem, school officials say.
Abandoned Probe Yields Arrest: Metro article sparks tip and arrest in assault on SJSU black student leader.
Public Eye: Gratuitous Sex legislation.
Grass Is Greener: Ireland proves a fertile recruiting ground for high-tech companies that crave the Cranberries generation for their edge.



L. I. Lolita: An aging English author discovers Love and Death on Long Island.
Jungle Warfare: In Men With Guns deaths are painfully matter-of-fact.



Madonna of Creation: Motherhood has mellowed Madonna on new Ray of Light album.
Churchified Blues: Nicky Baxter reviews E.C. Scott's new album, Hard Act to Follow.
Arts on Top: Villa Montalvo and Mountain Winery announce performing arts series.
Brahms' Beauties: Guest soloists dominate San Jose Symphony's performance of Brahms' Double Concerto.
Beat Street: Meet 'that dancing kid,' Eric Gil-Contreras.



Choice Sophie's: Diners can find romance and whimsy at Chez Sophie's in Palo Alto. Also in this issue: vegetarianism, Vietnamese style.
Vegging Out: At Bo De Vegetarian Restaurant, vegetarianism is anything but bland or ascetic.



Literary Spring: A new South Bay literary magazine puts local and Bay Area writers on the same page with national names.



California Dreaming: Artists redefine the lay of the Golden State at Triton Museum.



Please don't forget to write! Metro welcomes letters. Like any great work of art, they should be originals -- not copies of letters sent elsewhere. Include address and daytime phone (for verification purposes only). Letters may be edited for length and clarity or to correct factual inaccuracies known to us. Postal: Metro Letters, 550 S. First. St., San Jose, CA 95111. Fax: 408/298-0602. . Emailers, please include name, city of residence and phone number. Letters printed will list email address unless otherwise specified. Letters to the editor are not currently published in the online version of this paper.