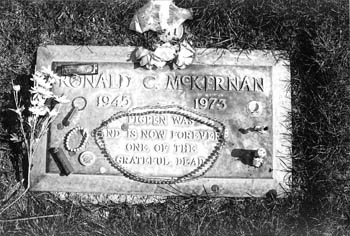 Biter

Drinking with the Dead

On the anniversary of Pigpen's death, Biter reconsiders a few grave matters

By

FORGET ALL THAT talk about celebrity sightings. Biter is far more interested in dead-celebrity sightings. Last weekend marked the 30th anniversary of the passing away of the Grateful Dead's legendary Vox organist and harmonica player Ronald C. McKernan, better known as Pigpen. At the ripe old age of 27, Pigpen had already drunk enough Thunderbird and Southern Comfort to permanently destroy his liver. They found him on March 8, 1973, dead of a gastrointestinal hemorrhage. He lived and died the blues.

Not many people know that Pigpen grew up in Palo Alto and is buried in Alta Mesa Cemetery on Arastradero Road, right across the street from Gunn High School. Biter had to go check it out, especially after we found out from www.findagrave.com that Tennessee Ernie Ford is also buried in the same cemetery.

Local Deadhead Gregg Catanese met us in the parking lot of the cemetery with a newly purchased pint of Southern Comfort in hand. The nice folks in the office gave us a little green map, and we soon found our way to the Urn Garden, Sub 1, Lot 242--Tennessee Ernie Ford, our first stop. A few flowers sat peacefully on the otherwise anonymous plot. From what the office told us, Ernie Ford's parents had ties to Palo Alto, so that's why his ashes are buried here. We contemplated stealing a flower from someone else's headstone and placing it on Ford's, but we didn't want to be haunted.

Instead, with 16 tons of Southern Comfort on our minds, we headed off to look for Hillview Section Bb16, Lot 374, where good ol' Pigpen lay in rest. On the way, we passed by a trash can with a sign that said, "Each grave limited to two decorations."

After a long strange trip the length of the cemetery, we finally found Pigpen. On his headstone lay a Hohner Blues Band harmonica, several flowers, an airplane-sized bottle of Jack Daniels, a cigarette lighter, some Mardi Gras beads, a wooden nickel, wine bottle corks and a handful of change. The headstone itself says, "Pigpen was and is now forever one of the Grateful Dead." We took a few swigs of the Southern Comfort and poured the rest over the headstone.

There's nothing like drinking with the Dead.

"He was no Little Walter," said Catanese, "but I'd put Pigpen somewhere in the line of Paul Butterfield. He just didn't stick around long enough to influence anybody."

Now, Biter admits to having occasionally said venomous anti-Deadhead things such as "I'll be grateful when they're all dead." But visiting Pigpen's grave may have changed our tune somewhat. On Saturday, March 8, 2003, right there at Hillview Section Bb16, Lot 374, in the Alta Mesa Cemetery, we gained a new respect for the Dead.

Like Jimi Hendrix, Jim Morrison and Janis Joplin, Pigpen was a character and a talent that will always leave everyone wondering what the hell he would have become had he not chosen the hard drinking and partying lifestyle. "If he had survived in good health," grieved Catanese, "he might have helped plot a bluesier direction for the Dead. Or some think he might have gone off and fronted his own blues band."

In any event, we definitely know that the makers of Southern Comfort made a buck or two. Catanese pulled a Lee Oscar harmonica out of his pocket and laid it down on Pigpen's headstone before we left.
---
Send a letter to the editor about this story to letters@metronews.com.
---
[ Silicon Valley | Metroactive Home | Archives ]