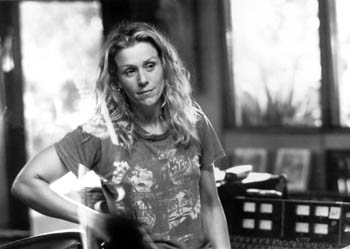 Photograph by Neal Preston

Lady of the Canyon: Frances McDormand lives every day as if it were 1975 in 'Laurel Canyon.'

Court and Spark

In 'Laurel Canyon,' Frances McDormand plays an unrepentant 1970s-ite living in the present

By Richard von Busack

I GREW UP in L.A. What's that line in The Last Tycoon? It's as if you're a ghost in a haunted house; you know what people are supposed to think about it, but it's hardly scary to you. Lisa Cholodenko's new film, Laurel Canyon, hints at the devastating effects of L.A.'s bad morals on a pair acclimatized to Harvard. The surprise is that Cholodenko roots for hedonism. Yet the milieu she's fictionalizing doesn't seem well observed; moreover, the bruises in a tug of war between a too-loose mother and a too-tight son heal too fast--this, despite a satisfying performance by Frances McDormand as Jane, a noted record producer who treats every day as if it were 1975.

Arriving from Massachusetts is Sam (a miscast Christian Bale), just out of medical school and on his way to a residency at UCLA. His fiancee is the even more uptight researcher Alex (Kate Beckinsale), so straight-laced it's a wonder she can walk. The two planned to housesit for Sam's mother, Jane. Unfortunately, Jane's still on the premises, as is her current boyfriend, a good-looking, 16-years-younger rock singer (Alessandro Nivola) who swears his love is true. Still, he isn't opposed to opening up the relationship a little.

Cholodenko excels at seduction scenes; the sexual tension gets tense indeed. And it's a pleasure to see a life of pot smoking, pool lolling and music making treated as a life well spent. In the similarly plotted High Art, a young, serious, career-minded girl is lured by the sound of music seeping through her walls right into a realm of drugs and no-strings sex. That's also what happens in Laurel Canyon. Alex is teased away from her mind-bendingly dull dissertation into Jane's world of play. Watching Alex fight the feeling, I remembered Radha Mitchell's character in High Art bathing her aching head in an office drinking fountain after a rough night. Living a double life is showing on her, and she hopes she can scrub the look off her face with cold water. Beckinsale's Alex is less convincing as an innocent; the struggle isn't as internal and fierce. Plus she overcompensates with the old-movie trick of unflattering glasses and pulled-back hair.

In High Art, you never knew where the characters stood. In Laurel Canyon, Sam's work as a resident underlines the contrasts between the straight and normal life as if with a yellow felt-tip pen. His patients consist of one drug overdose and one deranged girl who refuses to put her clothes on. If there had been a maniac who thought he was Jim Morrison, we'd have a hat trick of sex, drugs and rock & roll to show us what Sam was rebelling against.

Laurel Canyon is the canyon referred to in the album Ladies of the Canyon by Joni Mitchell. The image of Mitchell may have been the point of departure for Cholodenko's story--the fun-loving but haunted woman insisting on male privilege, giving as much heartbreak as she got. McDormand's Jane is a different kind of woman than Joni, more profane, less shy. Yet she's always convincingly tough and sensual, the soul and the backbone of the film.
---
Laurel Canyon (R; 103 min.), directed and written by Lisa Cholodenko, photographed by Wally Pfister and starring Frances McDormand, Christian Bale and Kate Beckinsale, opens Friday at Camera 7 in Campbell and selected theaters.
---
---
Send a letter to the editor about this story to letters@metronews.com.
---
[ Silicon Valley | Metroactive Home | Archives ]