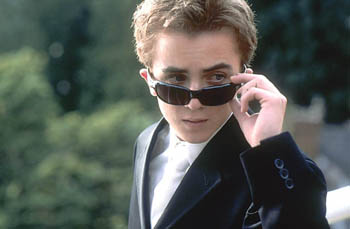 Shady Business: Frankie Muniz plays a pint-sized 007 in 'Agent Cody Banks.'

Too Weird

Dreaming of vampires, waking to nanobugs, writer Zack Stentz gets his first big-screen credit in 'Agent Cody Banks'

By

AFTER SERVING a year or so as a TV staff writer on Gene Roddenberry's Andromeda--the philosophical syndicated space series that's now in its third critic-baffling season--Zack Stentz, along with his joined-at-the-hip writing partner Ashley Edward Miller, now works on staff at UPN's The Twilight Zone, thinking up new ways for odd people to meet their creepy metaphysical demises.

It's the perfect job for Stentz. A former Metro writer and editor, whose nonfiction articles have appeared in Entertainment Weekly, Details and The Economist, Stentz has proven himself to be a talented writer. But he is also one of those guys--everyone knows at least a couple of them--whose fondest dreams are of making movies. Stentz's tastes have always resided in the bizarre and offbeat worlds of fantasy and science fiction. He is a professed Star Trek nerd, with classical leanings on the side; one of his favorite books is The Iliad.

Over the last decade, while working by day as a journalist, Stentz has amassing a pile of feature-length scripts, many of them written with Miller, most of which feature stuff like Martian truck drivers, cliff-dwelling werewolves, Mafioso vampire hunters and shape-shifting Anasazi cannibals. Simply put, it's been a rough row to hoe for Stentz. Since relocating from Northern California to L.A. several years ago, Stentz-the-screenwriter has suffered through the classic manic-depressive ordeal of getting numerous nibbles, but nothing like an actual bite. Well now, he's got one, and it opens Friday on screens around the country.

Agent Cody Banks, the new junior James Bond action-comedy starring Malcolm in the Middle's Frankie Muniz, features teenage spies, scar-faced übervillains, flesh-eating nanobots--and the screenwriting credit of Stentz and Miller. "Now," says Stentz, "we cross our fingers and hope that Cody does well."

What we have here is a writer obsessed with dark visions and supernatural embodiments of evil, whose dream project involves an uprising against bloodsucking zombies who've taken over the Earth, who finally gets his big break ... on a PG-rated movie for the Nickelodeon set. That's kind of ironic, isn't it? "It's weird, I know," laughs Stentz. "But it's a weird business."

The story goes like this: after several years wandering Hollywood with their offbeat pitches, Stentz and Miller heard about a teenage secret-agent script that needed a rewrite. They pitched their ideas for restructuring the movie, adding the nanobots and a fiery battle at a mountain fortress, and were subsequently offered the job, if they could do it in three weeks.

"Fortunately," says Stentz, "because of our experience on television--a job that, if nothing else, teaches you to write fast--we were able to turn in the rewrite with time to spare." Their script was then sold to MGM, which cast Muniz and Disney star Hilary Duff, and commissioned three more rewrites from Stentz and Miller before bringing in heavy hitters Scott Alexander and Larry Karaszewski, the Oscar-nominated writers behind Ed Wood and Auto Focus, to make additional changes.

The finished film boasts the credits of both teams of writers. "And that," says Stentz, "is the short story of how we got our names on what looks to be MGM's big release this spring. We wanted to test ourselves out and see if we could do a teen film, and we're really happy with the result."

It's impossible to view a teenage spy flick, of course, without thinking of the hugely successful Spy Kids. Accordingly, critics are already describing Agent Cody Banks as a Spy Kids knockoff. "We just got back from a press junket where we got the Spy Kids question a lot," Stentz admits. "But Spy Kids was essentially a family adventure movie with gadgetry. Cody Banks is a James Bond movie with a teenage protagonist. While the two films have some superficial similarities, they are really very different. If anything, Cody Banks is On Her Majesty's Secret Service, and Spy Kids is Chitty Chitty Bang Bang.

"Also, Frankie and Hilary are a lot older than the spy kids," he adds. In other words, this film has boob jokes and Spy Kids doesn't. "Exactly," Stentz says.

Next up for the team of Stentz and Miller is a "revisionist Western werewolf movie," which they are working hard to complete. If Cody is a success, of course, that will only make things easier for Stentz, who says he owes whatever successes he's achieved to equal parts of skill, persistence and luck. "I can't overstate how lucky I've been," he says. "I've met people at just the right time. Persistence helps you make your own luck, because the longer you stick with it, the more opportunities you have to be lucky."
---
Agent Cody Banks (PG; 110 min.), directed by Harald Zwart, written by Jeffrey Charles Jurgensen, Zack Stentz, Ashley Miller, Scott Alexander and Larry Karaszewski, photographed by Denis Crossan and starring Frankie Muniz and Hilary Duff, opens Friday at selected theaters valleywide.
---
---
Send a letter to the editor about this story to letters@metronews.com.
---
[ Silicon Valley | Metroactive Home | Archives ]