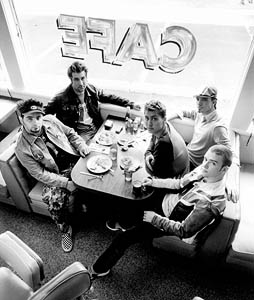 Celebrity Pop
*NSYNC bridges the generation gap at Compaq Center concert
By Sarah Quelland
When *NSYNC comes to town, it's not just a concert, it's an event. Any sidewalk bystanders unsure who was playing the Compaq Center March 8 only needed to take a look at the steady flow of traffic headed in that direction.
Giddy girls were piled into cars and minivans with windows painted "*NSYNC or Bust" and "Justin! JC! Joey! Lance! Chris!" One excited fan was even spotted inside the arena with a California vanity plate reading N2NSYNC. The pop quintet from Orlando has some hard-core fans.
Days before embarking on its Celebrity 2002 tour, *NSYNC swore that this show was significantly scaled down from the POP ODYSSEY and No Strings Attached tours. Perhaps. But "scaled down" is a relative term, and the prefab five still delivered a spectacular spectacle filled with costume changes, big-screen video footage and pyrotechnics, all coordinated over one metal beast of a stage that boasted more attachments, bells and whistles than a Hoover.
Low ground fog spilled off the stage in the dimmed arena where twirly light wands in a rainbow of pastels flickered in the anxious hands of the twittering fans. When Justin Timberlake, JC Chasez, Joey Fatone, Lance Bass and Chris Kirkpatrick made their first grand entrance, rising up from the floorboards with a shower of sparks behind them and fireworks exploding over their heads, the roar from the crowd was so loud it all but drowned out the opening number, "Do Your Thing."
Backed by a tight band that was featured prominently onstage, the funky R&B pop group wasted no time busting into its famous dance moves with the familiar choreography of "Bye Bye Bye" and "It's Gonna Be Me."
Onstage for close to an hour and a half, *NSYNC gave its adoring audience exactly what they paid for and managed to bring some spontaneity to a set that had been precisely planned down to the smallest details.
Known for its curious fashion sense, the group disappeared and reappeared decked out in different duds numerous times, sporting distressed khaki and casual wear, modified formal black tie, Western threads and denim gear haphazardly emblazoned with random patches reading "White Trash" and "Punk and Proud."
In addition to suggesting that this would be a scaled-down production, *NSYNC also promised an intimate show. That promise, it actually delivered. A U-shaped metal bridge descended from the upper reaches of the arena, and the band members playfully skipped and danced up, down and around during "Celebrity" and "Up Against the Wall" (a real crowd favorite), getting up close and personal with fans of all ages.
Everyone in the back row had a front-row view when the group took up residence on an island platform for the tribute portion of the show. There, the harmonious quintet performed Beatles hits--"She Loves You," "I Want to Hold Your Hand," "Hey, Jude" and "Twist and Shout"--and the Temptations' "My Girl," "The Way You Do the Things You Do" and "I Can't Get Next to You." Then, the group returned to the main stage for a disco-y version of Christopher Cross' adult contemporary hit "Sailing," a song featured on the group's debut album.
It was a savvy choice of covers. These guys are strategic businessmen and well aware that for every handful of tickets sold to an *NSYNC show, there's a guaranteed bonus sale, since the bulk of the group's fans require a chaperone. This segment gave the Baby Boomer parents something to connect with and helped bridge the generation gap. Moms were thoroughly embarrassing their young daughters by dancing and singing to the familiar classics. It was beautiful.
Pop Props
With fun props ranging from firehouse-styled poles that helped them slide off the stage quickly to Tarzan ropes for swinging over the audience, these seemingly tireless performers jammed through one song after another without breaking.
It was during the cool-down periods when they sat down on stools and talked that their personalities really came through. They entertained themselves mimicking Tracy Morgan's Saturday Night Live character Brian Fellows and joking about their new affiliation with tour sponsor Chili's. The fans ate it up.
They also argued over which city is actually home of the blues--New Orleans, Memphis or St. Louis--before singing a newly reworked blues version of "I Want You Back."
Justin took the leading role for "Gone," while the other four sang backup, and during another prominent Justin number, "Girlfriend," rapper Nelly, who lends his vocals to the remix, was integrated via video footage.
The whole show was a greatest-hits extravaganza, including "For the Girl Who Has Everything," "God Must Have Spent a Little More Time on You," "Tearin' Up My Heart," "Tell Me, Tell Me ... Baby," "No Strings Attached," "This I Promise You" and "I Drive Myself Crazy." The group ended in an explosion of energy with "Pop," and the suggestive floor-pumping choreography elicited the biggest response of an already ecstatic night.
"Pop" is *NSYNC's reaction to the flack it gets for falling into the much-maligned boy-band category: "I'm sick and tired of hearin' all these people talk about 'What's the deal with this pop life and when is it gonna fade out?' / The thing you've got to realize what we're doin' is not a trend / We got the gift of melody, we're gonna bring it 'til the end."
There are those who would have you believe that *NSYNC's just a trend, a flash in the pan, an annoyance that will go away soon. But after 33 weeks, Celebrity--a record that hit No. 1 and has gone platinum five times--is still on the charts and catching up to the 10+ platinum mark the group's other albums have reached. They aren't going anywhere anytime soon. And who knows? Maybe they're just getting started.
[ Silicon Valley | Metroactive Home | Archives ]