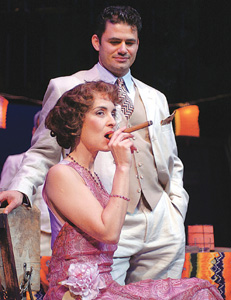 Photograph by David Allen

A Good Cigar: Conchita (Vilma Silva) lights up the stage for Palomo (George Castillo) in 'Anna in the Tropics.'

Not-So-Hot Tropics

Tolstoy moves to Florida in TheatreWorks' production of 'Anna in the Tropics'

By Marianne Messina

NILO CRUZ spins his play Anna in the Tropics around the old phenomenon among Cuban cigar makers of the lector. Hired by factory employees, the lector read them everything from literature to the news while they worked. Set in Tampa, Fla., in 1929, the TheatreWorks production frames the stage with crevice-filled slat walls of dark wood like many a teetering tobacco barn you can see today in the South (scenic designer Duke Durfee).

When newly hired lector Juan Julian (David DeSantos) steps into this dreary, family-owned operation in his crisp, white, three-piece suit (Fumiko Bielefeldt, costume design), it's obvious that he brings with him a vision of something far beyond the walls hung with tobacco leaves. Juan Julian takes the lectern, a raised, fenced platform like an English courtroom dock, and reads from the steamy Russian novel Anna Karenina.

As he reads, a train of unrequited loves and jealousies similar to those in the novel develop. The factory owner's married daughter, Conchita (Vilma Silva), dreams of having a lusty affair; her younger sister, Marela (Isabelle Ortega), dreams of romance and Russia; foreman Cheché (Tommy A. Gomez) fumes and blames the lector for distracting the workers and "putting ideas in their heads" (a historical complaint). Meanwhile, upstairs, the depressed, reclusive factory owner, Santiago (Apollo Dukakis), hears the readings through the cracks and becomes enchanted and then inspired.

In this production, the tobacco leaves are fascinating, the Cuban accents a mixed bag, the acting solid but often unseated, the ambience intriguing but dry and untropical, the erotic scenes somewhat two-dimensional. The stolen moment of back-of-the-barn passion between Conchita and Juan Julian turns out to be kind of a black-box love scene, spot lit downstage and backed up to a wall drop. While the location suggests abandon, the austere presentation takes no initiative to contextualize the passion—no heat, fans, sweat, no clearing away of tobacco leaves or old crates or tools; no accoutrements of romance or of the sexual adventurousness Conchita later refers to. This works in the sense of Cruz's idea that it is where we go in our minds that makes life colorful and rich. But it offers nothing to inform the conversations between Conchita and her husband, Palomo (George Castillo), as they explore the electricity this extramarital input has run through their marriage.

As a result, the production seems to cling blindly to Cruz's words, leaving performances by DeSantos as the lover and Castillo as the husband somewhat murky. The play's glimpse at successful love works best in the rapport between Alma Martinez and Apollo Dukakis. Martinez as Santiago's wife and grand dame of the factory has that "everyone's mami" quality, easygoing yet pragmatic. And the scene between Martinez and Dukakis (who makes a nice transition from depressed to inspired) is touching, yet evenhanded.

As the young dreamer, Marela takes up Cruz's infatuation with dreams—both the blurring of dream and reality, and the function of dreams in creating a better world. Befitting Cruz's most poetic lines, Ortega's Marela swathes them in a personality open to enthusiasm. Against her optimism, Tommy A. Gomez plays a wonderfully Danny DeVito sort of Cheché, the play's only heavy. Hard driving and callous as he substitutes the bottom line for love, Cheché festers smoothly in Gomez's hands with unfulfilled lust for Marela.

Neither language nor physical intimacy comes out ahead, since both have the ability to create immediacy as well as to distance. In the end, Cruz leaves us only with appealing but cryptic lines like "Tell him you want to make love like a knife because everything has to be killed."
---
Anna in the Tropics, a TheatreWorks production, plays Tuesday at 7:30pm (except March 28), Wednesday-Friday at 8pm, Saturday at 2 and/or 8pm and Sunday at 2 and /or 7pm through April 2 at the Lucie Stern Theatre, 1305 Middlefield Road, Palo Alto. Tickets are $21-$51. (650.903.6000)
---
---
Send a letter to the editor about this story to letters@metronews.com.
---
[ Silicon Valley | Metroactive Home | Archives ]