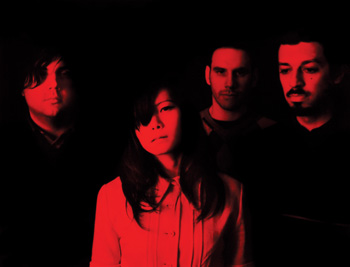 Hurt So Good: Asobi Seksu means 'playful sex' in Japanese.

Art of Noise

Reaching the plateau of pleasure with Asobi Seksu

By Todd Inoue

A YEAR ago, Asobi Seksu appeared at the SXSW music conference in Austin, Texas. Performing on an outdoor patio, the band—lead by keyboardist and singer Yuki Chikudate and guitarist James Hanna—sent an arctic chill cascading down backs with the song "Walk on the Moon." Chikudate's shimmering quietude was escorted by the jangle of guitars suitable for framing by 4AD.

As the song progressed, a downpour of sculpted, rolling distortion had those without earplugs jamming ripped bar napkins into auditory canals. But as Chikudate's voice ascended the wall of sound, gaining confident momentum, aching in despair (or was it hope?), the filters began to fall. Band and audience reached the Summit of Pain together, cuddling in the warmth of a simultaneous post-orgasm cigarette.

The 40-minute set was as beautiful as it was masochistic. The band's noisier moments rivaled My Bloody Valentine at its most cataclysmic, while the pop aspects—a synthesizer, harmonies, snappy rhythms—kept attendees glued to the group's next step.

At the time, Asobi Seksu (Japanese for "playful sex") seemed to knock it out of the park. The band was precise, and the night seemed perfect, but the audience didn't know that the group was on the brink of collapse.

"We were in the process of breaking up," remembers Hanna about the 2005 gig. "Half that band is no longer in. It was just personality stuff."

When the band returned to its New York home, dissatisfied parties exited, and Hanna and Chikudate began trying out different people. A year later, and three years in the game, Asobi Seksu 2006 is set to roll. This week, the group returns to SXSW (and plays Santa Cruz's Attic on March 25) and will debut new songs off Citrus, an album that finds the band reloading with heavier ammunition. Hanna describes Citrus as more instrumental, along the lines of Mogwai, armed with a fresh cachet of weapons of mass distortion.

"We're in a different place now," Hanna says. "We're more into bludgeoning and blasting our way through sets. We want to get through things real fast, just get on and get off."

But for all the punishment, the band has a romantic sense of style. Its CD artwork—dreamed up by Sean McCabe, better known for his work with Interpol—blends influences from psychedelia to modern and vintage Japanese graphics and cinema. Chikudate alternates between Japanese and English languages. The bilingual tongue adds diverse colors to emotions of melancholia, sadness and euphoria. "Walk on the Moon," "Let Them Wait" and "It's Too Late" connect on a level far deeper than a mushroom cloud of ringing guitar. It's like facing conflict with an embrace instead of a punch.

Musically, it's possible that Asobi Seksu will never see an article (including this one) not tagging them as "shoegazers." They've come to expect the labeling.

"We ask for it," Hanna admits. "I don't think it's possible to stop at this point. People like writing that word. I'm not sure what it is. We are influenced by My Bloody Valentine and [MBV guitarist] Kevin Shields. We love that stuff, but we're our own band.

"I want people to relate to the music on some level," says Hanna, "[for it] to be somewhat emotional yet musically interesting."

To Hanna's surprise, Asobi Seksu has been reaching venues outside of its fan base. The band's repertoire has been highlighted by provocative clothier Abercrombie & Fitch and on a surfing highlight show. Its appearance at the Attic is part of a month-long U.S. excursion, including 13 days without a break. That's a lot of exposure to high decibels (Chikudate has said she doesn't play with earplugs).

"People appreciate that we go there with the noise element," Hanna says, though he adds, "It's not really overwhelming for the intensity."

Tell that to the curiosity seekers stuffing bar napkins in their ears. A warning: Asobi Seksu shows are ear-splitting loud. A caveat: the pain is so pleasurable, it's worth risking short-term hearing loss.
---
Asobi Seksu plays March 25 at the Attic, 931 Pacific Ave., Santa Cruz. Doors open at 7pm. Tickets are $10, available through Ticketweb. (831.460.1800)
---
---
Send a letter to the editor about this story to letters@metronews.com.
---
[ Silicon Valley | Metroactive Home | Archives ]