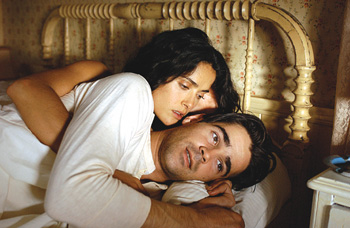 A Higher Colin: Colin Farrell and Salma Hayek discover love in Depression-era L.A. in 'Ask the Dust.'

Dust to Dust

Robert Towne's adaptation of John Fante's 'Ask the Dust' betrays the vision of one of California greatest novelists

By Geoffrey Dunn

IT HAS NOW been some 17 years since American Film magazine declared the late L.A. novelist John Fante "The Hottest Dead Man in Hollywood," and, indeed, at the time he appeared to be. "No fewer than six films based on his books are being made," the magazine trumpeted, including Wait Until Spring, Bandini, which had been shot in Utah earlier that year, while Ask the Dust, originally written in 1939, was to be directed by Daniel Vigne and "starring Emilio Estevez."

I got into the act myself. I tried to option the film rights to some of Fante's short stories about Filipinos (no luck) and wrote a cover story for Metro (Nov. 14, 1991) on his life and times and his dazzling writing, everything from his collected stories to his forgotten magnificent novels to his delightful collection of letters.

Fante was sizzling then. Black Sparrow Press was reissuing all his books and then some. His biggest fan was the late Charles Bukowski, whose work was inspired by Fante and whom he identified as his "favorite author." "Total emotion," Bukowski declared of Fante, born in Colorado in 1909 and who died after a long battle with diabetes in 1983. "A very brave man."

But as things often go in Hollywood, the Fante train got knocked off its tracks. Wait Until Spring, Bandini, was a box-office failure, heading straight to video. The other films, including Ask the Dust, based on Fante's most accomplished novel, never got made. The Fante light dimmed and then faded to black.

Now, more than a decade and half later, another member of the Fante booster club, screenwriter Robert Towne (The Last Detail, Chinatown and Shampoo) has achieved a dream of 30-odd years by finally adapting Ask the Dust, in a version starring Colin Farrell as Fante's alter ego, Arturo Bandini, and Salma Hayek as the fiery and oversexed Mexican-American beer-hall waitress Camilla Lopez, who eventually captures Bandini's heart and his imagination.

Set during the Depression, Ask the Dust chronicles Bandini's challenges as a fledgling writer living on Bunker Hill in downtown L.A. (he published his first story in H.L. Mencken's American Mercury), and his disgust-to-love romance with the illiterate waitress Camilla.

This is painful for me to say, as I was pulling hard for the film to succeed, but Towne's Ask the Dust is an unmitigated—and shameful—disaster. In certain respects, it has broken my heart. I consider Chinatown one of the great films in the American archive and Ask the Dust one of the great works of California fiction. How this marriage didn't produce a great work of art would be beyond me if I hadn't plied some of the filmmaking trade myself.

I can only imagine what went on in the script-development meetings between Towne and one of the film's producers, none other than Tom Cruise, he of the Church of Scientology, who apparently these days fancies himself as something of a social critic. Cruise is the absolute antithesis of Fante. He shouldn't have been allowed to get anywhere near this film.

When I first heard that Dust was going to be made, I envisioned Sean Penn in the role of Bandini. Penn has the compact, angry intensity and moody neurosis that fueled the character of Bandini in Fante's fiction and which drove Fante in his real life. The Irish-born Farrell, playing the son of working-class Italian immigrants, just never comes off as the inflammable and unflappable Bandini. And he feels—and looks—out of place in the run-down beer halls of L.A.

Hayek has all the fire and more requisite for Camilla, but she lacks the vulnerability that defined Camilla's character in the novel. Hayek projects a teeming sexuality that exudes in every scene, and Farrell is simply no match for it.

It's almost a truism that great works of fiction rarely make great films, and Ask the Dust illustrates in grand detail why this happens. Fante's writing is so vivid and descriptive that readers can't help creating in their own minds equally vivid characters—and settings—and the disjunction between those in the mind and those on the screen is often jarring.

More than that, a reader can't help but feel attached to the plotline and temper of the novel, but much to my dismay, Towne took far too much cinematic license with his adaptation. The tenor of the ending, and hence the glory of the novel, has been absolutely bastardized by Towne, as have other plotlines as well. And what was a ferocious, oven violent and destructive relationship between Arturo and Camilla—down to the very last second of the novel—is turned into a sentimental tear-jerker: Love Story meets Brokeback Mountain. And Fante was anything but sentimental.

If one good thing comes out of the film, it may be another Fante revival. Ask the Dust is a glorious piece of writing. Even more remarkable is the Prelude he wrote to the novel, also published by Black Sparrow. It's one of the finest pieces of short prose I've ever read.
---
Ask the Dust (R; 117 min.), directed and written by Robert Towne, photographed by Caleb Deschanel and starring Colin Farrell and Salma Hayek, opens Friday.
---
---
Send a letter to the editor about this story to letters@metronews.com.
---
[ Silicon Valley | Metroactive Home | Archives ]