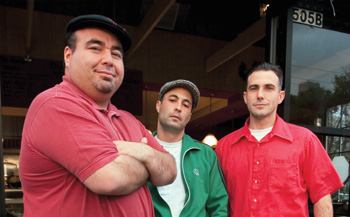 Photograph by Felipe Buitrago

Garage Band: Left to right, Chris Esparza, chef Louis Silva and Brendan Rawson are partners in the Naglee Park Garage.

Park It at the Garage

A casual bistro housed in a former garage serves the Naglee neighborhood and SJSU with friendly food

By Stett Holbrook

YOU CAN LEARN a lot by listening to a bowl of soup. A chef who lavishes attention on his soup by puréeing the ingredients, passing them through a strainer and then larding it with cream and a drizzle of white truffle oil is clearly out to impress and transcend the dish's peasant roots. However, a thin bowl of chicken noodle soup with soggy noodles and the flat, sodium-jacked flavor of canned chicken stock says it's the work of a cook who is just mailing it in.

The bowl of butternut squash soup I had at the Naglee Park Garage said something different. I expected a velvety purée, but the soup ($3 cup, $4.95 bowl) arrived with big, ragged chunks of squash and carrots in a sage and spice-enlivened (cinnamon?) broth.

It looked a little crude at first, but its unpretentious, straight-ahead style and nourishing flavor won me over.

That soup might as well have been an ambassador for the 3-month-old restaurant. The restaurant, a partnership between downtown impresario Chris Esparza, chef Louis Silva and Brendan Rawson, occupies a small, good-looking brick-and-glass space that used to house, you guessed it, a garage.

The casual bistro bills itself as "neighborhood kitchen cuisine." Lots of restaurants would like to think of themselves as friendly neighborhood joints but few deliver. The Garage does.

The tiny kitchen (just a rotisserie, stove and oven) is beer-spilling distance from the cozy, L-shaped bar, where brews are served in glass jars, and there's a short but good wine list. You order at the bar from the grocery bag brown-paper menu and scan the specials written on the board and take a seat at the bar or at one of a handful of tables scattered around the high-ceilinged dining room.

In warmer weather, there's also a great outdoor patio that the restaurant shares with Top Dog, one of the city's best hot dog stands. Esparza is partnering with Top Dog to offer live acoustic music and outdoor movies in the gardenlike patio from April to October.

The restaurant attracts a lively, appreciative clientele of students and professors from SJSU as well as residents from the nearby Naglee Park neighborhood, a mix you don't often see in San Jose.

Silva, who worked at the former Ajax Lounge with Esparza and was executive chef at the Left Bank in Pleasant Hill, usually takes your order and then helps cook it up. Friendly, first name-based service is the norm here. Then again, this is a former garage. Snooty service and attitude wouldn't fly in a place that used to have motor oil stains on the floor.

That said, the food can range from good to mediocre to not so good. In addition to the aforementioned squash soup, the good category includes the thick and delicious mulligatawny soup.

Seasonally focused entrees are a real bargain. The roasted duck special ($11.50), which included a leg, breast and wing, a huge portion that could have gone for much more at other restaurants, was lacquered a dark brown with a sweet but restrained cherry-plum sauce.

The Garage barbecued shrimp ($9.95), cooked New Orleans style in a rich and peppery butter sauce, are juicy and flavorful. The restaurant's many side dishes are good, too. I especially liked the Brussels sprouts and bacon ($2.95), blue cheese and almond-strewn green bean salad ($2.95) and the chunky, stewy, thyme-infused carrots and leeks ($2.95).

The mediocre included several of the restaurant's sandwiches, a mainstay of the lunch menu. I love a good tri-tip sandwich, but the Garage's version ($5.50) needs to strip back down to basics. The beef on the hot-pressed sandwich was good, but the addition of melted cheddar cheese, house-made ketchup and caramelized onions made the whole thing too sweet and overwrought. It ended up tasting like a hamburger. The leg of lamb sandwich ($5.50) promised a roasted sweet pepper spread, but I couldn't taste it. And pressing the sandwich dried out what started as fresh spinach.

As for the not-so-good, that would be the herb-crusted sole ($9.50), a special I tried on one of my visits. Hats off to the Garage for serving only sustainably harvested fish, but that didn't matter in this case. The fish was pan-fried a beautiful golden brown, but the herb flavor was hard to detect, and the flesh was bland and mushy. I pushed it aside after one bite.

One more thing to add to the good list: the desserts. Both the deeply caramelized apple pie ($4.75) and the thick and rich chocolate tart ($4.95) pack a thick, flaky crust and great homemade flavor.

The Garage still has some tuning up to do. But they'll get it right. Given the come as-you-are, homey neighborhood vibe and friendly staff, missteps are easy to forgive. It you're from the neighborhood, it's hard not to want the restaurant to do well. And if you don't live around here, you're likely to wish you did and had a place like the Garage to call your own.
---
Naglee Park Garage
Address: 505 E. San Carlos St., San Jose.
Phone: 408.286.1100.
Hours: 11:30am-3pm and 5-11pm Mon-Sat.
Price Range: $3.25-$11.50.
---
---
Send a letter to the editor about this story to letters@metronews.com.
---
[ Silicon Valley | Metroactive Home | Archives ]