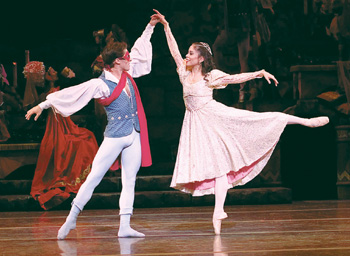 Photograph by Robert Shomler

Masked Feelings: Romeo (Maykel Solas) encounters Juliet (Karen Gabay) at the Capulet Ball.

True Romance

Ballet San Jose Silicon Valley plumbs the depths of young love in 'Romeo and Juliet'

By Marianne Messina

DENNIS NAHAT'S Romeo and Juliet balances subtext with clarity and blends drama with an almost Shakespearean sense of comic relief. Merchant carts fore, bridge and balcony aft, the town square hosts many a humorous scene featuring the ensemble cast in a symphony of action on all scenic levels. As the Ballet San Jose Silicon Valley's production opens, the heads of two feuding houses shake threatening fists at each other. Capulet (Daniel Gwatkin), in red velvet and gold brocade, and blue-robed Montague (Zuri Goldman) totter with oversized weapons while the town erupts in a food fight.

In a later town scene, Juliet's nurse (Roni Mahler) comes to deliver a message to Romeo (to meet Juliet at Friar Laurence's cell). To the townsfolk's delight, the jovial prankster Mercutio (Ramon Moreno), dressed in Montague blue, taunts the nurse. At one point, Mercutio's face pops out from under her billowy skirts. Finally, Romeo (company newcomer Maykel Solas) thanks the nurse with a kiss, and she faints dead away as five townsmen sweep smoothly in to lift and carry her off. When Romeo crashes the Capulets' masquerade ball "disguised" in red accessories, another clever bit of choreography has him and Juliet dancing gaily over the grand floor while party guests chat, offer toasts, ladle punch in relatively slow motion in the background. This speed differential renders something like a love-at-first-sight truism "They met and time stood still."

Karen Gabay's Juliet (alternately danced by Maria Jacobs) begins the ballet in childlike innocence, dancing with her doll, teasing her nurse and playfully refusing to give up the doll to her mother. To Romeo's first overtures, she behaves shyly and runs off, arms out, as if she would fly away, emphasizing that Romeo will bring an end to her carefree life. Later in Juliet's chamber, she and Romeo (alternately danced by Stephane Dalle) dance a pas de deux to Prokofiev's moving string theme undercut by ominous, ever-present low horns.

The dance movements suggest both affection and conjugal intimacy—for example, Romeo lying face-up on the floor supporting Juliet's swan dive on his chest. The gesture is all the more poignant when Juliet later tries to repeat this move, tugging at Romeo's lifeless arms, after finding his body on her mausoleum floor. In a role originally written for her, Gabay seems to wear Juliet's inner thoughts on her bourrée. Juliet dances with Paris (Robert Raney) after her parents insist she marry him, and her poses and approaches are so brittle they seem to indicate that the coupling could break her.

It is amazing that the late David Guthrie designed both costumes and sets for this piece—the full moon and still stars under which Romeo finds Juliet on her balcony, the prince's white robes bejeweled in stunning silver and gold, the looming wooden altar next to Juliet's bed, Juliet's shimmering, pale pink dress and intricate pearl head piece, Friar Laurence's book-laden cell complete with death's head, the stone arches set in black drops and the gray stone bier of Juliet's mausoleum.

Guthrie's elemental control is most striking when the curtain rises on the Capulet masquerade ball. The central color theme is blood red, both opulent and sinister. It amplifies the idea of some submerged family canker, hinted at when Lady Capulet (Beth Ann Namey, literally looking down her nose at everyone due to the backward pull of her elaborate headpiece) kisses her nephew Tybalt (Maximo Califano) on the lips. Prokofiev's plodding, horn-driven music accompanies a variety of spectacular death scenes and fight scenes—Mercutio's slow, unsuspected death, Romeo's death by poison, Juliet's suicidal stabbing. This production rewards our familiarity with the popular tale of the star-crossed lovers by instilling countless layers of revelatory treasures.
---
Send a letter to the editor about this story to letters@metronews.com.
---
[ Silicon Valley | Metroactive Home | Archives ]