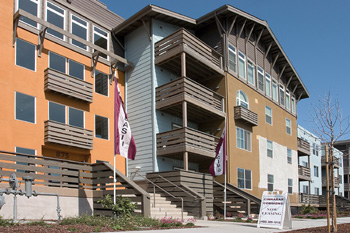 Commons Ground: The controversial Cinnabar Commons, a 245-unit housing complex on Cinnabar and Stockton Streets. One of its developers was county Assessor Larry Stone.

Business As Usual?

A lawsuit claims county assessor Larry Stone used his political clout to benefit his business dealings. Some insiders say his interventions were just part of the business of politics.

By Vrinda Normand

FOR MORE than a half-million property owners in Santa Clara County, Larry Stone's name means money—money they have to pay in property taxes every year. Whether they own a home, a business, a boat or a farm, Stone's office decides what it's worth and how much they have to fork over to county tax collectors for it.

As the county assessor, Stone heads an appraisal team that helps the tax collector bring in $2.3 billion annually. That's quite a chunk of the state and local economy that goes to feed things like schools, hospitals and redevelopment. Silicon Valley's soaring property values make Stone's position even more significant, especially when it comes to the real estate industry. It's easy to see why developers, builders, investors, contractors or anyone else with property would want to be on his good side.

So it may surprise many residents that Stone does business in the very industry over which he wields power. "I believe the public has the right to know what we do and why we do it," he declares on the assessor's website. But does the public know the full story about his dealings as a private developer?

That's a question several people are asking, including county supervisor Pete McHugh. McHugh's concerns over Stone's business dealings have been dismissed as politically motivated because he's running against Stone for assessor this year. But he's not alone. Running underneath the local political radar for some time has been a lawsuit in Superior Court which claims that Stone "personally and repeatedly intervened" with the San Jose Planning Department for a $60 million dollar affordable-housing project called Cinnabar Commons.

The suit started as a breach of contract complaint in 2004 and has since morphed into a legal quagmire. The most recent brief, filed in November 2005, alleges that Stone (a partner in the development team) exerted his political influence to dodge the permitting process and speed through construction of Cinnabar Commons, his 245-unit housing complex on Cinnabar and Stockton Streets just outside of downtown San Jose.

Historical Hangups

Snares in the Cinnabar Commons development go back five years, when the project was first proposed by a team of private investors, including Stone and Bay Area developers Thomas Rocca and Luis Belmonte.

The housing complex was planned on the industrial site of the Muirson Labeling Plant, a relic of Santa Clara Valley's orchard era. The factory, built in 1913, produced labels for nearly all of the fruit canneries that made this area known as the "Valley of Heart's Delight."

San Jose architect William Binder designed the four buildings on the site, which qualified as historical landmarks. Neighbors and advocacy groups protested when they heard a housing development had been set in motion to demolish one of the last tributes to their agricultural heritage.

The San Jose Historic Landmarks Commission, the Preservation Action Council, the Shasta-Hanchett Park Neighborhood Association and the Santa Clara County Historical Heritage coordinator urged the city to preserve the structures, even if that meant converting them into housing units.

"As much as our community desperately needs affordable housing," a representative from the neighborhood association wrote to the San Jose Planning Department, "it also needs housing with a heart, soul and sense of history. The loss of historic and cultural resources under this project is unacceptable."

San Jose planners acknowledged the significant cultural impact of tearing the factory down, but in the end, sided with the developers. Converting the old buildings was deemed impractical and financially burdensome to the affordable housing project—which the city helped fund with $24 million in low-interest loans.

With Stone a powerful player on the other side, "we were definitely fighting an uphill battle," sighs Judi Henderson, a board member of the Preservation Action Council. "We perceived [his involvement] as a conflict of interest."

The City Council and the Planning Commission approved residential zoning on the site in 2002, paving the way for the development to go forward. But the lawsuit alleges that Stone used his political clout to railroad through the permitting process that followed.

Paper Trails

The lawsuit in question was filed by the former owners of the Muirson property: John and Stephanie Serpa, represented by Herman Kalfen and the Garrison Law Group. The Serpas sold the four-acre plot to the Cinnabar group for $13 million in 2001, which included a $500,000 cleanup account to remove industrial waste from the property.

In 2004, the Cinnabar group sued the Serpas for breach of contract, alleging they failed to clean up the site. The developers said they had to shoulder $1 million to make the land suitable for residential use and demanded reimbursement.

The Serpas claimed they cleaned up the site to the extent that they had agreed to, but were never paid from the cleanup account. As the suit grew into a web of cross-complaints, Kalfen and his legal team were hit with a "document dump" just before trial in November of 2005.

In six boxes filled with 15,000 pages, Kalfen discovered "shocking and serious matters" (as he puts them) that delayed the trial date to April of this year. Among these documents are letters from Stone to former San Jose planning director Stephen Haase, senior planner Carol Hamilton, former Historic Preservation officer Courtney Damkroger and the San Jose Planning Commission.

Metro also obtained these letters from the city of San Jose, dated during the summer of 2003, in which Stone negotiated the conditions of his planned development permit and urged city planners to grant permission to tear down the buildings. He personally wrote to city officials on behalf of the Cinnabar group, even though the principal partner, Thomas Rocca, is listed on most legal documents associated with the team.

Stone says there is a simple explanation: his partners are more familiar with construction, so he took charge of communicating with city officials because "I understand how that stuff works." In the 1980s, he served on the Sunnyvale City Council with San Jose Mayor Ron Gonzales.

Stone protested one of the conditions the Cinnabar group had to fulfill before demolition, which required that they give historical groups any parts of the Muirson factory they wanted to salvage. In a letter to Hamilton, Stone wrote: "To require us to completely disassemble the entire fire apparatus contained in several buildings when the items requested have little or no historical significance ... is in my opinion, unreasonable and both cost and time prohibitive."

He offered to provide a sample of the items requested by the Preservation Action Council, which included steel girders, doors, antique glass, hardware fixtures, sinks, light shades and labeling machines.

"We must resolve this issue rapidly and commence demolition very soon if we expect to complete the site work prior to the rainy season," Stone concluded. "Your prompt attention to this issue is appreciated."

Haase, the former San Jose planning director who recently moved to San Diego, stuck to the original conditions of the permit and told Stone his offer was insufficient.

Stone then responded that his group would comply and give the Preservation Action Council everything they wanted.

"We respectfully request that you issue our demolition permit," he wrote to Haase. "We would like to personally pick it up on Tuesday."

The sense of urgency in these letters seems to have been effective. The Cinnabar group got their demolition permit in August.

Permit Oddities

But the Serpas' lawsuit also uncovered a discrepancy in the permitting process. Cinnabar's planned development permit, approved by city planners in June 2003, wasn't officially recorded with the county until eight months later, in February 2004.

The permit certificate in question, obtained by Metro, says it is not effective until recorded with the county. This would mean that legally, as Kalfen points out, the project and demolition went forward prematurely.

Court records include an email from Hamilton, the planner overseeing the project, saying, "In this case, we may have held off recording the permit because there were outstanding conditions that needed to be implemented prior to issuance of a demolition permit."

Hamilton now tells Metro she was speculating and the recording delay must have been due to a clerical error. "I can't explain it," she says.

Hamilton says all the permit conditions were met before demolition. Courtney Damkroger, the former historic preservation officer who was in charge of monitoring Cinnabar's compliance, no longer works with the city. When reached at her current home in San Francisco, she would not comment.

Define 'Appropriate'

Although the Serpas lawsuit sheds critical light on Stone's involvement, it remains debatable whether or not his actions were inappropriate.

From his home in San Diego, Haase told Metro that it's not unusual for developers to be anxious about getting their permits or to have negotiations over what constitutes compliance. As to the planned development permit being recorded late, he says it matters more that the Cinnabar group met the intent of the permit.

"There was no preferential treatment on our part," Haase says about working with Stone. "He's a citizen. He might have more access than others—of course I know who he is. If he calls me, I'll call him back. But that's true of any customer." Berkeley planning director Dan Marks says dealing with political pressure is "part of the job." Big developers often try to go through city councilmembers, who call him to "see how things are going."

"That's certainly going to get my attention," Marks says. "It may even expedite a decision.

Gary Binger, a former Walnut Creek planning director and professor at the University of California at Berkeley, says it's "unfortunate" that Stone does business within his own jurisdiction, but the permit snafus "don't convince me that there was any kind of monkey business going on."

Stone says he has "no idea" what the Serpas allegations are about and believes they are trying to leverage him politically to get a favorable settlement in the breach of contract suit. "They obviously don't know me because that's not how I work," he adds.

Does being a private developer clash with Stone's position as the county assessor? Did he try to use his position for special treatment in the Cinnabar Commons project?

On the surface, California law doesn't do much to clarify this gray area. Section 1365 of the Revenue and Taxation Code says the county assessor cannot engage in any occupation that involves a conflict of interest with his duties as an officer of the county.

According to the California Fair Political Practices Commission, elected officials cannot participate in any decision that benefits them economically.

Having connections in the real estate world has certainly helped Stone politically. Since 2000, he's received over $60,000, nearly half of his total campaign contributions in that time period, from industry players.

Assessors Under Scrutiny

It wouldn't be the first time that assessors have been accused of misusing their power. Former San Francisco County Assessor-Recorder Mabel Teng resigned last year under heat for allegedly giving tax breaks to personal and political friends. A whistleblower in the Yolo County assessor's office (near Sacramento) recently claimed that a prominent developer's property taxes were inappropriately reduced for 10 years, and a district attorney investigation is currently under way at the Marin County assessor-recorder's office probing the conduct of two employees who may have lowered appraisals for their family members.

Theis Finlev, policy advocate with California Common Cause (for nonpartisan government reform), says Stone's situation "is obviously rife with potential conflicts, probably more so than most other dual positions."

"He should go beyond the legally required disclosure to mitigate the strong appearance of conflict," Finlev adds.

Others close to local government, who asked to remain anonymous, remained suspicious of Stone's moonlighting.

"I can't imagine my county allowing their assessor to have a private business," says a former Oakland planning commissioner. "Being the assessor is a full-time job. What if he's using county time to run his business?"

"I'm sure it would be a big issue here," says one Santa Cruz county planner. "If there's enough suspicion of conflict, then people will believe he had undue influence."

Meanwhile, as of presstime, new information was emerging that the long-pending Cinnabar Commons lawsuit may have been resolved through mediation. Stone says a settlement was reached last week with Serpas. He couldn't disclose the amount yet, but says it was in his group's favor.

In a three-page letter to Metro, Stone reiterated that he believes "full disclosure is essential in maintaining and enforcing conflict-of-interest standards," and laid out his policy since becoming a public official in 1974 of going beyond the standard requirements in that area. Though he didn't directly address the issue of interdepartmental political influence raised in the lawsuit, he made it clear that he believes strongly that the current safeguards protect against any conflict of interest within the assessor's office.

"I think you will agree that the conflict-of-interest disclosure and control policies and procedures in the Assessor's Office (including the Assessor) are as extensive as you will find anywhere," wrote Stone. "This is why I am sensitive about any claim or implication that there is something sinister, unethical, or illegal about my fully disclosed involvement in Cinnabar Commons."
---
Send a letter to the editor about this story to letters@metronews.com.
---
[ Silicon Valley | Metroactive Home | Archives ]