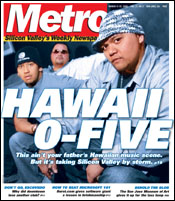 For the Week of
March 16-22, 2005
Cover Story: Hawaii 0-Five:
This ain't your father's Hawaiian music scene. But it's taking Silicon Valley by storm.
Behind the Music: Positive stereotypes are still stereotypes. How James Houston and Eddie Kamae broke through them to tell the real story of Hawaiian music.
'Hawaiian Son': An Excerpt: From the foreword of Santa Cruz author James Houston's new book on the life and times of Hawaiian music legend Eddie Kamae.
News: Discovery Phaser:
Hint: If you ever want to stick it to Microsoft, file a lawsuit and then dig deep. Hell, it worked for Burst.com.
The Fly: This week's political bites.



Biter: The Doctor Is Out.
Techsploits: Help Tech—Jail the Poor.
Rev: Paris Is Burning.



Fluid Dynamics: The Blobjects movement refuses to be pinned down in new design show at the San Jose Museum of Art.



Amazing Grace: 'The Grace Lee Project' explores the individuals among the ubiquitous.
Deaf Scot: 'Dear Frankie' gets you right in the haggis.
Spitting Devil: Hitler and his Reich minions die like poisoned rats in a bunker in 'Downfall.'
Into Africa: 'In My Country' is a Boer bore from Boorman.
Sweet and Salty: A German accordionist dreams of Texas in 'Schultze Gets the Blues.'
Steamed Up: Long-awaited anime 'Steamboy' dazzles the eye, but grates on the ears in dubbed version.



Swallow That: In which our wayward reporter eats an entire record album. Well, OK—it's just a 7-inch.
The Big Takeover: DJ crew Dhamaal Soundsystem makes the Bay Area an Asian Massive epicenter.



Beyond the Falafel: Sunnyvale's Dishdash gives Middle Eastern fare its fair due.
Live Feed: Water Fight.
5 Places to Love: Hawaiian-style restaurants.



Tracking Changes: New musical at San Jose Rep presents a rock remix of Asian American history.
Starry Night: TheatreWorks tracks the emotional arc of the young van Gogh in 'Vincent in Brixton.'



Please don't forget to write! Metro welcomes letters. Like any great work of art, they should be originals — not copies of letters sent elsewhere. Include address and daytime phone (for verification purposes only). Letters may be edited for length and clarity or to correct factual inaccuracies known to us. Postal: Metro Letters, 550 S. First. St., San Jose, CA 95111. Fax: 408/298-0602. Email: letters@metronews.com. Emailers, please include name, city of residence and phone number. Letters printed will list email address unless otherwise specified. Letters to the editor are not currently published in the online version of this paper.