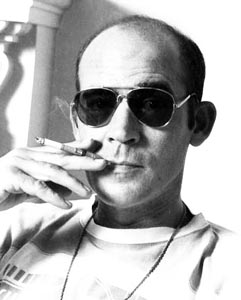 Biter

The Doctor Is Out

By

BITER admits we are among the many scribes who've tried and failed miserably to imitate Hunter S. Thompson at one time or another. Truth is, no one can write like Hunter and no one ever will. His incendiary booze-and-pharmaceutical-fueled insights will never be equaled. Thompson's unique talent for kicking the ladder out from underneath the establishment shall forever reign. Whether you liked him or not, he permanently and beautifully corroded the entire debate on what journalism is supposed to be.

Since San Francisco played a significant role in Hunter's career, the Edinburgh Castle on Geary held a wake last week that included S.F. Chronicle executive editor Phil Bronstein and several local authors deeply inspired by the Doctor's work—an event Biter missed, but one we absolutely resonated with. The announcement for the wake said, "Please join us as we honor his memory, toss cocktails down our necks and make sure he gets a proper San Francisco send off before they stick his typewriter under glass and sell off all his memorabilia on Ebay."

Amen.

Everyone knows the Vegas book and the Hells Angels book, but Hunter's Fear and Loathing on the Campaign Trail was the definitive chronicle of Nixon and McGovern's battle for the 1972 election and one of the best political books ever engraved. When Nixon croaked in 1994, Hunter thoroughly slammed him in a lengthy Rolling Stone article. And we quote: "It is Nixon himself who represents that dark, venal and incurably violent side of the American character that almost every country in the world has learned to fear and despise. Our Barbie-doll president, with his Barbie-doll wife and his boxful of Barbie-doll children, is also America's answer to the monstrous Mr. Hyde. He speaks for the Werewolf in us; the bully, the predatory shyster who turns into something unspeakable, full of claws and bleeding string warts, on nights when the moon comes too close."

Upon Thompson's suicide, just about every major paper in the country immediately churned out tirades, dedications, analyses and explications of the Doctor's eccentric ways and means. The guy collected peacocks for crying out loud! But probably the best dedication about Thompson after his death came from Norman Mailer: "He had more to say about what was wrong with America than George W. Bush can ever tell us about what is right."

Amen again.

Since we missed the wake last week, allow Biter to quote with our cocktail glass held high what we think is the best passage from our trashed, beer-stained copy of Fear and Loathing in Las Vegas:

"The press is a gang of cruel faggots. Journalism is not a profession or a trade. It is a cheap catch-all for fuckoffs and misfits—a false doorway to the backside of life, a filthy piss-ridden little hole nailed off by the building inspector, but just deep enough for a wino to curl up from the sidewalk and masturbate like a chimp in a zoo-cage."
---
Send a letter to the editor about this story to letters@metronews.com.
---
[ Silicon Valley | Metroactive Home | Archives ]