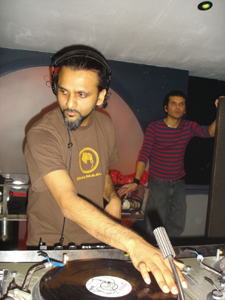 Truth Hurts: Janaka Selekta of Dhamaal Soundsystem lets the rhythm hit him.

The Big Takeover

DJ crew Dhamaal Soundsystem makes the Bay Area an Asian Massive epicenter

By Neelanjana Banerjee

I KNEW it was a mistake to wear my new 4-inch turquoise heels to the DHAMAAL SOUNDSYSTEM Worldly event last weekend. My plan was to sip dirty martinis at the bar like a sophisticated lady, but after 10 minutes of mash-up bhangra/drum 'n' bass from British DJs BOBBY FRICTION and NIHAL, I reverted back to my big-pants-wearing raver self, circa 1996. After five rooms of South Asian beats and some six hours of music, I am nearly crippled.

Worldly was just the kickoff for Dhamaal's second annual Sights and Sounds festival, featuring various events—from a classical Indian music showcase to a release party for the collective's new EP Transitions—throughout the month of March. Some eight years after the explosion of the Asian Massive sound in London ushered in by TALVIN SINGH and ASIAN DUB FOUNDATION (think a slightly more electronic South Asian version of PUBLIC ENEMY), Dhamaal is making the Bay Area the cutting edge of this musical scene. Dhamaal's signature sound of underground electronica mixed with classical Indian instruments originated back at a house party in 1999, when percussionist ADHEESH SATHAYE miked his tablas (Indian drums) over the DJ mix of JANAKA ATUGODA (a.k.a. JANAKA SELEKTA) and MANEESH KENIA (a.k.a. MANEESH THE TWISTER). The response was so big that it wasn't long before the monthly parties began at San Francisco's 111 Minna. For the last three years, they have been at the present location, Club Six, becoming the most consistent, longest-running Asian electronica event in the world.

"We wanted to do something that was not being done in the South Asian music scene, no Bollywood, no Hindi remix, not a straight bhangra sort of a thing," explains Maneesh. "We wanted to bring our influences—underground dance culture and classical music." Along with its dedication to its underground roots, Dhamaal—with nearly 20 members, from musicians to VJs to designers—believes strongly in the idea of collectivity. "We all share music openly inside the collective," says Janaka. "There are no contracts or anything. It's all based on trust."

Last March, Dhamaal dropped its first full-length album, featuring a wide range of tracks from some straightforward D+B to a beautiful IDM track produced by collective member and peninsula resident PARAG CHORDIA. Now, with five years of throwing parties and a full-length album done, the Dhamaal crew is expanding its vision. "The idea is of having something a little more theatrical, more of an event. Back in the 1990s in England, when people were going to raves and stuff, you would get a whole list of things to bring with you. You had to go meet someone on the [highway] to go pick up tickets. All these things created a sort of atmosphere that you were embarking on some journey, an adventure," says Janaka. "I think [the Bay Area] is in the beginning stages of something like that being possible again, if it's cultivated properly."

After spinning at a huge outdoor festival in West Virginia a few years ago, Janaka—who is Sri Lankan British—was inspired to try and put together something like that here. He envisions Sights and Sounds as a precursor to a Burning Man-esque Asian electronica/world music festival sometime in the future. But until it gets a lease on Joshua Tree, Dhamaal is planning to throw more Worldly events, bringing international acts like India's MIDIVIL PUNDITS and the Asian Dub Foundation later this year—determined to make the Bay Area the epicenter of the Asian Massive movement. Next time, I'll know to wear my Adidas.

The record release party for the Transitions EP featuring the whole Dhamaal crew happens on Saturday, March 26, at Club Six in San Francisco. Get up to speed at www.dhamaalsf.com.
---
Send a letter to the editor about this story to letters@metronews.com.
---
[ Silicon Valley | Metroactive Home | Archives ]