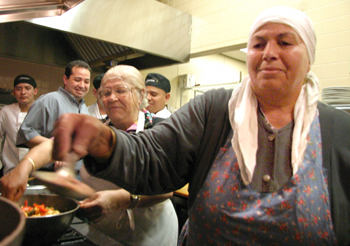 Photograph by Felipe Buitrago

Family Affair: Dishdash owner Emad Ibrahim bases many of his dishes on recipes from his mother, I'Nam, pictured at right.

Beyond the Falafel

Sunnyvale's Dishdash gives Middle Eastern fare its fair due

By Stett Holbrook

WHEN HE opened Dishdash four years ago, Emad Ibrahim was out to correct what he saw as a gap in Silicon Valley's diverse ethnic dining landscape. Falafel joints abounded, but there was no one showcasing the rest of Middle Eastern food, a region with a rich and varied culinary history.

"We really wanted to bring Middle Eastern food to Silicon Valley," says Ibrahim, 32. "We have more to offer than falafels and hummus."

Using recipes gathered from his Palestinian mother, Ibrahim has put together a menu that celebrates the glories of his native Palestine and beyond. The restaurant is the sister to Fattoush in San Francisco, a restaurant run by Ibrahim's brother. The menu is best described as pan-Middle Eastern, since it features dishes from throughout the region. His chef is Iraqi, and one of his cooks is Syrian and Lebanese, and they've added their touches to the menu. The menu also includes Turkish- and Greek-influenced dishes.

A dishdash, by the way, is a traditional colorful, dresslike garment worn by men and women in Palestine. There's one hanging on the wall of the attractively decorated restaurant. Ibrahim's mother made it for his wife, Nadia Mashasha. Mashasha named the restaurant after the garment because it's casual and comfortable like they want the restaurant to be. She also thought the English words dish and dash would lend themselves well to a restaurant. Ibrahim says some of his customers have taken to using the name as verb, as in "I feel like dishdashing for lunch today." I hope nobody gets the wrong idea and dines and dashes.

Dishdash's food is made from traditional recipes and ingredients but is presented with a contemporary flourish. There's also a small but well-chosen wine list to match. Syrah and zinfandel pair particularly well with the hearty beef and lamb dishes.

The Mediterranean meze ($10.95 for two) sampler plate is a great starter if you're with a group or very hungry and dining alone. All the regulars are here, such as hummus, baba ghanouj and tabouli—and done well—but the plate includes several lesser-known but very good dishes. Rihan combines tomatoes, grilled eggplant, ground almonds and feta in a fresh basil sauce. M'nazaleh is a richer, juicy ratatouillelike blend of marinated and grilled eggplant, red bell peppers, tomatoes and walnuts.

From the long list of entrees, the lamb dishes are particularly good. Tabsi ($13.95) combines seasoned cubes of ground lamb and beef in a rich, viscous sauce of eggplant, onions, bell peppers and tomatoes enlivened with curry and the unique, salty-sour flavor of dried lime.

Sabanech ($13.95), a meaty, slow-braised lamb shank, could pass for a rustic Italian dish. Stewy spinach, plump black-eyed peas and garlic served on the side make this a hearty, satisfying plate of food.

Beriani ($14.95) is one of the most unique dishes on the menu. Tender chunks of beef and potato are mounded atop rice and ringed in a creamy aged yogurt sauce strewn with golden raisins, garbanzo beans and almonds. Beef and cream sauces are an unlikely match, but the combination of flavors made me a believer. Sambusak dajaj ($12.95) is another dish you're not likely to see at your typical falafel joint. Triangles of phyllo dough filled with diced chicken breast, mushrooms, onions and almonds share the plate with a rich, emerald-hued spinach sauce. This is Middle Eastern fare with a fine touch.

Desserts are just as strong as the rest of the menu. M'Halabieh ($5.95) is a thick and creamy rice pudding that's sweet but not too sweet; it is flavored with rose water and cardamom and sprinkled with ground pistachio. Kenafeh ($5.95) looks a little like shredded wheat, but it's phyllo dough baked with a sweet, mozzarellalike cheese in a pool of rose water. It's good, although the phyllo gets soggy quickly.

Ibrahim says that he often overhears his customers trying to guess where he's from as they point to particular dishes. Turkey? Lebanon? Eating at Dishdash, it becomes clear how much the foods from the countries of the Middle East have in common. After all, many of the boundaries that divide the region today were drawn by Western powers bent on geopolitical gain, so borders don't break along neat national lines. Ibrahim says he likes serving food from many Middle Eastern countries under one roof.

"I feel like our food breaks down these borders," he says.
---
Dishdash
Address: 190 S. Murphy Ave., Sunnyvale.
Phone: 408.774.1889.
Hours: Lunch Mon-Fri 11am-2:30pm, dinner Mon-Thu 5-9:30pm and Fri-Sat 5-10pm.
Price Range: $12.95-$22.95.
---
---
Send a letter to the editor about this story to letters@metronews.com.
---
[ Silicon Valley | Metroactive Home | Archives ]