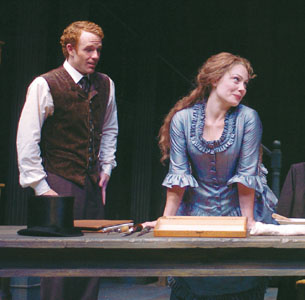 Photograph by David Allen

Dreamer: Vincent (Jacob Blumer) casts an amorous eye on young Eugenie (Jessie Brie Berkner).

Starry Night

TheatreWorks tracks the emotional arc of the young van Gogh in 'Vincent in Brixton'

By Rob Pratt

NEVER MIND that the playwright is British. Or that the drama centers on a Dutchman in 19th-century Brixton, a district of London south of the Thames. Nicholas Wright's beautiful play Vincent in Brixton, running through April 3 at Palo Alto's Lucie Stern Theater, offers a number of themes that resonate profoundly in the American present. Presented in a gorgeously designed and skillfully delivered TheaterWorks production, Vincent in Brixton is fundamentally a coming-of-age story examining a critical period in Vincent van Gogh's development as an artist.

Ever present in Wright's play are allusions to van Gogh's most-famous painting, Starry Night. There's the description of a black night speckled with stars told to a young van Gogh (Jacob Blumer) by a middle-aged widow. Ursula Loyer (Gloria Biegler), the widow, gives lodging to the young man—yet to take up painting—when his employer posts him to the firm's London office. For her, the image relates the depth of her sorrow, a sorrow that becomes a powerful bond with van Gogh. In Wright's script, the image serves a larger purpose as a metaphor both for van Gogh's struggle to free himself from his Calvinist upbringing and for a growing emotional instability that eventually leads to fits of madness.

Van Gogh's emotional conflicts come with a subtext for American audiences, who may see a similarly wrenching inner-turmoil in the nation's struggle to reconcile moralism with rugged individualism. The struggle takes life when van Gogh's obsessive-compulsive sister, Anna (Jennifer Erdman), makes an appearance.

Director Kent Nicholson has assembled a top-notch cast. The acting sounds few false notes even as Wright's script demands the use of several different varieties of accented English. Biegler and Muench are particularly good, and they sharply outline the two moral poles exerting a pull on van Gogh's head and heart. Blumer's Dutch accent is a little hard to get used to at first. His youthful exuberance tends toward effusiveness rather than mania as van Gogh's lurking mental illness comes to the forefront. However, he elegantly renders van Gogh's transformations—both from businessman to budding artist and from quirky youth to unstable adult.

Scenic designer Duke Durfee's gorgeous set is a character unto itself. The widow Ursula speaks of an affection for furnishings that have a history. Durfee subtly captures that sensibility with heavy wood pieces and fired brick. Tellingly, he places a hand pump at the kitchen sink that requires a douse of water to start flowing—a crafty visual metaphor for the "priming of the pump" that van Gogh's time in Brixton provides for his later artistic career.
---
Vincent in Brixton, a TheatreWorks production, plays Wednesday-Friday at 8pm, Saturday at 2 (March 19 and 26 only) and 8pm, Sunday at 2 and 7pm and Tuesday at 7:30pm (March 22 only) through April 3 at the Lucie Stern Theatre, 1305 Middlefield Rd., Palo Alto. Tickets are $20­$50. (650.903.6000)
---
---
Send a letter to the editor about this story to letters@metronews.com.
---
[ Silicon Valley | Metroactive Home | Archives ]