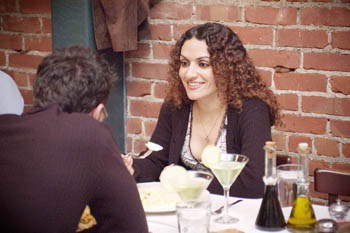 Photograph by Charlie Nucci

Pushing the Envelope: Il Postale's sophisticated and friendly stucco and brick interior once housed a post office.

To the Letter

Sunnyvale's charming Il Postale delivers on southern Italian specialties

By Mary Jane Reiter

IN ITALY, as in America, Sunday dinner is about family and food. Unlike America, however, Italy has created an entree that rounds up the brood with nary a nod to Playstation. What is this miracle food? Braciole!

This Sunday dish is not often served in restaurants in the South Bay, so when I stepped into Il Postale, housed in a former post office in Sunnyvale, I felt as if I had unearthed a hidden treasure. Braciole requires thin slices of beef, rolled and stuffed with proscuitto, provolone cheese, spinach and herbs. It's braised for a fork-tender result and served with a light tomato sauce.

Braciole is like lasagna--every family has a recipe passed down from generation to generation. That's the case at Il Postale, where owner Joseph Antuzzi II adapted his grandmother's version. He jokes that as her favorite grandson he had no trouble getting the recipe. While southern Italians serve braciole on Sunday, at Il Postale you can have it daily ($16.95).

A quick look at the wine list uncovered still another treasure. Several wines by the glass are available for under $7.50 (and not from a straw-covered bottle). I was debating between two Italian reds when our server, without prompting, offered tastes of both. The Terramia Montepulciano d' Abruzzo 2000 ($4.75) was a light-bodied red that suited my palate, but the more food-friendly and hearty Maretima Fabula Sangiovese 1998 ($6.50) would have held up better to the braciole. Wine lovers will find both California and Italian wines by the glass or bottle to suit any dish and budget. Those who prefer beer will find featured daily selections on tap.

Once my heart palpitations subsided, my friend and I were able to focus on other choices from this self-proclaimed American-Italian bistro. You could certainly get your pasta fix here. There is a vast array of dishes ranging in price from $9.95, for spaghetti with asparagus, sun-dried tomatoes, feta and black olives, to $14.50, for seafood risotto with clams, mussels and prawns. I can attest to the house-made ravioli in a Bolognese sauce ($12.50). Each little pocket was jam-packed with a mixture of beef, pork, spinach and ricotta. It was a hard decision though--the baked penne with wild boar and Italian sausages, with Asiago and mozzarella cheeses, was definitely in contention. Portions are generous, so waistlines beware! Half orders are available but not indicated as such on the menu.

Il Postale offers several classic Italian dishes, such as veal Marsala ($17.95), chicken saltimbocca ($15.95) and pizza, with mix-and-match toppings. Pizzas come in three sizes: individual, small and large. Crusts are thin, crisp and buttery rich, but not too rich to foil a tangy pepperoni or a simple pizza Margherita. The crust is so good you won't leave a morsel behind.

For the "American" side of the menu, we looked to the daily specials for guidance. The featured entrees were grilled New York steak ($18.95) with mashed potatoes and vegetables, and crab-stuffed jumbo prawns served over a red-pepper sauce ($16.95) with risotto and vegetables. We chose the latter. The prawns were generously filled, lightly breaded and then fried to a nutty-brown finish. My friend enjoyed them, but I found the too-creamy texture of the crab a bit off-putting.

Don't overlook the full complement of appetizers and salads. You'll find favorite classics like the caprese salad of fresh buffalo mozzarella and tomatoes, drizzled with olive oil and balsamic vinegar. At Il Postale, it's finished with basil pesto rather than the traditional sprinkling of fresh basil leaves ($8.95). We shared an order of the Italian-style crab cakes ($10.50). Two plump round cakes came seated in a flavorful pomodoro sauce accented with pine nuts and pesto and topped with a dollop of red-pepper puree. They're quite different from their Eastern cousins.

If there's room, desserts are house-made and reasonably priced between $5.75 and $6.50. Daily specials accompany the traditional offerings of tiramisu, cannoli and gelato.

There is no vestige left of the former post office. The smart-looking stucco and brick interior tells of a different purpose today. A sophisticated and friendly bistro, Il Postale serves its customers well, and judging by the full tables, the customers have responded in kind.
---
Il Postale
Address: 127 W. Washington St., Sunnyvale
Phone: 408.733.9600
Hours: Lunch 11am-2pm Mon-Fri; dinner 4:30-10pm Mon-Thu, 5-11pm Fri, 5-10pm Sat, 5-9:30pm Sun
Cuisine: Italian-American
Price Range: $9.95-$18.95
---
---
Send a letter to the editor about this story to letters@metronews.com.
---
[ Silicon Valley | Metroactive Home | Archives ]