Photographs by Dave Lepori

Old-School: Carmen Sigler, dean of Humanities, has taught at San Jose State long enough to remember the cyclical nature of budget problems and president recruitment.

The Little Campus That Could

With the largest new library west of the Mississippi and new dorms that will double its residential population, San Jose State University is bidding for bigger things. Now, if it could only find a president and dodge the budget ax.

By William Dean Hinton

RUMMAGING THROUGH the list of universities in the California State system, you discover how easily 22 campuses can overshadow one little university like San Jose State. For example, even with 29,000 students crammed on 92 acres--the third-smallest campus in the CSU system--San Jose doesn't have the largest student population. That distinction goes to Long Beach State, with 34,715 students. San Jose doesn't have the best graduation rate. That would be Chico State, which graduates half its incoming students within six years. San Francisco enrolls the most international students; San Bernardino was voted most beautiful campus; and Fullerton is among the nation's leaders in graduating minorities.

Though it is a dozen years older than Berkeley and nearly 30 years older than Stanford, San Jose State University has been eclipsed by both Bay Area goliaths. Not many institutions can compete with Stanford, whose alumni include four sitting Supreme Court justices, the president of Peru, the father of the Internet (Vinton Cerf, not Al Gore), John Steinbeck, Ted Koppel, former Israeli Prime Minister Ehud Barak, seven university presidents, 18 astronauts, Tiger Woods, Kerri Strug and Ted Danson. Or Berkeley, with its history of social activism, 17 Nobel laureates (mostly for physics and chemistry), 419,000 alumni--nearly three times the number of Spartan alumni--and a $1.7 billion endowment fund, 60 times more than San Jose State's $28 million.

"Having two elite universities very close certainly has removed the spotlight from us," says Carmen Sigler, dean of SJSU's College of Humanities and the Arts. "It's the disadvantage of being under the shadow of giants."

Sigler was among the faculty who arrived at SJSU in the late 1980s as professors from the '60s generation were retiring. An Argentinian by birth, Sigler has wavy brown hair and deep brown eyes, and is fond of wearing a scarf around her neck. She obtained her doctorate degree from the University of Michigan and lectured for seven years at Stanford. Her office on the first floor of the Washington Square Hall is adorned with impressive art produced by Spartan faculty members.

Sigler has seen the university from nearly every angle--faculty member, chair of the foreign language department, member of the Academic Senate, interim vice president for advancement and dean of the largest of San Jose State's eight colleges. She has been around long enough to remember an interesting historical pattern. The university finds itself in the identical position it was in the early 1990s, when the campus was searching for a president after Gail Fullerton retired.

Fullerton's administrative vice president, Handel Evans, took over, remaining interim president for more than three years while Republican Gov. Pete Wilson slashed $130 million from the CSU budget. A committee struggled to find Fullerton's replacement as faculty and administrators fought over the selection process for Fullerton's replacement, saying the diverse pool of three men and three women was too politically correct and not based on merit or ability to perform the job. San Jose wound up cutting 1,200 classes in a two-year period and eventually hired Bob Caret, a chemist, in 1994.

Caret resigned last summer to become president of a smaller public university in Maryland, Towson University, where he'd taught and administered for 21 years before coming to San Jose. The committee to replace Caret, headed by SJSU alum Bill Hauck, has already been criticized for flunking the diversity test, this time for failing to have a Latino representative as a committee member.

After courting three finalists around campus in November, Hauck and his committee struck out looking for the campus's 24th president and have reopened the selection process. After being told he would be president no longer than Christmas, interim President Joe Crowley is now in his ninth month and counting. Meanwhile, another Republican governor (Arnold Schwarzenegger) has called for $240 million in CSU cuts for the fall semester, which has led to widespread speculation of wholesale class reductions.

"The parallel is extraordinary," Sigler says. "But San Jose State came out of it. And we're a larger, more prosperous campus than we were in '92-'93."

Faculty across the CSU system are concerned about the "dismantling" of California higher education, but interim president Joe Crowley says that circumstances should be kept in perspective: "It's not a question of survival. The university will survive."

But where it will end up and how it will get there are still very much in doubt.

High School To Metro U

San Jose State University has often been billed as the oldest public university west of the Mississippi. It is, in fact, one of the oldest colleges in the West, but it is not the oldest. History professor James Walsh, who wrote San Jose State University: An Interpretive History, 1950-2000, says his research shows the University of Utah, as one example, opened in 1850, seven years before SJSU's predecessor, the California State Normal School.

The Normal School, a teacher's college first located in San Francisco, moving to San Jose in 1871, is the oldest public university in the state, if nothing else. "Any 'oldest' public institution of higher education claim needs to be constricted somewhat," Walsh says. "[It's] certainly true for California, maybe for the Pacific Coast, too. But I have not checked founding dates of all other coastal universities. SJSU is the oldest public around, but don't stretch the domain too far."

Even so, the campus is old enough to have a colorful history. Helen Keller lectured on campus in March 1914 as part of a nationwide tour, though the campus paper didn't offer what she said to her audience. The football team lost the first football game of 1921 to a squad of teenagers. The record books show San Jose High School defeated the Spartans 21-7 because its offensive and defensive lines outmuscled the older college players.

The campus before World War II was more like a private high school than a major learning institution. The student newspaper published corny jokes and a column written by the college president. Picnics, wienie roasts, variety shows, visits from alumni and faculty and reports of gridiron queens were popular enough to warrant headlines in 78-point type. Students were already complaining about overcrowding in the early 1930s when there were only 1,500 students on campus.

In 1935, the campus changed its name from San Jose Teachers College to San Jose State College, according to Dr. Walsh's book. By 1950 it had awarded its first master's degree. The campus was incorporated into the Cal State system in 1961.

In the late 1960s, racial tension and antiwar sentiment forced President Robert Clark to take precautions unprecedented in collegiate history. He canceled a football game against the University of Texas, El Paso, and appointed a vice president to mediate tensions between black athletes and coaches accused of using insensitive language. In 1967, a confrontation between San Jose police and students over job interviews conducted by Dow Chemical, which supplied napalm to the U.S. Army, escalated into a riot, with students burning a flag and throwing a chair through the glass door of an administration building. Police tear-gassed students and arrested history professor David Eakins for inciting a riot.

By the mid-1980s, San Jose State was an island in an urban slum, walling itself off from prostitution, panhandling and poverty outside its western and northern borders. Crime and poverty were exacerbated by deinstitutionalizing mental health patients, begun under Gov. Edmund G. Brown and accelerated under Ronald Reagan, which put hundreds if not thousands of unstable people on downtown streets. Sorority and fraternity houses were replaced by halfway houses from which predators launched attacks on students. In 1977, 30 cases of attempted rape or sexual assaults were reported on San Jose State co-eds. The problem was so bad six women were raped in a one-week period, one a Catholic nun. "You've got an area littered with rooming houses, apartment complexes and state and private halfway houses," San Jose Sgt. Peter Graves told the Associated Press at the time. "It's densely populated--a melting pot--and in the middle of all that is the campus, with half of its students women."

SJSU was known as the "great wall" because of the row of fortresslike buildings along Fourth and San Fernando streets. Simultaneously, budget problems emerged. As a matter of policy, routine building maintenance, like washing windows, went unattended.

Gail Fullerton would set the stage for later years by partnering with corporate donors to build the Engineering Complex in the north-central part of the campus. And she asked the San Jose City Council to entertain the idea of closing San Carlos Street, which bisected the campus physically and psychologically.

It was up to Bob Caret to take those two concepts--unifying the campus and seeking nonpublic funding--and move them forward. The two are actually two sides of the same coin. As the university moves further away from state-supported funding, it must make a coordinated effort at fundraising--at networking and persuading and begging the community for money--something it has done poorly in the past.

"We have failed to a degree in terms of making connections earlier," Dean Sigler says. "We've not been as aggressive or efficient as we could have been at highlighting our contribution to the economy of the region. We have not really told our story in terms of what San Jose State has done."

San Jose State, like most of the Cal State schools, was slow to fundraise because, by design, they are not research facilities, which typically generate buzz and dollars when the next scientific discovery is announced.

Caret changed the dynamics somewhat by instituting the concept of the Metropolitan University from his first day as president, at his September 1995 inauguration speech. He joined an umbrella organization called the Coalition of Urban and Metropolitan Universities, which includes the University of New Orleans, University of Central Florida, University of Nebraska in Omaha, Towson University, Cal State Fresno, Sacramento and San Bernardino and 60 other universities.

Metropolitan universities are generally commuter schools where the president has taken a renewed enthusiasm for research and teaching benefiting the community. The idea is to emphasize the university's social responsibility: A taxpayer-supported institution ought to serve the community supplying a majority of its students. (As opposed to Stanford, for example, where non-California residents comprise 60 percent of the student body.)

"In the '70s and '80s, there was this concept of the generic university," says Barbara Holland, editor of Metropolitan University Journal, who has guest lectured at SJSU. "The Metropolitan University has been a way for universities to develop a distinct identity, making them more effective than 20 years ago. It's a returning to a university's roots."

Caret himself, in a 1999 presidential address reminiscent of JFK's 1961 "ask not" inaugural speech, rallied faculty members to the Metropolitan University idea. "We must refine and hone our mission of being a regional partner and leader," he said. "We must all continue to play our respective roles: in the classroom, in the community and the neighborhoods, in the libraries, business and government offices, arts institutions, clinics, and hospitals, wherever we are needed."

The three presidential finalists, who toured the campus last November, were proponents of the Metropolitan concept. In fact, one of them, Sheila Kaplan, was former president of Metropolitan State College in Denver. But with 22 of the past 23 presidents white males (the other was a white female), the feeling is that the search committee will select a minority to be the next president, especially since 75 percent of SJSU's student population is nonwhite.

In the future, SJSU could use the Metropolitan University tag as a way to entice donations from governments and businesses. "I haven't been here long enough to fully understand the Metropolitan University concept, nor to see how it impacts giving," says Bob Ashton, vice president of university advancement. Ashton was one of Caret's last hires who began working for San Jose State in September. "I do know that we intend to move ahead with some real research, as soon as we are able, in order to convey an accurate and clear sense of San Jose State's character and mission. Perhaps the single phrase that resonates best with most of those I've spoken with is that San Jose State has been changing lives in this region for many decades. It is the American dream made manifest."

San Jose State should be able to capitalize on success it has already established with corporate sponsors. Companies like Cisco, Intel, Hewlett-Packard, AMD and Zalanx have donated millions of dollars toward lab machinery in SJSU's engineering department, a collaboration that has earned the department a national reputation.

Last year, Spartan graduates ranked fourth among 47 U.S. campuses from which Hewlett-Packard hired interns and full-time employees. According to Brad Maihack, an HP controller and campus recruitment manager, Spartan engineering students have a hard-nosed work ethic as well as the theoretical background to excel in the high-tech world. "Apple started in a garage," says Maihack, who graduated from San Jose State in 1978. "HP started in a garage. What is the common theme there? Physically getting things done. Making accomplishments. San Jose State grads understand the value of achievement that goes along with the academic side."

Dawn of a New Era: The MLK library is the first of what campus officials hope are many city-related projects.
Opposing Forces
The most visible symbol of the Metropolitan University concept is the Martin Luther King Jr. Library, the first four-year university library in America partly funded by a noneducational government. The library cost the Cal State system $86 million, San Jose city government $74 million, San Jose State $5 million and private donors $10 million. The result is a $175 million, eight-story, 475,000-square-foot building that houses 1.5 million books.
Combining university and public libraries was so radical an idea that it generated controversy from the outset, when Caret announced it to the Academic Senate. Michael Ego, dean of the College of Applied Sciences and Arts, remembers faculty members grumbling about children running through the stacks of books, forgetting that the public had access to the old Clark Library. "That kind of mentality was completely inappropriate," he says.
Formal opposition dogged the library during the construction process, with hundreds of faculty and students signing petitions and speaking out at San Jose City Council meetings. The upside was that the criticism helped shape the library's final design. The popular and children's collections are on the ground and third floors. The escalator goes up only four flights, leaving the top floors less traveled and relatively quiet. Street people make themselves comfortable, but are no more noticeable than in other cities.
Alan Hess, the Mercury News architectural critic, panned the library's design, saying it was awkward and that the parking garage across the street better displays modernist techniques. But by almost every other measure, the library, which opened in August, has been a success. Public checkouts have increased 36 percent from the same time period last year. University checkouts have increased 86 percent. The one-millionth book was supposed to be checked out this spring. Instead, it came in December.
The library also seems destined to dodge many of the problems associated with the 8-year-old, $137-million San Francisco Public Library. A 1999 report found the main library's airy design maxed out the library's 1.3 million collection, leaving no room for expansion. Conveyor belts and chutes chewed up books and the public was confused by a two-level entryway.
By building the library on a busy corner of the university, officials were hoping the library would become a physical and psychological reminder of the power of the mind. MLK tour guides like to point through the expansive atrium to students hurrying through the lush SJSU quad. Public library patrons, probably children, are supposed to come away with the image that their academic future is in front of them, within sight, within reach.
"Clearly the [MLK] library is a success story in itself," says Ego, the longest-tenured San Jose State dean. "Bob Caret was instrumental in developing a relationship with the community that I think led to the current mode of thinking. The collaboration and partnership is amazing. You have to give a lot of credit to Caret. He got the momentum going."
The library sparked dialogue for other projects. There's been a two-year discussion with San Jose officials to build a wellness center on campus for disabled people, capitalizing on adaptive physical education, occupational therapy and other departments within the College of Applied Sciences and Arts.
San Jose State administrators hope to continue discussions with city officials about sharing costs for a performing-arts center, a recreation facility and revitalization of the 60-acre south campus, which is already home to minor-league baseball, Spartan Stadium, a hockey rink and an underutilized oval track the university uses for parking on game day.
"There's a wonderful openness with the city manager's office," says Don Kassing, SJSU's vice president of administration and finance.
Looking south across campus from the library's upper floors, you can see two large yellow cranes hovering over concrete walls. This is construction of the Campus Village, 673,000 square feet of apartment units spread throughout three buildings, the tallest of which will be a 15-story tower. When it opens in the fall of 2005, the village will increase SJSU's residential population from 7 percent to 13 percent, with possible future additions bringing the population to 20 percent.
The library and village were constructed across campus from each other to serve as bookends. "Like Macy's and Bloomingdale's," Kassing says.
To students, they are the most visible sign that a conversion is occurring at San Jose State. "When people see change in front of their eyes, it makes it that much more real," says senior finance major Alice Lee, vice president of the San Jose State student government. The message, though, is somewhat convoluted. As fees increase and the number of classes shrinks, huge multimillion-dollar buildings are springing up around campus. "There's all these opposing forces," Lee says. "We supposedly don't have any money but there's all these buildings going up. Students don't always realize they've been planned for the last 10 or 20 years. The physical outcome is happening now. New projects are going up, tuition is going up, if you correlate the two, you say, 'What the hell is going on?'"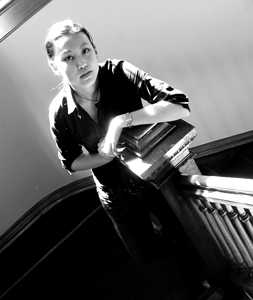 Unmet Expectations: Alice Lee thought she was attending a vibrant campus. Instead, she got SJSU.
College Pride
Lee is familiar with the UC-Berkeley campus because her older sister graduated there as a molecular biology major. Lee remembers a vibrant campus with weekly rallies, plays, movie nights, festivals. Lee thought San Jose State University would offer a similar experience. "I was very naive at 17," she says.
Instead, she attends a campus where most students have transferred from a community college, work at least 20 hours a week, are typically older than the average freshman and have little emotional attachment to the campus.
Earlier this semester, the student newspaper, the Spartan Daily, ran a story about the possibility of moving toward a four-day class week. Fridays are dead on campus anyway and the move would better accommodate students' busy work schedules, the story said. "I don't have a sense of [urgency] to explore the campus," junior business management student Shane Esposito told Spartan reporter Janet Pak. "I'm a slave to the dollar bill." Athletic events are so sparsely attended that the student paper ran a four-part series last semester debating whether San Jose State should drop its football program. Dropping football is a very real possibility. There have been at least three CSU schools that have jettisoned football in the last dozen years: Long Beach and Fullerton in the early '90s, Northridge in 2001.
Part of the debate focuses on requirements the NCAA changed to participate in Division I-A sports. The key issue is fan attendance. The Spartans are about 5,000 fans short of the 15,000 minimum expected by the NCAA beginning next season. Students could help out; about 2,500 free student tickets go unused each home game.
Both interim President Crowley and former President Caret say saving football should be a priority for the next administration. "The Spartan football team has been around for over 100 years and was one of the founding members of Division I," Caret wrote during an exchange of emails with Metro. "Yes, they should stay around ...and they should be provided the support to get stronger and stronger. The team deserves it and the school deserves and needs it."
Student-leaders also hope football will continue, especially with 2,300 new residents on campus in fall 2005. "It's not just the game of football," says Rachel Greathouse, controller of San Jose State student government. "It's being there with people you go to school with. It's being proud of the college you go to and proud your degree is worth something to you. It's hard to explain to people, especially in a school with no school spirit."
Greathouse, a junior recreation major, has researched how to make SJSU more vibrant. She hopes to borrow ideas from Long Beach State, another commuter campus with lackluster student spirit. Three years ago, Long Beach students initiated simple, effective solutions to raise their campus profile. They formed a band and dance team, increased the number of pep rallies, launched a website, hosted mayoral debates and formed a brand called "the beach," which they plastered everywhere, including the bottom of the campus pool.
One result of the effort was the second-largest turnout for a Long Beach State government election. Greathouse says it helped that Long Beach has a famously gregarious president, Robert Maxson, who is known to stroll the campus talking to students.
Greathouse is among those who say President Crowley, who had a long tenure as president of University of Nevada, Reno, would be a good fit for SJSU because of his mentorlike personality. But Crowley says his days as a college president are over. "If I were a younger man I'd be interested in hanging around," says Crowley, who is 70. "There's wonderful, good people who love this place."

Head Cheerleader: Rachel Greathouse has a plan to bring spirit back to San Jose State.
One Institution
Crowley says the next president will have to shore up the helter-skelter method of fundraising and marketing the campus is currently engaged in. "This university is not a federation," he says. "It's a confederation. That became apparent to me from the very beginning."
It is common for university literature to be distributed without the university logo, a brick-and-tile pattern reminiscent of materials used to construct the 95-year-old Tower Hall. The logo is one small but significant example of how San Jose State University fails to project a unified face to the public--a public that will be increasingly called on to donate money to the cash-strapped university.
Crowley says faculty and administrators will be hesitant to adopt a one-size-fits-all method, even with something like a logo, on a campus known since the '60s for decentralized decision-making. "We're not talking about centralization but coordination," he says. "The university needs to send out a core message. 'This is a university. We do all these wonderful things'--instead of the message going out in a number of ways. It's a matter of taking advantage of the resources that are here, of the talent that is here, developing a way of accommodating them, so we can better allow the institution to realize its promise. So San Jose can have one institution at last."
One institution will also require the return of the long-lost alumni, numbering 148,000, most of whom have not wandered far from the Santa Clara Valley. "They've graduated 20 years ago and haven't heard a thing from us," says Ashton, the vice president of advancement. "All of a sudden we're asking them for money. That's a little bit of an affront."
The hope is that SJSU might recapture some of its glory days, from the late '50s to the mid-'60s, when the campus was an attraction for students up and down the coast, but mainly from Southern California. San Jose State was still a commuter school--only students traveled several blocks to class instead of several miles. An estimated 10,000 students lived in a one-mile vicinity of campus. Everybody rode a bike or walked to class. "I sold my car," says Patrick O'Daniels, a Spartan '64 graduate who publishes an alumni newsletter called Rat Line. "There was no reason to have a car except to go the beach in Santa Cruz."
Students partied at bars like the Awful Awful Saloon or gathered at the Fairgrounds for push-cart relays or caught Louie Armstrong at the Civic Auditorium. Weekend house parties were open to whoever walked in. Streaking was popular and so were chug-a-lug contests. "It was one giant belly laugh," says Spartan alumni John Colombero. "There was a tremendous amount of freedom. Eisenhower was in office. The dollar was king. You were guaranteed a job. New attitudes were being formed. I hope students today could have that kind of opportunity. But I think it was a once in a lifetime thing where for this niche in time everything was right."
These '60s-era alumni would like to see more on-campus housing and an effort to save football. "It's the only thing that keeps us coming back to campus," O'Daniels says. "And a lot of us are quite wealthy."
The important thing, O'Daniels says, is for San Jose State to continue to restore its image after three decades of decline. Says O'Daniels: "We'd like to see the school get its reputation back."
---
Send a letter to the editor about this story to letters@metronews.com.
---
[ Silicon Valley | Metroactive Home | Archives ]