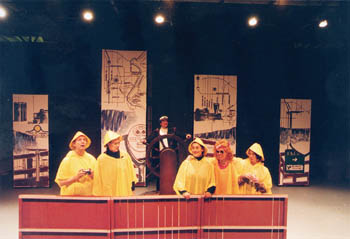 Courtesy of Eagan Photo

Legends of the Falls: Jim Johnson (from left), Jackie O'Keefe, Jeremy Lee Anderson, Carla Pantoja, Valerie Allen and Lauri Smith visit Niagra Falls in 'Wonder of the World.'

Wonder

The honeymoon's over for a cast of cast-offs in City Lights' production of 'Wonder of the World'

By Marianne Messina

IN CITY LIGHTS' theatrically clever production of Wonder of the World, a wheelchair plus two stagehands holding flashlights plus a steering wheel equals one car, give or take a little imagination. Brian Stevens explains in his director's notes that the freedom exercised by playwright David Lindsay-Abaire "has encouraged our production to be just as daring and unapologetic." They even stage one scene in a helicopter: a stagehand twirls what looks like an umbrella frame to whirlybird sound effects.

At a recent production, stage business insinuated itself into the comedy from the first scene. Cass (Carla Pantoja) is packing to leave her husband, Kip (Ryan Oden), after finding a "dirty little secret" hidden away in his sweater drawer. (The secret turns out to be deliciously nasty.) No need for a chest of drawers in this scene; Cass goes to pack one item of clothing while a stagehand quickly sets out the next item.

As Cass heads to Niagara Falls in search of the life she "should" have been living, had she not met or married Kip, she takes along her to-do list, which includes "wear overalls," "become friends with a clown," "witness an execution by lethal injection" and "get a sidekick." She meets sidekick Lois Coleman on the bus (two chairs and a panel behind them with a row of bus seats painted on it). Lauri Smith plays the cynical (and suicidal) alcoholic Lois with just the right combination of compulsive negativity and integrity, so that by the end of the play we are counting on her to be the voice of reason in a flaky universe.

Cass' search for her "real life" alternates with the idea of finding her soul mate until the whole thing upgrades to an existential quest ("How will I know I was meant to go on?"). Continuity is not this script's strong suit, but Pantoja's Cass, with her varied and lovable facial expressions, is sympathetic enough to carry us along through her vicissitudes, searching for the meaning of life one minute and seeking sex with a stranger the next; acting like a power bitch one minute, a wide-eyed innocent the next.

That Lindsay-Abaire is deliberately playing with the mercurial, unreliable nature of human logic becomes obvious in the scene where the six main characters are paired off in three different theme restaurants. Cass and her new lover, Captain Mike (Jeremy Lee Anderson), take in a meal at a Medieval Manor. Lois and Kip's hired gumshoe, Karla (imposing and memorable Jackie O'Keefe), are dining Native American-style. Kip is eating out with Karla's husband, Glen (Jim Johnson), at a Gothic restaurant. As the spot highlights each table (and the painted scenic panels behind them), and the corresponding theme music comes up, versatile quick-change artist Valerie Allen appears as the saucy wench, the disgruntled Pocahontas or the shrieking Mortitia to wait on the tables. This tight, well-timed scene, the culmination of the play's wit and City Lights' production skills, unfolds like a series of comic-book frames. And the dialogue bounces from one contradictory story to another, in a cacophony rivaling the confusion inside the human mind.

Though the latter part of the play breaks into a series of SNL-type skits more silly than anything else, the resolution is unexpected and the final scene sweet, leaving you with a pleasant uplift after all.
---
Wonder of the World, a City Lights production, plays Thursday-Saturday at 8pm and Sunday at 7pm through April 10 at City Lights Theater, 529 S. Second St., San Jose. Tickets are $12-$22. (408.295.4200)
---
---
Send a letter to the editor about this story to letters@metronews.com.
---
[ Silicon Valley | Metroactive Home | Archives ]