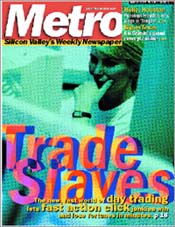 For the Week of
March 18-24, 1999
Cover: Trading Places
The valley's day traders play the stock market in record time, making and losing fortunes in minutes. But is it gambling? The SEC is mulling it over.
News: Bail of Confusion
Bad Boy's Bail Bonds started hustling customers on the street in front of the jail, and now the competition has joined them, creating what some say is a circus atmosphere around City Hall.
Los Gatos: Midpeninsula inks a $30 million deal preserving former Alma College site.

Saratoga: KSAR is sticking to its guns over possible channel move.

Cupertino: Robbers surprise patrons of restaurant.
Public Eye: USWeb founder Joe Firmage keeps seeking the Truth.

Valley vs. the Alley: A culture clash ensues as New York high-tech execs shelve their Armanis and their pride to suck up to the valley's post-geek money men.






Shock Rock: Photos and a review from the concert most likely to annoy parental units--Marilyn Manson.
Bland Man's Blues: Bobby Blue Bland turns heartbreak into pained beauty on Memphis Monday Morning.
'Tongue' Lashing: From punk to neofolk, ex-Avengers vocalist Penelope Houston has got something to say on her new album, Tongue.



Making Whoopi: A dose of wisecracks helps the self-glorifying medicine go down at this year's Oscars.
'Wide-boys' and 'Spivs': Lock, Stock & Two Smoking Barrels is the wildest British import since 'Trainspotting.
Keep on Truckin': Texans vie to touch the truck of their dreams in new documentary Hands on a Hard Body.
Go to Sleep ... It's Just Talk: P.J. Castellaneta's characters in Relax ... It's Just Sex don't know when to shut up.
Requel Welshes: The Rage: Carrie 2 features a Goth-lite telekinetic taking a revenge you've seen before.



Frontier Adventure: Mountain View's spacious new Rio Grande saloon and dinner house cooks up some mighty tasty ideas.



Narrow Escapes: One-woman acting troupe Tanya Shaffer turns her travels into theater.
If the Shoe Fetish Fits: Psychopathia Sexualis pokes fun at intimate foibles.
'River' Deep: Twain's Huck gets songified in Big River.



Please don't forget to write! Metro welcomes letters. Like any great work of art, they should be originals -- not copies of letters sent elsewhere. Include address and daytime phone (for verification purposes only). Letters may be edited for length and clarity or to correct factual inaccuracies known to us. Postal: Metro Letters, 550 S. First. St., San Jose, CA 95111. Fax: 408/298-0602. . Emailers, please include name, city of residence and phone number. Letters printed will list email address unless otherwise specified. Letters to the editor are not currently published in the online version of this paper.