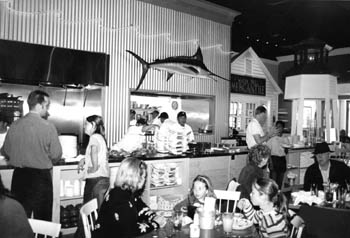 Photograph by Chris Revell

Counter Intuitive: Yankee Pier's open kitchen design reels in diners who want to see the seafood.

Pier Won

Santana Row's Yankee Pier restaurant rides the tides of Bradley Ogden's conceptual talent and some very fresh fish

By Joseph Izzo Jr.

AS WE WALKED under the glowing lamps of Santana Row toward the newly opened Yankee Pier, I thought about the illustrious career of chef and co-owner Bradley Ogden. I thought of Campton Place in San Francisco, where Ogden first touched down in the '80s. I thought of his Lark Creek Inn (Larkspur), of those ethereal wood-roasted pork chops and that apple cobbler (that apple cobbler!) with homemade vanilla ice cream.

Ogden's meticulous brand of American cooking has perfumed all his restaurants with delicious homey fragrances that tickle our nostrils--and concepts continue to jump from his talented mind like salmon swimming upstream to breed.

Yankee Pier is his latest but certainly not his last. The concept entwines fish and Ogden in an intimate embrace. A lot of money and time have been dedicated to the space, which reminded me on my first visit of an upscale Las Vegas lunch counter a la Wolfgang Puck's place or Mark Miller's Coyote Cafe.

Everything about Yankee Pier is slick. The setting sparkles with Cape Cod cleanliness in shades of white and gray as soft as fog from the sea. The fetching layout brings the kitchen to the dining room, where trained chefs run the slates back and forth--cooking, frying, shucking--all of them under the tutelage of Michael Dunn, Ogden's righthand man at the burners.

We came for a quick bite our first visit, and that's perfectly OK here. The Pier invites all: lunch, dinner, snacks, drinks, oysters; whatever the occasion calls for, it's here, ready and willing. We sank our spoons into superbly crafted New England clam chowder ($4.95 cup; $6.95 bowl), supplied copiously with tender clams in a milky liquid, neither thick nor soupy but crisp as broth straight from the kettle. My wife loved the fish and chips ($9.95, two pieces; $13.95 three). Chunks of tender white fish suffused with boat-fresh flavor and juice--the boneless pieces sealed, not entombed, in a delicate jacket. On the side: coleslaw and perfect tartar sauce.

The menu changes every shift. Fish and oysters arrive fresh from the water every day, some flown in especially for Ogden's restaurant. While waiting for a friend on my second visit, I put down a half-dozen silky Kumamoto oysters ($2.25 single; $13 half-dozen). With these, I had a pint of chilly Anchor Steam. On a previous visit, the daily was Prince Edward mussels bathed in Anchor Steam with thin slices of Portuguese sausage that spiked the juices with peppery infusions. On another visit, it was a thick fillet of flawlessly grilled lemon snapper ($17.25), hunkered on a dice of crunchy organic beets and butternut squash.

We had the Yankee Salad ($7.95) on all visits. The assembly of Fuji apples, walnuts and chopped radicchio achieved that sought-after alchemy between sour and sweet in a light dressing tangy with generous bleu cheese.

Our second visit, we also had what the Pier considers its signature: the Maine Lobster Roll ($16.95), served on a griddled bun with kettle chips so sturdy they hit the teeth hard and echoed long. While eating my half of this sandwich, I had a vision of myself pulling it surreptitiously from a bag, while kicking back and watching a film in one of Santana Row's soon-to-open cinemas.

And then there's the Yankee Pier's unforgettable Big Fat Buttermilk Biscuit ($2.50). Addiction to this fritter-sized pan dulce drenched in honey struck immediately. My hand kept going for the plate against my self-control.

The Yankee Pier is a well-thought-out enterprise; Ogden and his pals spent time in the think tank over this one. It fits right into the scheme of things at the controversial Santana Row; in fact, it currently serves as a kind of anchor for this mall at sea. Though I still question the future of this city within a city, my hands go up in praise of Ogden's Yankee Pier.
---
Yankee Pier
Address: 378 Santana Row, Suite 1100, San Jose
Phone: 408.244.1244
Hours: Daily 11:30am-9pm
Cuisine: American seafood
Price Range: $5-$20
Beer, wine
---
---
Send a letter to the editor about this story to letters@metronews.com.
---
[ Silicon Valley | Metroactive Home | Archives ]