All That

This Too Shall Pass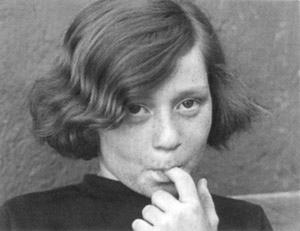 Greg Brady Marked for Death
By Richard von Busack
IT WAS--JEEZUS--1974, when L.A.-area hippie schools threw a pan-hippie picnic. "Area D Alternative School" (my own alma), "Area H" and "Area E" all gathered for a public park sprawl on flea-ridden, razor-sharp grass in the foothills near Eagle Rock. Much to our surprise, it turned out that Danny "Partridge" Bonaduce was an Area H student. And since Danny Partridge was--or at least pretended to be--a pint-sized version of a Beatle, the student body mobbed him.
About forty kids chased him into a cinder-block restroom shed, where he barricaded himself, screaming for help. I watched the whole sad spectacle from a higher slope of the park, Bonaduce's retreat was laid out before me as if I were on the Sapoune Heights and it was the Charge of the Light Brigade. History in the making, I told myself, taking a few pungent hits off a stubby brass pipe.
History witnessing is my business now. So, recently, I set out to sit through an entire episode each of TV's The Chair and The Chamber to compare and contrast them. These shows, designed to bring out the Dr. Mengele in all of us, roasted and froze contestants while demanding answers to questions about product-placed brand names. Flames shot up while the interrogators brayed questions like "'The Swoosh' is the insignia of what shoe company?"
Fortunately, both programs speedily went broke, underestimating the American people, causing H.L. Mencken to spin in his grave. Frau von Busack proposed an entirely new show: The Couch, upon which a couple would bravely try to stay awake through an entire episode of The Chair.
The idea of taking pairs of spent celebrities, shaking them up in a glass jar and making them fight was much more my kind of roll in the mud. Moreover, the fight card on Fox's Celebrity Boxing included my old chum Danny Bonaduce vs. Barry "Greg Brady" Williams.
After his years of rough living and a stint in Phoenix, which is naturally the same thing, Bonaduce is no longer a cuddly redhead. Today, he looks beaky, grizzled and slouchy, like Ray Walston playing Poopdeck Pappy in Robert Altman's version of Popeye.
Even if he wasn't a fellow hippie-school grad, I was all for him because he was up against Brady Bunch alumni Barry Williams, who was billing himself as Barry "Da Butcher" Williams, thus committing the high crime of being neither black nor Hawaiian while using "da" for "the." Secondly, The Brady Bunch represents the nadir of TV family antics. In the years that followed it, this kind of show rolled over the flying saucer/superhero/time-machine shows I favored. Thirdly, I held my grudge because The Brady Bunch wouldn't lie down and die. The Brady Bunch is a source of irony for people who fake the motions of irony, people who genuinely loved the hideous program and were trying to keep their cool credentials at the same time.
In short, I was yearning to see Greg Brady get his face pushed in, and I figured Bonaduce could execute this simple task. Needless to say, "Da Butcher" soon became "Da Butchered." He was out of the ring with a TKO in the second round--easily done since Williams is aging (47) and none too muscular.
The follow-up match was a knockout win for Tonya Harding, matched against lesser Clinton bimbo Paula Jones. Fox's next logical step is to have Bonaduce and Harding square off for the championship belt of Celebrity Boxing. To work the crowd, Bonaduce could do one of his traditional FM radio drive-time denunciations of women. Harding (armed with my tragic anecdote about a young Bonaduce pleading for mercy in a public restroom) could countertaunt. The whole thing might be, as a wise man said, history in the making.
---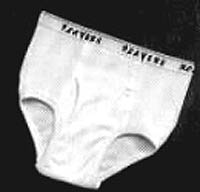 Scent-Con Five
After the government got a hostile reception from the public for its color-coded terror level warning system, security officials went back to the drawing board to identify a more effective system. They are now issuing the Smell the Terror system.
The new program will use a series of smells, from comforting to alarming, that denote the degree to which citizens should be on alert. Smells pumped out by participating fast-food restaurants throughout the day will communicate warning levels. Here's the five-tiered smell system, from low to high alert.
Level One = Apple pie. No terrorism threat.
Level Two = Wet dog. Terrorism rumored.
Level Three = Patchouli/body odor combo. Moderate terror.
Level Four = Sulfur/fart combo. High threat.
Level Five = Crusty underwear, soaked in rancid milk, found beneath teenage boy's bed. Duck, cover, say your prayers.
---
Celebrity Makeover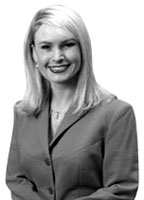 Shannon O'Donnell
NBC3's morning weather anchor always looks cool, with her air mass of blonde highlights--but sometimes viewers need something a little less predictable to wake them up. We've brought in beauty expert Melissa Canio, from Valley Fair's Sephora store, to take Shannon's look out of the doldrums.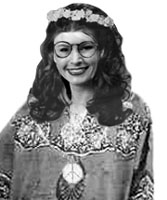 Earth Mama
To get in touch with that inner storm system, Melissa suggests sporting a nature-lovin' head wreath. Hip-hugger bell-bottoms, a linen peasant shirt, and pink Birkenstocks are complemented by a dewey complexion courtesy of Urban Decay Surreal Skin liquid foundation ($24) and Makeup Forever Suntan bronzing powder ($30). Eyeliner is Tony & Tina's Herbal eye pencil ($16).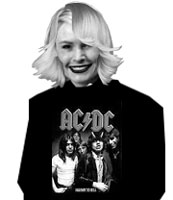 Ice Jam
Hey, is that a ridge of high pressure, or NBC3's very own weather diva? Shannon braves the elements in a rock T-shirt, stiletto boots, and Bordeaux eye shadow by Cargo ($15). The extended outlook is bright with Platinum glitter mascara by Hard Candy $16, and Givenchy #737 lipstick in deep wine ($21).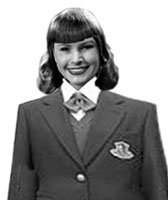 Schooled
Melissa keeps Shannon innocent, in a pleated gray skirt, navy blazer, knee-highs, and regulation Mary Janes. On her face, Shannon wears Face Luster powder by Fresh ($45), Vincent Longo a la mode blush ($16), and Stila's Posy Shine lip gloss ($17), with #16 lip liner by Sila ($14). Who wouldn't believe clear skies were ahead?
For your very own celebrity makeover, visit Sephora Valley Fair at 2855 Stevens Creek Boulevard, Friday, March 22, from noon to 6pm. (408.248.7095)
---
I Saw You
Around 2pm last Friday, I saw you steal a purse off the back of a chair at Cafe Matisse. I don't want to go to the police, because you looked pretty desperate, you raggedy-ass petty thief. But I will, if you don't at least cough up the personal stuff, keys and credit cards you stole. Keep the cash but be a human being and return the rest. If you don't, karma's going to catch up with you in a big, fast-moving way.
SEND us your anonymous rants, love notes, or diatribes about your co-workers, bosses, enemies, secret crushes, or any badly behaving citizen who gets your dander up. Send to: I SAW YOU, Metro, 550 South First, San Jose CA 95113, or .
---
---
Send a letter to the editor about this story .
---
[ Silicon Valley | Metroactive Home | Archives ]