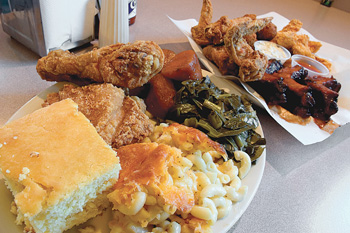 Photograph by Felipe Buitrago

Ambassador of Soul: House of Soul Food serves up platters of top-notch Southern cuisine.

House Rules

Santa Clara's House of Soul Food is the South Bay's best Southern cooking

By Stett Holbrook

ALLOW ME to lay out a few simple truths. George W. Bush is a rotten president. Flossing your teeth is just as important as brushing them. And Silicon Valley is weak on soul food.

The exception to that last rule is Santa Clara's House of Soul Food. Since it opened in 2001, the House of Soul Food has become the South Bay source for Southern cooking—fried catfish, fried chicken, chitlins, barbecued ribs, hot links, hush puppies, collard greens, black-eyed peas and other delicious, Southern-fried dishes seldom seen in these parts.

In what has become a familiar Silicon Valley story, co-owner Rhonda Manning traded her high-tech job for something more to her liking. Rhonda and husband Danny Manning had been running a soul food catering business. More interested in cooking than semiconductors, Rhonda enrolled in Mission College's culinary hospitality program and four days after she graduated she opened the doors to the House of Soul Food.

The food at the restaurant all comes from recipes passed down from Rhonda's mother and grandmother, the latter of whom was a chef for 30 years in Taft, Okla. After three visits to the House of Soul Food, I can testify to the fact that Rhonda comes from family of good cooks.

You order at the counter and wait for your number to be called. The dining room is simple, but comfortable and clean. There are tables, booths and a long bar where during my lunchtime visits a few people sat and watched daytime television in the form of All My Children, Divorce Court and I Love Lucy.

Manning proves her soul food credentials with the fried catfish ($9.95). You may have had catfish before, but not quite like this. The fish arrives in a golden brown, pebbly crust that is virtually grease free. The batter is crisp, almost brittle, and it reveals steamy, moist and sweet meat within. Catfish can sometimes taste a bit muddy, but here it's full of clean, fresh flavors.

The hot links and sliced beef combo ($9.95) is another winner. I went back and forth trying to decide which I liked best, and it came out a draw. The thin-sliced beef is tender and awash in the thin but deeply flavored barbecue sauce. The pork links are plump and pleasingly piquant.

I loved the baby back ribs ($10.95), too. I would have preferred the barbecue sauce on the side, but the stubby, meaty ribs were tender and wonderfully suffused with deep smoke flavors.

The fried chicken, another soul food staple, is good, but the least impressive of all the dishes I tried. While the batter is crisp with good, toasty flavors and the chicken juicy, it's a little on the greasy side and too salty.

The soul of soul food is often the side dishes and the House of Soul Food delivers. "Boomin' baked beans" ($2.50) are served in a thick and hearty sauce that's sweet, but not overly so. It's balanced by spiciness and chunks of sausage. My favorite side dish is the black-eyed peas ($2.95). More like a soup, the peas are served in light and aromatic juices flecked with celery, green peppers and red chile flakes. The wholesome peas are the perfect antidote to the rich food on the menu. Speaking of rich food, the hush puppies ($1.50) are a must order. About as big as a golf ball, they're pleasingly crunchy outside and steamy and moist inside with a hint of herbs and cornmeal sweetness. And you've got to get the collard greens ($3.95), another soul food classic. It's a huge portion, so plan on sharing.

On Saturdays, also known as "soul food Saturdays" on the menu, the restaurant offers smothered pork chops ($13.95), and on the first Saturday of the month they serve chitlins ($18.95), fried pig intestines. They're good. Really.

On the off-chance you have any room left for dessert, go for the "goin' on sweet potato pie" ($3.25). The thin but rich slice of pie is pleasantly grainy and not too sweet, with great sweet potato flavor. My only complaint was that the crust was too dense. I'm guessing it had spent a few days in the fridge because it lacked that flaky, buttery quality. Less successful is the "screamin' peach cobbler" ($3.25). The dessert drowns in heavy, sweet syrup and it makes the crust soggy. The peach flavor competes with an aggressive dose of cinnamon. Stick with the sweet potato pie.

Here's another truth: I'll be back for more.
---
House of Soul Food
Address: 2015 Lafayette St., Santa Clara.
Phone: 408.227.7685.
Hours: 11am-2pm and 5-7pm Tue-Thu, 11am-2pm and 5pm-8pm Fri and 1-8pm Sat.
Price Range: $6.95-$23.95.
---
---
Send a letter to the editor about this story to letters@metronews.com.
---
[ Silicon Valley | Metroactive Home | Archives ]