Photographs by Todd Inoue

Put the Pussy On Me: Spankrock rocks the spot at SXSW 2006.

No Sleep Till Austin

At SXSW conference, the key to longevity in the music business is to do what you love and love what you do

By Todd Inoue

IT WAS opening night for Austin's South by Southwest music conference (SXSW) last week, but New Year's came early when the Flaming Lips took the stage as an unannounced special guest act. Playing in a bar's parking lot under a large tent, Flaming Lip Wayne Coyne offered remembrances of his band's notorious car-audio experiment at SXSW 1997 and praised the conference leaders for their foresight and dedication.

The band then led a sing-along to Queen's "Bohemian Rhapsody" as confetti guns popped and huge balloons bounced off the audience up to the tent top. This awesome and ridiculous display generated megawatts of toothy smiles visible from Saturn.

Lip Up: The Flaming Lips get the party started.
The Flaming Lips, the Beastie Boys, the Strokes, Gang of Four, Lyle Lovett and My Chemical Romance all plugged in within four days of each other, hoping for the exposure they desperately need to break through. Ha, ha, right?
The original concept of SXSW—for unknown bands to get shine and signed—has lost its luster with the appearance of the big names. As far as I know, the only reason My Chemical Romance has shown up is to outfit its tour bus with platinum toilet seats. And yet the Surprise Gig was an effective tool to sway the record 10,000 registrants to the music-industry confab, which is now entering its 20th year.
Some 1,500 bands sought exposure; music fans searched for rapture; and label heads salivated over their next quarterly bonus. Put them shoulder to shoulder in the humid climes of Austin, dock 60 percent from regular REM sleep, stuff with brisket and ribs, and everyone's happier than baby pigs in slop.
With such big-name competition, smaller bands grinded hard to get noticed. Members of Facing New York's posse stood stock-still in the middle of the main drag with gig info on fluorescent boards facing, well, toward New York.

Guitar Meets Tom: Shellshag's version of reproduction was well received.
Others flew against what they perceived as an overinflated hype machine, as Nashville punk rock band Be Your Own Pet did. Its set at Emo's exploded like a dirty bomb as the members catapulted off each other, blowing out eardrums with crazy distortion and insane breaks to the nodding approval of a front-row Thurston Moore. "Fuck the industry," concluded bassist Nathan Vasquez.
Side note: Be Your Own Pet cash checks signed by XL Recordings, whose roster includes Badly Drawn Boy and M.I.A., and nobody forced them to come to SXSW. A contradiction was imminent, and there would be more to come.
At the convention center, nuggets of wisdom were dispersed by two who should know: Neil Young and Morrissey. Young's conversation with journalist Jaan Uhelski (and a mostly quiet Jonathan Demme) predicted the course of the festival. Speaking about Young's past records that have been panned, he turned around and showed off his duck's back: "The longer you can go and do stuff people don't like, the better," he said.
Young's staunch tradition of recording and touring (Greendale, anyone?) from the heart instead of the pocketbook reverberated around SXSW to varying degrees of success.
While Neil Young meditated on moving forward, Billy Bragg was across the street plugging a box set of his back catalog. As one moves forward, another honors (or repackages) the past.
During an outdoor set, Bragg plowed through his first album in 17 minutes. He had a nice zinger aimed at that crushing bore James Blunt. Both drove tanks. "He was an officer, I was a trooper," he says, proud of his proletarian roots. "I want to finish him off the way I did Lenny Kravitz."
Morrissey, too, ruminated on the subject of longevity and communicating with his inner mope, er, muse: "If I horrified people and made them vomit, it's confirmation." While Neil was chatty and open, Morrissey was uncomfortable and slightly withdrawn.
High points: His vow of celibacy was overblown ("Every one goes through dry spells"). Fricke asked why he considered recording his new CD, Ringleader of the Tormentors, with Jeff Salzman, best known for the wave revivalism of the Killers. "I like his records," Morrissey reasoned.
The Smiths turned down $5 million to reform for Coachella 2006. His response: "Money doesn't come into it. When you start doing things for money, terrible things happen." He was promptly laughed out of the room, dragged out to Brush Square Park and burned at the stake by greedy executives chanting "Heretic!"
Later that night, Morrissey played songs off Ringleader and honored his past by playing four Smiths songs at the Austin Music Hall ("Still Ill," "Girlfriend in a Coma," "How Soon Is Now?" and "Last Night I Dreamt That Somebody Loved Me"). For those yelling "contradiction," he gets a pass, because those songs are so damn good.
The Gang of Four also gets a pass. The band played the private URB magazine party on top of a Seventh Street parking garage, proving that punk-funk didn't start with bands like Bloc Party. The show provided a template for the next generation of Gang of Fours building its own revolutions in spots like Vice magazine's marathon of shows (all free, all without need for badges or wristbands) located across the I-H 35 freeway. Or the Emo's tent, where on Friday perennial indie rock tastemakers Pitchfork set up a daylong bandstravaganza. To break up the music (Hot Chip, Ladytron, Spank Rock, the Juan Maclean, RJD2, Art Brut and more), comedians Patton Oswalt and Aziz Ansari told jokes that appealed to the record nerds. Oswalt quipped that Pitchfork had copyrighted the word "derivative" and Ansari told of a great joke about a secret Seven Mary Three show happening under a manhole cover down a grate near the convention center. "They're going to release a new 12-inch Diplo remix of 'Cumbersome.'"

Unspooling: Tapes 'N Tapes go for the big finish.
For all the diverse bills, many attendees stayed close to their personal likes, and popular shows such as Susanna Hoffs with Matthew Sweet filled to capacity. As the flocks settled for homey and familiar McDonald's, the more adventurous dined lustily on rare Kobe beef like Jose Gonzalez, the Rakes, Spank Rock and Tapes 'n Tapes (who played eight shows that week in Austin).
It was an A&R gangbang for Nico Vega—an L.A. garage trio in the vein of Yeah Yeah Yeahs with guitarist, drums and a female singer, Aja Volkman, who is a wild child rooted in dirty and decadent Janis Joplin tradition. The band's unannounced show at the Drink's upstairs spot was very good, great even, personal Top 5 of the week easy. Volkman had talent, star power and upper-body strength (writhing across the stage and climbing a pole). It had me thinking that Guns N' Roses 2.0 should fire Axl and hire Volkman to rerecord Chinese Democracy.
As for hip-hop, SXSW 2006 boasted a fine representation with appearances by Talib Kweli, Jean Grae, Blackalicious, Chamillionaire, the Rhymesayers collective and a three-night stand of Texas hip-hop at the Back Room curated by Matt Sonzala of blog Houstonsoreal. The series presented much of what's happening now in Houston and across Texas.

In Control: DJ Stef and host Sergdun hips Texas on Bay Area rap music.
My favorites: DJ Rapid Ric's deep crates and Big Tuck's crushing version of "Tussle" (a Top 3 moment). Most surprising was the complete indifference of SXSW attendees to DJs Catchdubs, the Rub NYC, Ross Hogg, Oxy Cottontail, DJ Cee Plus and DJ Stef. Their showcase was deserted, a testament to the middle-aged rock and No Depression fixation that grips SXSW.
Catchdubs and the Rub's eclectic sets in the tristate serve a dedicated clientele but Nick Catchdubs, who spun to six dancers, a dozen friends and bar staff, was clearly thrown for a loop in Austin. "I was bummed," he said. "I'm a party DJ, so it was weird. Do I cater to those dancing?
"I just don't want some writers to come and go 'Ohhhhh, Catchdubs = Uneventful.'" Don't worry, Nick, your shit was on point. DJ Stef and Ross Hogg, an Oakland transplant from Texas, clearly enjoyed hipping the bar staff and friends to what's cracking in the Bay: Keak da Sneak, Mac Dre, Turf Talk, San Quinn, E-A-Ski. Sergdun, who runs the utterly profane and hilarious Beer and Rap blog, provided running commentary (live audio blogging?) throughout the night. When the Rub DJs (Cosmo Baker and DJ Ayres) dropped "snap" hit "Lean Wit' It, Rock Wit' It" by Dem Franchize Boyz, he went off. "Snap music was invented by Carlton Banks," he railed, then emulating the uptight cousin of Will Smith on Fresh Prince of Bel-Air.
In fact, blogs were the hot new fashion accessory. At one rap show, Alberta rapper Cadence Weapon gave what I believe was the first live blogroll as he shouted out all the bloggers in attendance by their URL.
Those seeking musical therapy were generously rewarded. Jose Gonzalez—a Swedish guitarist and singer just signed to Mute, was like an uncorny Jack Johnson for the KCRW set. The Beastie Boys jumped the shark but still had the power to pack Stubb's for a surprise show to coincide with the theatrical release of their movie "Awesome! I Fuckin' Shot That!" on Thursday night.
Texas' rap community rallied hard over three nights to continue a progression that began last year, when Slim Thug and Paul Wall were just oddities. This year, it was Chamillionaire. He broke down his reception this way: "They said I wouldn't sell 100,000 in a week. Did that. Said I wouldn't go gold. Did that. Now I'm trying to go platinum, so I need ya'll help."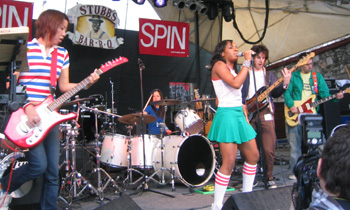 New Power Generation: The Go! Team goes for back-to-back scores at SXSW.
The most memorable performances were ones that crossed bridges of vulnerability. Sculpted-noise quartet Asobi Seksu, Bay Area punk trio Sistas in the Pit and dark-metal forces Oxbow were exercises in revelatory (as well as primal scream) therapy.
Alejandro Escovedo, stronger from the hepatitis C that nearly killed him three years ago, delivered my personal highlight of the festival. He previewed songs from his latest album with John Cale, The Boxing Mirror, at a sunset show in Las Manitas Mexican cafe's back patio.
Clearly influenced by his near-death experience and the passing of his father (and the impact it had on Alejandro's mother), the set began almost like a dour eulogy—a string section setting an appropriate maudlin tone.
As the show progressed, however, moods and colors began to change, and suddenly the strings pulsed with life, snare drums popped and the set chugged with vigor. Escovedo gave testimonials like "I walk, I crawl, but I never run" as he toasted the future and audience clinked glasses in tribute.

Hey Hey They're the Monkeys: Arctic Monkeys set was one of the festival's most anticipated.
At the Arctic Monkeys show, clearly the most coveted appearance of the week, demand dictated that left nuts and tits were to be collected upon entry to the venue. The pile of hairy, blue-veined testicles and chesticles filled two Green Team bins as the current Saviors of Western Civilization and heir to the Strokes unleashed (as Yngwie Malmsteen would say) "the fury."
Singer Alex Turner was grumpy from the number of cameras going off in his direction. The band played a full 60 minutes, closing strong with "Fake Tails" and its soon-to-be second single "A Certain Romance."
Turner warned that American labels interested in signing the Monkeys be aware of some expectations. It takes time to make manifest good music. "It's not a short road," Alex warned. "It's a long road." Indeed. The crowd crossed that moment off their Things to Do Before I Die list and marched into the humid Austin night in search of the next.
---
Shoutout to SXSW roommates Chris and Josh for accommodations and early-morning laptop 'dub fi dub' sound clashes.
---
---
Send a letter to the editor about this story to letters@metronews.com.
---
[ Silicon Valley | Metroactive Home | Archives ]